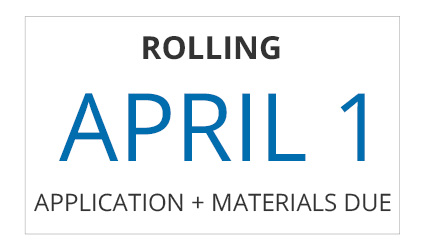 All applicants who graduate from high school less than 12 months prior to the start of their first term at Georgia College will be classified as freshmen applicants. Freshmen applicants are also subject to the university's first year on-campus residency requirement.
First-Year Admission Requirements
In reviewing applications, the GC Office of Admissions uses a holistic admissions process. This process not only examines the students' academic record but also takes into consideration the competencies and experiences (full spectrum) of an applicant. Therefore meeting the minimum admission requirement does not guarantee acceptance. Student applications are evaluated once the file is complete with all supporting documents received. Admission files should be complete by the indicated deadlines.
The successful first-year applicant will demonstrate his or her potential for success by completing a rigorous Required High School Curriculum with a competitive grade point average, show strong SAT or ACT score results and provide well developed personal essays. The middle 50% of admitted students for Fall 2019 had SAT total scores ranging from 1140 to 1280 (EBRW + M subscores only), 24 to 29 ACT Composite scores and high school grade point averages ranging from 3.39 to 3.87 (calculated on unweighted academic courses only).
Note: These numbers are provided only as guidelines.
Students whose test scores/subscores may subject them to screening for learning support/remedial placement, will not be considered for admission.
Admissions decisions are based on the total student portfolio and demonstrated potential for contribution to the university and probability for success in the unique environment of the GC community. In the application review process, GC strives to discover students who will bring academic and creative achievements, elements of diversity, a proven commitment to community service and who have the potential to make significant contributions to society. GC seeks inquisitive freshmen who exhibit the desire to develop an analytical mind; a sense of civic and global responsibility; sound ethical principles; respect for human diversity and individuality; effective writing, speaking and qualitative skills; and a healthy lifestyle.