Awards
Margaret Harvin Wilson Award

The Margaret Harvin Wilson Award is designed to inspire students to explore new worlds and be grounded but imaginative and creative. The contest is open to currently enrolled undergraduate Georgia College students majoring in arts, humanities, social sciences, and physical sciences, who submit a suite of poems, a short story, or a one act play. More information is available here. Pictured below: Jessica McQuain, Lizzie Perrin, President Dorman, Natalie Mau, and Boston Chandler during the 2016 Wilson Award ceremony.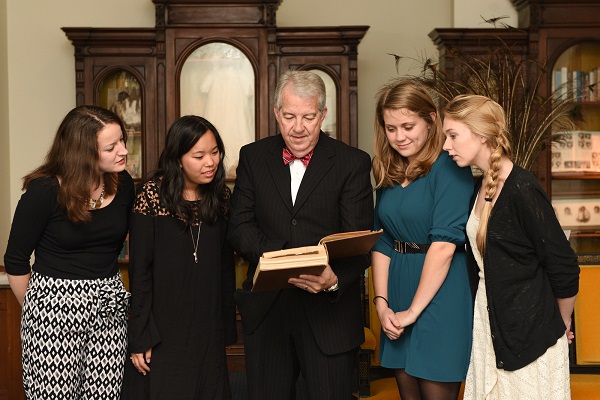 Critical Essay Contest

Students concentrating in literature can enter the Critical Essay Contest, which recognizes the best research essay of the year. Dr. Nora Williams, who holds a PhD in Early Modern Drama from the University of Exeter, judged the 2019 contest. The award went to Dana Maller for her essay, "The Cakewalk of Whiteness: The Deconstruction of White Identity in Chesnutt's The Marrow of Tradition. Honorable Mentions went to Katie-Rose Borrello for her essay, "The Violence and Gift of Grace," and Makhalath "Mickey" Fahiym for her essay, "Reviving Caliban: Analyzing Julie Taymor's Interpretation of Caliban from Shakespeare's The Tempest."
Outstanding Seniors

Each year, the Creative Writing and Literature Programs announce their outstanding seniors at a graduation celebration. The Outstanding Creative Writing Senior is Caroline Olesen. An international student who could not read until the 4th grade, Caroline's future plans are returning to Denmark this summer, and seeking a job in communications or translation. In the fall she'll apply to the Knight Hennessy scholarship program at Stanford University, for law school or a graduate degree in international public policy, and she'll apply to the Gates-Cambridge scholarship program at Cambridge in the UK for similar degree programs. She has maintained a 4.0 GPA during her entire time at Georgia College, participated in the Honors Program, the American Democracy Project, The International Club, Her Campus Online Magazine, the Phi Kappa Phi Honor Society, and several other special projects. She is one of the eleven valedictorians in this year's senior class. Pictured below: Caroline Olesen and Caroline Karnatz.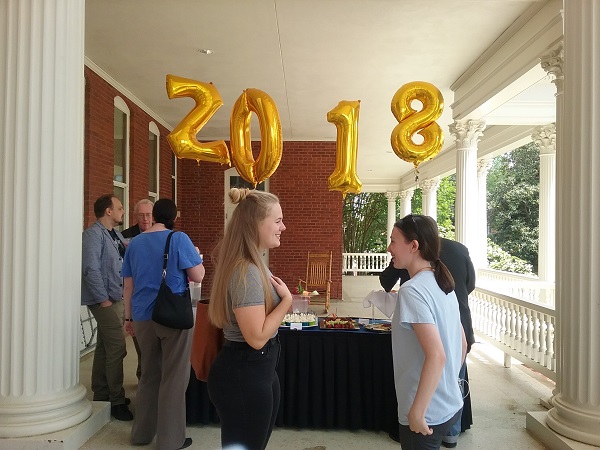 In a field crowded with great contenders, the Outstanding Literature Major is Samantha "Sami" Strickland, who has distinguished herself by going beyond excellence in the classroom and achieving success in a more public realm. Sami has worked with a number of the literature faculty on paper presentations for local and regional venues, and has achieved a great deal of acclaim. In the summer of 2017, Sami successfully applied for a mentored Summer Research grant sponsored by the MURACE program here at Georgia College. She received a stipend to conduct advanced research on Edith Wharton's 1905 novel The House of Mirth, and she spent the summer working with literary criticism and primary materials related to Wharton's novel. A measure of Sami's ambition can be seen in her choice to extend this bibliography to include sources in feminist and queer theory, performance studies, and studies of whiteness and race. Sami turned a short seminar paper into a sophisticated article-length publication. Sami presented a version of this paper at the Student Research Conference, and it was chosen as one of the few to represent Georgia College at the Southeast COPLAC conference in Aiken, SC. Sami is a member of the Honors Program at Georgia College, and has served as president of the Georgia College Chapter of Sigma Tau Delta, which is the International English Honor Society. She is also past president of Shakespearean Circle, and has taken on a number of leadership positions outside the department as well. Pictured below: Sami Strickland and Dr. Katie Simon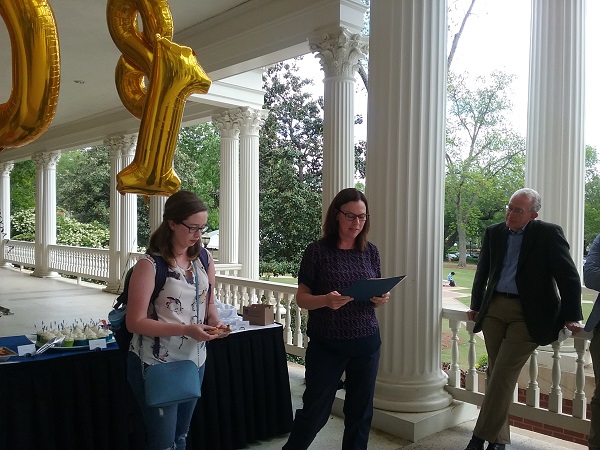 Scholarships
Scholarships for English majors include the Sarah Gordon Scholarship and the Wellington Scholarship.
Information regarding institution scholarships for entering freshmen and returning students is here.
Sarah Gordon Scholarship: The scholarship helps literature students who plan to become teachers and literary scholars. The recipient should
Be a rising junior or senior majoring in English with a concentration in Literature
Have a minimum 3.5 GPA
Have earned at least 15 semester hours at Georgia College
Show promise as a literary scholar and /or teacher
Be recommended by the chair of the department, based on input from faculty
If in any given year, should there be no student to meet each of the criteria for eligibility set down in the agreement, an award may be made to a student who most closely meets the criteria as determined to be appropriate by such University authority as may be designated for that purpose.

Wellington Study Abroad Scholarship: The scholarships helps English majors study abroad.
Fund will always be used for awarding a study abroad scholarship, preferable to a female student, majoring in English
Student Organizations
Literary Guild

Literary Guild is Georgia College's book club. The club is sponsored by the English Department but is open to non-majors as well. It meets once a month to discuss novels suggested by the membership, ranging from classics like The Great Gatsby to modern day satire like Good Omens. Ms. Nancy Beasley is the sponsor of this organization (nancy.beasley@gcsu.edu).
Romanticism Reading Group

The Romanticism Reading Group meets two-three times a semester to discuss Romantic literature and view film adaptations of Romantic works. The faculty advisor is Dr. Julian Knox (julian.knox@gcsu.edu).
Shakespearean Circle

Shakespearean Circle meets once a week to do a round table reading of a Shakespeare play. Plays are chosen at the beginning of the semester by the membership. All English majors and non-English majors are welcome to attend. The organization also puts on small events such as staged monologues and scenes as well as trips to National Theatre Live events in Macon. The faculty advisors are Dr. Jenny Flaherty (jennifer.flaherty@gcsu.edu) and Mr. John Sirmans (john.sirmans@gcsu.edu).
Sigma Tau Delta

The International English Honor Society. English majors are eligible to be considered for membership with at least 36 semester hours and at least a 3.3 cumulative grade point average that includes at least two English courses beyond first-year composition. Dr. Hali Sofala-Jones (hali.sofala-jones@gcsu.edu) is the sponsor of this organization.
Research and Creative Endeavor Opportunities
Black Market Radio Show

Programmed by the undergraduate Creative Writing and Literature Social Media Interns, the Black Market Radio Show promotes students writing and musical talent by offering an opportunity to read nonfiction, fiction, and poetry as well as perform music.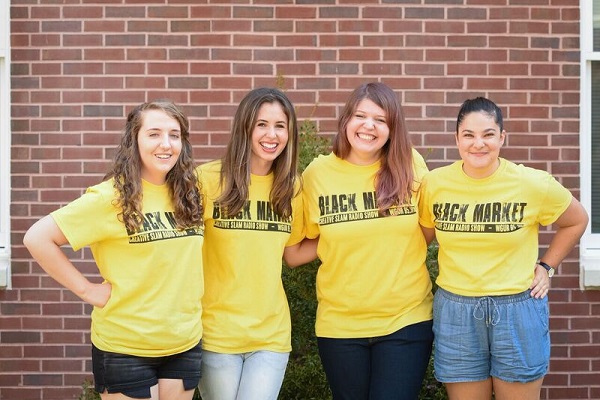 The Corinthian

Students work with faculty mentors to revise essays for submission and blind review by our university's student research journal.
Red Earth Reading Series

Sponsored by The Peacock's Feet, the series is an opportunity to see your fellow students read their fiction, poetry, and creative nonfiction. Red Earth Readings are scheduled throughout the year, usually in the evenings at Blackbird Coffee.
Student Research Conference

Students work with faculty mentors to prepare presentations for the annual event that is organized by MURACE (Mentored Undergraduate Research and Creative Endeavors).
Women's and Gender Studies Symposium

Students work with faculty mentors to prepare presentations for the annual event that is organized by the Women's and Genders Studies Program.
External Opportunities

Students are also encouraged to consider applying for research opportunities beyond Georgia College, such as the Rutgers English Diversity Institute, the Auburn Avenue Research Library on African American Culture and History, the African American Literatures and Cultures Institute at the University of Texas at San Antonio, and the Schomburg-Mellon Humanities Summer Institute.
Study Abroad Opportunities
Creative Writing and Literature offer senior capstones based on study abroad experiences. For example, the undergraduate Creative Writing Program has a significant history of coordinating with students to do independent study projects in travel writing and cultural exploration and the Literature Program works with students to study the literatures of the countries while they're away for their study abroad projects.
Department faculty teach courses abroad. Dr. Callender co-directs the European Council Summer Study-Abroad Program in Berlin and has taught the lower-division core course World Literature and the upper-division literature course From the Roaring 20s to Reunification: Berlin through the Ages in Berlin. Dr. Flaherty has taught the lower-division core course GC2Y 2000 Underworlds and Afterlives in Italy, Paris, and Madrid; Dr. Flaherty has also taught upper-level literature classes abroad: Imagining Italy for Italy, Picturing Paris for Paris, and Shakespeare and Cervantes for Madrid. Dr. Mary Magoulick has taught the lower-division core course World Literature and the upper-division literature course Irish Folklore in Waterford, Ireland.
Information about study abroad opportunities is here.
Internships
Each year the department selects two undergraduates for social media internships, which help to build leadership skills and increase knowledge of social media platform building, and these interns gain community outreach experience.
Students majoring in English with a concentration in Literature have the option to complete an internship for their senior capstone experience. Recent internships have been in the fields of teaching, publishing, and marketing.