Georgia College is monitoring the coronavirus outbreak very closely and continues to receive guidance from the University System of Georgia (USG), the Georgia Department of Public Health and the Centers for Disease Control.
Current Updates
Following the current two week USG required pause, we will begin the delivery of courses via online on Monday, March 30.
Housing has initiated a move-out procedures, which they will send via email to all on-campus students. You can view the announcement on Front Page
Thus far, there are no reported cases of the coronavirus at Georgia College including students, faculty and staff. For more information on the reported cases in the state of Georgia see the Georgia Department of Health daily report.
In line with the recommendations of the Centers for Disease Control (CDC), and the University System of Georgia (USG), Georgia College has canceled all upcoming Spring and Summer faculty-led Study Abroad programs, effective March 19, 2020. The health, safety, and security of Georgia College students and faculty is always the number one priority of Georgia College and the International Education Center, and faculty program leaders are developing plans to keep students on-track for graduation.
This website will be updated as new information becomes available and as the situation unfolds.
In an effort to find useful information as quickly as possible, below is a list of frequently used numbers:
Academic Advising Center - (478) 445-2361
Admissions - (478) 445-1283
Business Office - (478) 445-5254
Career Center - (478) 445-5384
Financial Aid - (478) 445-5149
Housing Office - (478) 445-5160
Human Resources - (478) 445-5596
Information Technology - (478) 445-7378
Registrar's Office - (478) 445-6286
---
Guidance on preventing the spread of Coronavirus
Wash your hands often with soap and water for at least 20 seconds. If soap and water are not available, use an alcohol-based hand sanitizer.
Avoid touching your eyes, nose and mouth with unwashed hands.
Avoid close contact with people who are sick.
Stay home when you are sick.
Cough or sneeze into your elbow or use a tissue to cover it, then throw the tissue in the trash.
Clean and disinfect frequently touched objects and surfaces.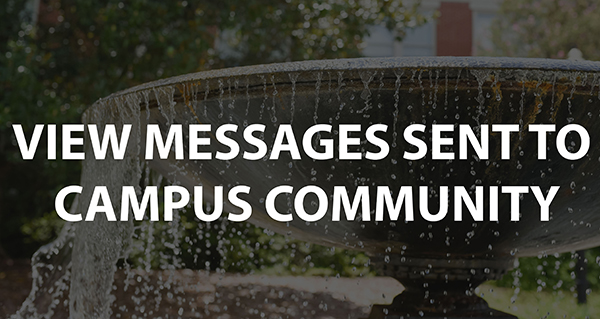 Travel Registration Form
All students, faculty, and staff who are traveling in any capacity (international or domestic) for both personal and university business should fill out the travel registry form.