April 17-18, 2020
Southeast Regional Undergraduate Research and Creative Activity Conference
Host campus: New College of Florida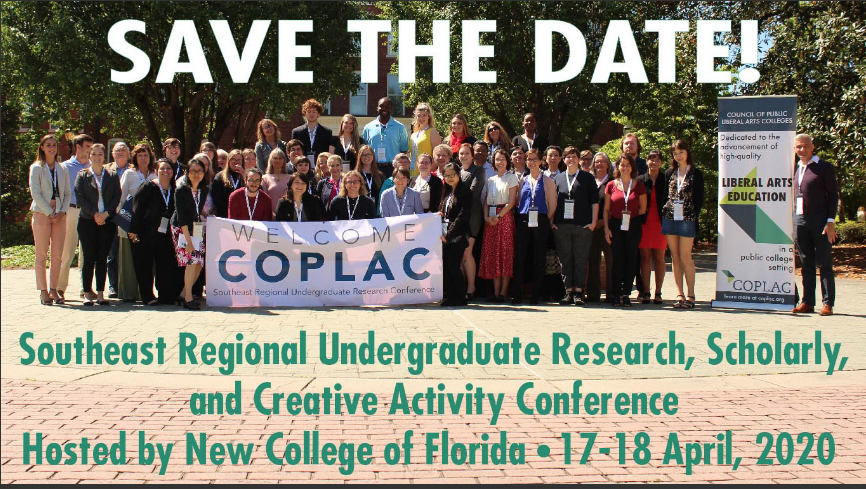 April 26-27, 2019 Conference

Southeast Regional Undergraduate Research and Creative Activity Conference
Host campus: Georgia College & State University
Students at COPLAC institutions have the opportunity to present the results of their undergraduate research at regional conferences where they can meet and discuss their work with peers and faculty members. Undergraduate research projects span the disciplines and afford students the prospect of intellectual engagement beyond the formal classroom setting. Outstanding projects are featured in COPLAC's online research journal Metamorphosis.
Many students at COPLAC continue their work at the graduate level, having been prepared for the world of scholarly engagement through a COPLAC commitment to hands-on research.
2019 Agenda
COPLAC: ABOUT US
Recognizing the importance of liberal arts and sciences education for success in a complex global society, the Council of Public Liberal Arts Colleges (COPLAC) is championing the cause of liberal arts education of superior quality in the public sector. COPLAC institutions provide students of high ability and from all backgrounds access to an outstanding liberal arts education.
COPLAC AFFILIATIONS
The Association of American Colleges and Universities A voice and a force for liberal education in the 21st century.
Liberal Education and America's Promise Excellence for everyone as a nation goes to college.

For more information click here: COPLAC
STUDENT PARTICIPATION