GCSU Finalist for CUR Campus-Wide Award for Undergraduate Research Accomplishments (AURA)
Georgia College applied for the CUR 2020 AURA award and was selected as a finalist. The 2019 award winners were Bridgewater State University, Bridgewater, MA and Florida State Tallahassee, FL. It is an honor to be nominated by CUR as a 2020 finalist. If we win this prestigious award, it will provide GC with one-year enhanced institutional membership in CUR, recognition through CUR's newsletters, press releases, and/or notification through appropriate higher education publications; and a plaque for public display presented at a highly visible CUR sponsored event. A team of faculty are putting together the final application. Any input that you believe is relevant to this award, please contact Doreen Sams at doreen.sams@gcsu.edu.
GC CUR Councilors Present at CUR Biennial Conference
This year for the first time, the Council on Undergraduate Research Biennial Conference was held Virtually.
A panel presentation to be presented at the Biennial Virtual Conference of Council as the main event with video and synchronous interactions on Undergraduate Research (CUR).
I. Beyond the CUR Whitepaper: the Role of Assessment for Advocacy.
This is a panel presentation with three other panelists: (see below)
Dr. Joanne Altman; High Point University
Dr. Heather Haeger, California Stat University Monterey Bay, CUR Assessment Coordinator
Dr. Charles "Billy" Gunnels, Florida Gulf Coast University
Chiang, T., Altman, J., Haeger, H. Gunnel, C. (2020).
II. 20 Min Session International Partnership And Undergraduate Research Through A Faculty-Led Study Abroad Program
III. 20 minutes session - Chiang - 15631 Poster Serving Community through Undergraduate Research in STEM
Poster: with JF and Hasitha
Poster: Dr. Karen Berman and Dr. Doreen Sams presented "Assessment in Undergraduate Research – Students, Faculty, Curriculum, and Institutions: Five Years of AAC&U Rubrics Assessment"
Georgia College Physics Professor Only U.S. Educator to Receive Prestigious Fellowship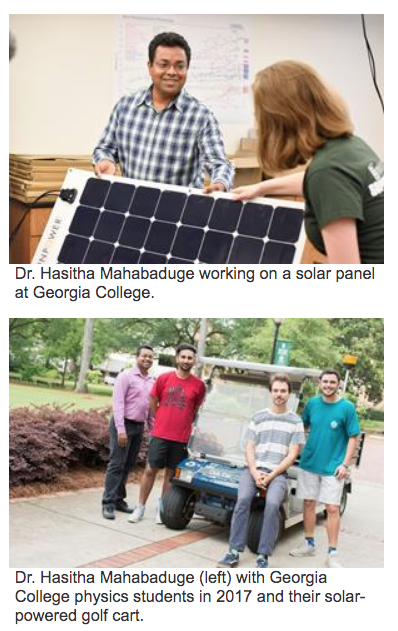 Milledgeville, Georgia, June 24, 2020 (GLOBE NEWSWIRE) -- Georgia College Physics Professor Dr. Hasitha Mahabaduge has been named a 2020 Fellow of the International Society for the Scholarship of Teaching and Learning (ISSoTL). He was one of nine educators—and the only U.S. applicant—to receive the prestigious lifetime award.
"This is a very competitive international fellowship and a great honor. I think it speaks highly of both Dr. Mahabaduge's hard work and Georgia College's commitment to excellence in teaching and learning," said Dr. Jordan Cofer, associate provost for Transformative Learning Experiences.
Other winners this year were from Australia, Canada, Malaysia, Ireland and the United Kingdom. Normally, fellows are recognized during the ISSoTL annual conference. But, due to COVID-19, the October event in Perth, Australia, was canceled.
Mahabaduge's group is the second cohort to be awarded this honor, since the ISSoTL Fellowship was established in 2019. Being named an ISSoTL Fellow is a lifetime title. Fellows are expected to impact the scholarship of teaching and learning at local, regional, national and international levels—demonstrating a particular commitment to mentoring emerging and junior scholars. They also support the development of emerging regions.
"This international scope and diverse perspective on higher education will definitely benefit me to grow as a professor," Mahabaduge said. "I can bring in successful teaching strategies used by educators around the world to my classroom that will benefit our students."
Mahabaduge was a 2017 SoTL Fellow with the University System of Georgia (USG) and participated in the Governor's Teaching Fellows Program at the University of Georgia in 2019. Earlier this year, he was also the 2020 recipient of USG's Board of Regents Felton Jenkins Jr. Hall of Fame Faculty Award—bestowed for "a strong commitment to teaching and student success."
The ISSoTL Fellowship is just one thing on a busy schedule—something that highlights the career of a faculty member who's always thinking creatively and engaging students in new ideas.
Mahabaduge is known to involve students in his own solar cell research, equipping golf carts with solar panels. He also started an annual Renewable Energy Day for elementary students in Baldwin County and, last summer, traveled to India to teach Tibetan monks about physics. Mahabaduge has also connected his physics classes with university students from his home country, Sri Lanka.
"The Georgia College administration has always extended their support for my SoTL work" Mahabaduge said, "and, most importantly, created an environment that encourages innovation in teaching and research."
For additional information and scheduling interviews, please call:
478-445-8668 / 478-508-2599. Or email: cindy.odonnell@gcsu.edu.
Cindy O'Donnell Georgia College and State University 4784458668 cindy.odonnell@gcsu.eduSource: Georgia College and State University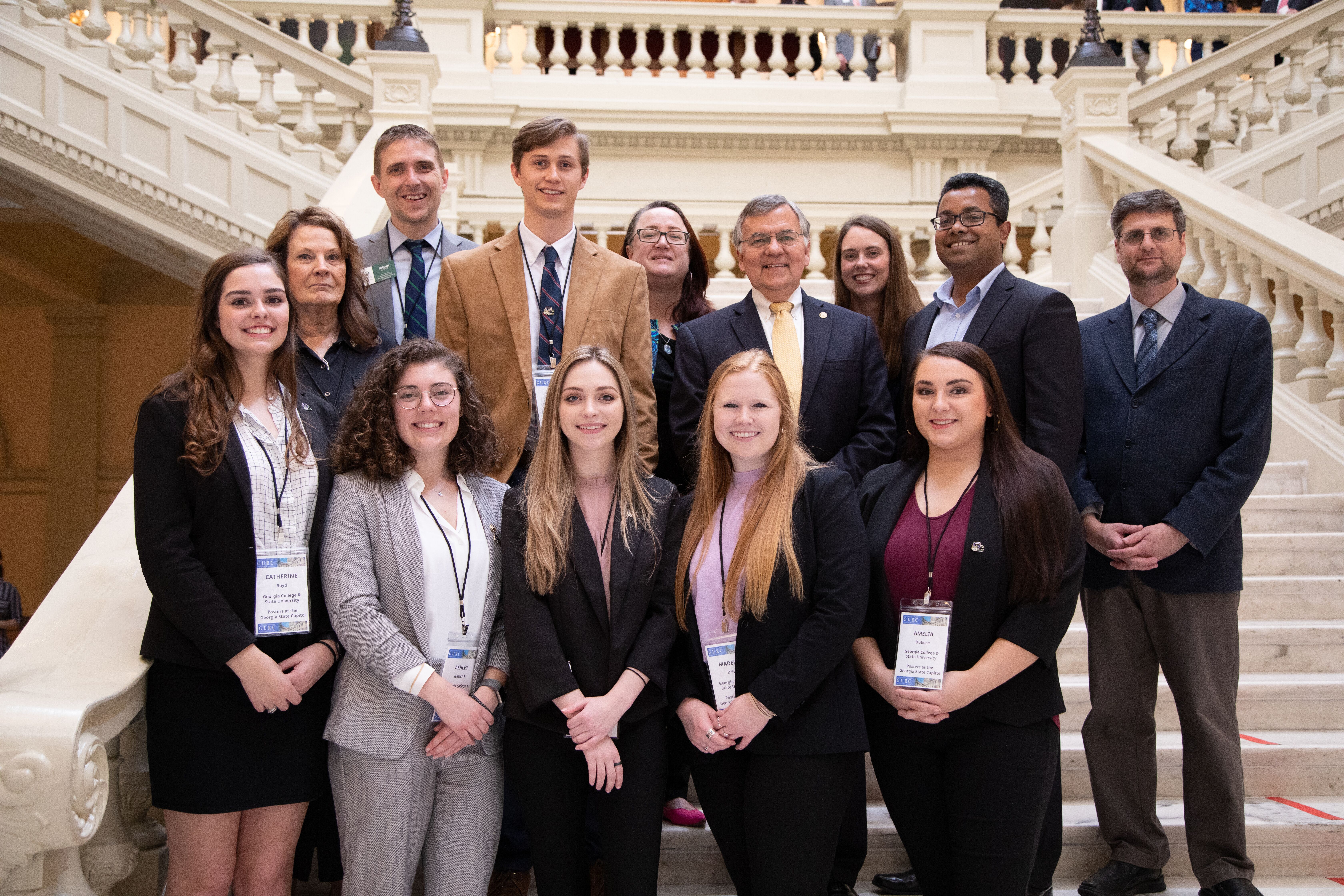 Front Row L to R: Catherine Boyd, Ashley Newkirk, Megan Andrews, Madeline Drives, and Amelia Dubose
Center Row L to R: Dee Sams, Sam Cavender, Johnny Grant, and Hasitha Mahabaduge
Back Row L to R: Jordan Cofer, Robin Lewis, and Katie Whipple

GC Communications Video at the Posters at the Georgia State Capitol

For details please click on this link to GC FrontPage.

The second annual Posters at the Georgia State Capitol will occur on February 25, 2020. Out of 78 applicants Statewide, 42 poster presentations were selected. Six GCSU undergraduate research students ( Megan Andrews, Catherine Boyd, Sam Cavender, Madeline Drives, Amelia Dubose, and Ashley Newkirk were selected through a double-blind review process to present their undergraduate research at this prestigious event. Their faculty mentors are Drs. Tsu-Ming Chiang, Hasitha Mahabaduge, Wathsala Medawala, and Katie Whipple, Please reach out and congratulate these exceptional students and their faculty members.
Reflections from Arts Students
"The highlight of the trip for me was putting our hard-work into our performance and sharing our voices with an audience. Music holds a big impact on people's lives, and it's an honor to be a part of that by performing our music. Right before we went on stage, our director shared that she really enjoyed working with us and was proud of our effort. Those moments will stand out for me because I was able to see how I had impacted my director and the audience by participating in this choir. I learned that even though I'm not a music major, I can still share those moments with my fellow peers and contribute to the music family through my passion and love for music" (Presenter: Manderfield, 2020; Mentor: Dr. Jennifer Flory).
Reflections from Biological Studies Students
The highlights of the conference for me were presenting my own work, hearing the keynote speaker talk, and watching my colleagues present as well. I like hearing other people talk about what they are passionate about, it's what inspires me to do great things like them. The presentation sessions helped me learn a lot because I got to walk around at my own pace and ask my own questions and pick out the presentations I was interested in. It helped me focus on my future and my field for sure" (Presenter: Savannah Terry, 202; Mentor: Dr. Samuel Mutiti).
Reflections from Psychology Students
"From this conference, I would say the highlight was doing it independently. My group worked hard to prepare, but I had to have the courage to present and lead a small discussion after the presentation with the questions that were asked. I also learned that I like to present! It was never on my list of skills, but after this presentation, I think I will add it to my list of skills. I think walking up to the front stage stood out most in my memory because I was nervous but then I wasn't anymore and I had this amazing confidence. I think this conference contributed to my learning in the sense that I am a confident student who has vital information to share with other undergraduate students" (Presenter: Leah Kaminer, 2019; Mentor: Dr. Tsu-Ming Chiang).
Impact of the Funding From Mentored Undergraduate Research and Creative Endeavors
The majority of undergraduate students reported that the funding had a great impact on their ability to present at a conference.

Please read and share this White Paper by Joanne D. Altman (High Point University), Tsu-Ming Chiang (Georgia College & State University), Christian S. Hamann (Albright College), Huda Makhluf (National University), Virginia Peterson (Grand Valley State University), Sara E. Orel (Truman State University). White paper

​​

Adam Weinberg gives recommendations for fostering such mentorship at your institution.

By Adam Weinberg, President Denison University
February 25, 2019

"As a college president, I often sit down to talk with alumni, and the first thing they share is a story about how a relationship with a faculty member impacted their life. Faculty mentorship matters. In fact, the most recent Strada-Gallup Alumni Survey found that having a faculty mentor in college doubles the odds of a person being engaged professionally and thriving in their life.

At its core, faculty mentorship involves caring about, connecting with and catalyzing students. Mentorship by a faculty member focuses on building a relationship that reaches beyond academic planning. It includes helping students reflect upon and integrate their various learning experiences, as well as caring for and impacting students' personal and professional growth. It is about helping students start a long process of becoming the architects of their lives.

On its most basic level, faculty mentorship is a relationship between a more experienced mentor and a less experienced student, where a faculty member focuses on the student's academic, personal and professional growth. In doing so, a faculty member shares with the student the mentor's expertise provides guidance and support and serves as a role model for the student. The goal is to help students develop the skills, values, habits, networks, and experiences needed to achieve their own goals. A lot of the impact of mentorship comes from creating reflective moments that help students learn from their curricular, co-curricular and other experiences.

Mentorship also is fluid and, at its best, collaborative. As it may often entail guidance provided by a variety of people in a variety of roles, the group of potential mentors for any one student necessarily shifts over time. And yet, among the many mentors a student might have, a faculty mentor plays a special and powerful role.

This point is important and stands in contrast to the traditional model of the "one great mentor/guru" myth. Students often have a group, network or circle of people, each of whom provides specific forms of guidance.

Fostering Faculty Mentorship

Mentorship is organic. It occurs when the right relationships emerge at the right moment. Like all relational processes, the form and substance vary according to a range of factors. Faculty members are likely to mentor differently based on their own personal attributes, as well as their academic disciplines and departments. Faculty members may mentor differently at different times of their professional careers, too. And of course, how the mentor will vary based on the student whom they are trying to connect with and catalyze.

We can, however, foster the conditions under which mentorship is more likely to emerge: 1) when faculty members are focused on undergraduates and committed to teaching, 2) classes are small and interactive, and 3) students are able to get to know a range of faculty members.

To truly create an ecosystem of mentorship, other conditions are also important. For example, a mentorship emerges more often when:

Students interact with faculty members around shared interests, especially intellectual and/or academic interests. Most mentorship occurs in office hours and labs, through undergraduate research opportunities and experiential components of courses, and other venues where students and faculty members have a chance to share their intellectual interests.

Interactions take place over a sustained period of time. Of course, a single conversation can be transformational for students. In some ways, we know that a single interaction with a faculty member can make a difference in a student's experience. But most mentorship occurs as relationships develop. Faculty members get to know students, and students get to know faculty. Trust develops. Moments present themselves where faculty members can push students to reflect upon and evaluate their thinking. Learning unfolds.
There is a culture of mentorship, and students are encouraged to be open to it. Students have to do their part. Mentorship is not one-directional. The success of any mentoring relationship depends on the willingness of a person to be mentored. One of the interesting questions for me is: How do we help students learn how to be mentored or to take advantage of the mentoring opportunities they have in college?

Ongoing professional development efforts facilitate conversations about mentoring. We need venues to continually share data on our students, the issues they are facing and what we know about mentoring different students differently. As part of this work, we need to find ways for faculty members to interact with student development professionals on a more regular basis to trade information about our students and campus dynamics. We also need more venues in which to share best practices.

Colleges and universities can put these principles into practice in a variety of ways. Three great starting places are: having small and interactive classes throughout a student's experience; offering high impact practices like first-year seminars, undergraduate research, off-campus excursions, and capstone experiences; and encouraging faculty members who have interesting -- even outside-the-box -- ideas. At Denison University, that has included supporting a professor who wanted to start a fencing program and two faculty members who created a monthly mentoring group for women of color.

What Mentorship Is Not

Mentoring is not the same as friendship. It should be focused on some aspect, or multiple aspects, of a student's academic success, personal growth, and professional launching. Unlike friendship, the value is contingent on the mentor's ability to achieve the desired end -- which, in this case, is student development and success. Another way to put this is that advisers and mentors are intentional about helping students learn what they need to attain their personal and professional goals.

Mentorship is also not crisis management. Some of our students will face crises while in college, including health challenges, family issues and a range of other crises. Colleges need faculty members to help identify when students are in crisis, as well as to help students find the right person at the college who can help them manage the crisis.

In addition, a faculty member can't be all things to a student. Ideally, students should have a network of mentors, because no one person can be an expert in all areas. Nor is it reasonable to expect that one person's expertise will be relevant at all stages of a student's experience.

The other interesting question is how mentorship differs from advising. There is a tendency to want to draw clear distinctions between faculty advising and mentorship. But that is unwise or, at least, not helpful in a practical sense. In some ways, advising and mentorship are different, as more traditional academic advising can be reduced to the task of helping students stay on track to graduate. But the best advising is a form of mentorship. Of course, faculty advisers often form relationships that evolve into mentoring relationships.

That said, not all advising relationships will become mentoring relationships. Mentorship depends on the existence of the right sort of relationship, and the creation of this relationship is organic and two-sided. We always want, need and expect faculty to be excellent advisers in the traditional sense and to be open to -- and perhaps excited about -- the possibility that those advising relationships will evolve into mentoring relationships. Stated differently, faculty members don't play two distinct roles, adviser and mentor, but rather engage in relationships that develop in different ways or at different speeds. Some of those relationships stay at a stage where the faculty member's role is best captured as an adviser, while others grow in ways that the role is best described as a mentor.

My experience as a faculty member, administrator and now president leads me to believe that creating a strong ecosystem of mentorship on our campuses is one of the most powerful things we could and should do to enhance undergraduate learning. We should put it front and center. In their wonderful book, How College Works, Daniel F. Chambliss, and Christopher G. Takacs state, "People, far more than programs, majors or classes, are decisive in students' experience of college … A great mentor -- a trusted adult adviser, if one can be found, adds a tremendous advantage."

In all the debates and conversations swirling around higher education about the value of what we do, I would urge us to talk more about mentorship. In particular, we should focus on the importance of faculty mentorship, and the role such mentoring plays in helping students develop the skills, values, habits, networks, and experiences needed to be the architects of their own lives."

STEAM not STEM Why Scientist Need Arts Training

CUR Enhanced Institutional Member Benefits Highlights: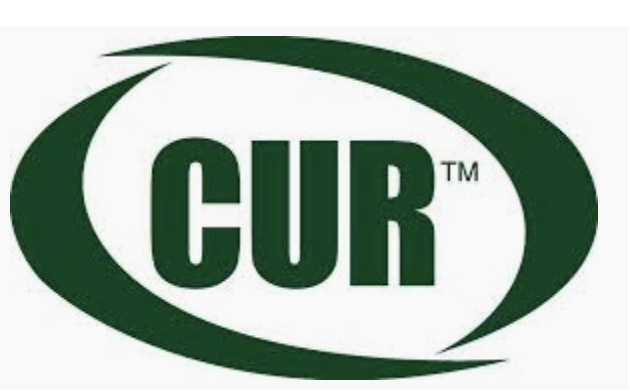 Access to

o CUR's Members-Only Website: This website contains information such as funding resources, annotated bibliographies on assessment and integrating research into the curriculum, webinar archives and undergraduate research celebration days at institutions across the country. There is also a special section on Advocacy, which is prepared by Washington Partners, LLC, a firm that CUR has secured to provide research, guidance, support, and counsel as CUR seeks to increase its national profile, activities and efficacy.

o CUR's Undergraduate Researchers Registry: The purpose of this registry is to facilitate matchmaking between undergraduates with research experience and a desire to pursue an advanced degree, and graduate schools seeking high-quality students who are well prepared for research. Currently, the Registry is open to students and graduate schools/employers in nearly all fields.

o CUR Mentors: CUR has a mentor network that matches individuals seeking information about starting, sustaining or re-initiating undergraduate research programs to experienced, tenured CUR faculty. Those requesting mentors may be newly hired faculty as well as graduate students and post-doctoral scholars. Established faculty who are interested in starting or restarting a research program or moving in a new direction, may also request a mentor.