Academic Advising Services for Fall 2020
Due to physical distancing requirements, the Academic Advising Center will be offering virtual meeting options in the fall semester.
Virtual meetings provide the opportunity to share screens which is limited in a physically distanced space.
The link for our Virtual Academic Advising Center is https://gcsu.zoom.us/my/gcadvising.
Meeting with your Advisor
Appointments can be scheduled ONLINE.
Email your advisor if you have specific problems or questions. You can expect a response to emails and phone calls within two business days.
When in doubt, don't hesitate to contact your advisor with any questions related to your academic progress.
Resources
The GC Keeps Learning webpage provides information and resources for online learning.
Visit the Campus Services Availability to find out how to connect campus resources.
Academic Advising at Georgia College
The Academic Advising Center is committed to the smooth transition and the academic success of all undergraduate students at Georgia College. Students are able to experience centralized advising in Lanier Hall, located in the middle of the Academic Square. With professional advisors located in one building and representing every major, students can receive guidance in a one-stop setting. The average student changes majors three or four times before finalizing his/her decision. For this reason, a centralized advising experience enables students to make the most of their time while talking to the appropriate qualified professionals. Our professional advisors also teach or support the "First Year Academic Seminars" which increases the amount of contact between advisor and student.

Advising Mission Statement
Advising sessions are required for incoming first-year students and new transfer students. In addition, academic advisors and students shall meet to review the student's degree progress by the completion of 30, 60, and 90 earned credit hours.
Advising at Georgia College is a shared responsibility between students and the advisors. Through a network of resources and support, students communicate with advisors to obtain information and guidance aimed at the student's successful completion of degree requirements and preparation for post baccalaureate opportunities. An inherent goal of the advising process is for students to gain self understanding that will inform their decisions regarding academic, career and life goals.

Learning Outcomes and Goals
As a result of the academic advising experience at Georgia College, students should:
Demonstrate familiarity and understanding of the liberal arts mission and academic expectations of the university and the majors in the four colleges, and involvement opportunities on campus provided through exposure to relevant material, people and experiences.

Evaluate the importance and benefits of engagement (study abroad, undergraduate research, internships, co-curricular activities, GIVE Center, diversity initiatives) with student organizations, faculty, staff and other students (housing, peer mentors, supplemental instructors).

Demonstrate knowledge and application of academic planning skills such as PAWS, DegreeWorks, Appointment Plus, Bobcats e-mail and other tools designed to self-register, generate degree audits, create four-year plans, locate university policies and procedures, interpret academic requirements, and manage academic progress.

Use career exploration to examine career opportunities within an academic major or field of study that have been identified using self-awareness, personal characteristics, skills, academic interests, aspirations, values, and goals; and to develop a four-year plan to complete career readiness milestones by the time of graduation.

Integrate and apply effective academic success strategies for self-improvement and academic achievement by using learning support resources (Learning Center, Writing Center, Counseling Services, Career Center, Disability Services, Financial Aid, Library Information Technology Center, etc.).

Policy Requiring Mandatory Advising Meeting for Students
All undergraduate students at Georgia College will have an Academic Advisor during their time at Georgia College. Students are expected to meet with their Academic Advisor prior to each semester's registration. At certain points in a student's academic career students are required to meet with an Academic Advisor to review degree progress. Academic Advisors will notify students when these meetings are required. Academic Advisors are responsible for documenting when such advising meetings take place.
Please note that students within the Education cohort are advised by their Faculty mentor. Also, students in the Nursing cohort are not expected to meet with their Academic Advisor each term.
Future-Students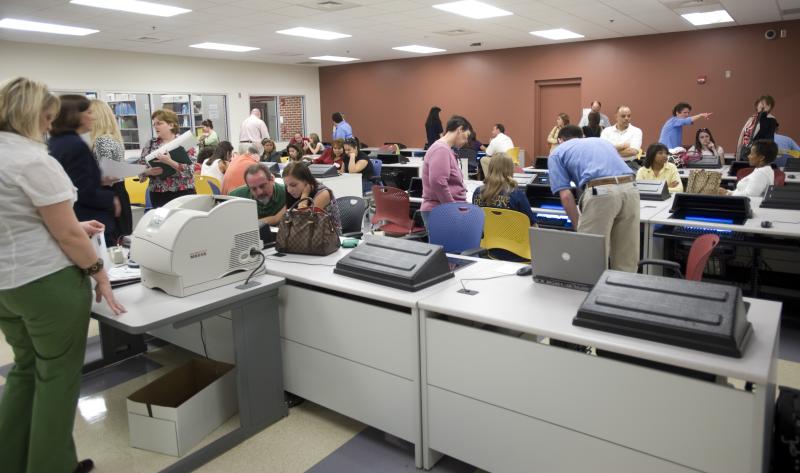 POUNCE Registration
POUNCE is our registration process for all newly admitted freshmen. Using preferences you indicate on your POUNCE form, an advisor will register you for classes based on those preferences, your chosen major and available courses.
Current-Students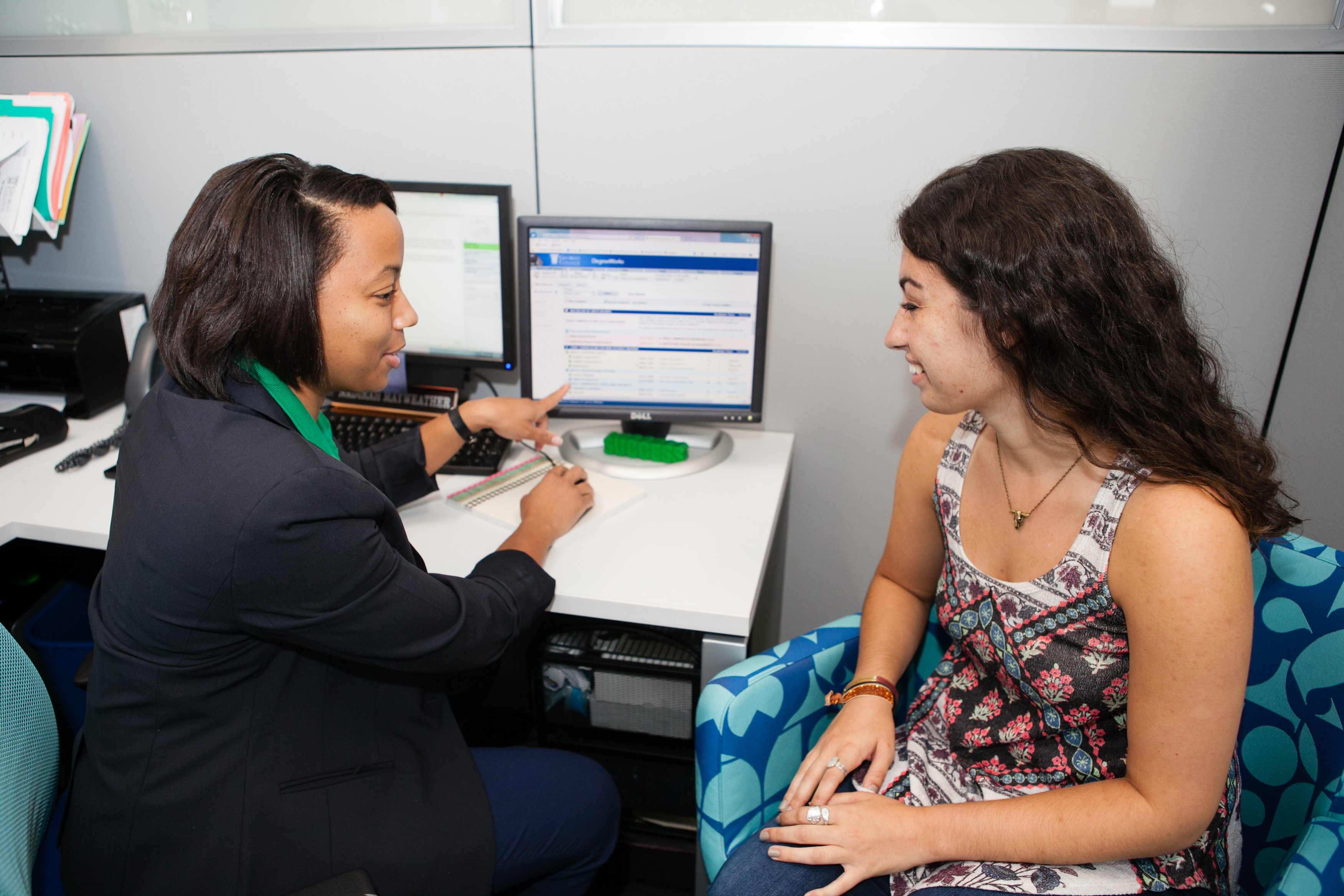 Advising Center
Students are able to experience centralized advising in Lanier Hall, located in the middle of the Academic Square. With professional advisors located in one building and representing every major, students can receive guidance in a one-stop setting.