Congratulations, Class of 2020
Georgia College will hold virtual spring commencement ceremonies on Friday, May 1 and Saturday, May 2. A new date for the traditional ceremony will be announced after the Centers for Disease Control and the Department of Public Health lift current restrictions on social gatherings. Please see President Dorman's letter for more information More than 1,500 students will receive their undergraduate and graduate degrees pending final grades for the semester.
Inspiring Students
Class of 2020
More than 1,500 students will cross the stage as they receive undergraduate, graduate, and doctoral degrees on the weekend of, May 1-2, 2020. With majors that range from business to art to nursing, these students have developed skills to navigate life by challenging themselves to think independently and lead creatively throughout their studies. They now leave Georgia College primed to make their mark on their communities and beyond.
Commencement Ceremony Information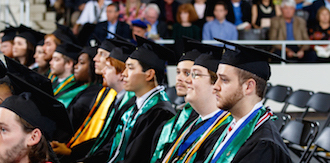 Friday, May 1, 2020
Georgia College is holding a virtual ceremony on May 1.
Get the Details
Saturday, May 2, 2020
The undergraduate virtual ceremony will take place on Saturday, May 2.
Get the Details
Visit our virtual graduation portal to find your ceremony clip.
Find your graduation clip
#GCSU20