Georgia College's Honors Student Association
Eta Sigma Alpha is Georgia College's Honors Student Association. Eta Sigma Alpha organizes numerous service, social and other events and activities. All Honors students are required to join Eta Sigma Alpha and remain in good standing (see below). There is a one-time $75 fee payable to Eta Sigma Alpha; this may be waived for students receiving federal financial aid and pro-rated for collegiate entry and transfer students. Fees are used to cover the cost of food for Eta Sigma Alpha events and for some events (such as Honors Convocation) jointly sponsored with the John E. Sallstrom Honors College. The fee also covers the graduation banquet for graduating seniors, two family members and a faculty guest.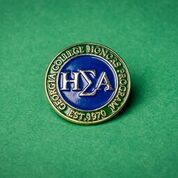 To remain in good standing with the Eta Sigma Alpha, Honors students must earn FIVE (5) participation points each semester. Honors lunch and dinner seminars are worth 1 participation point; Honors book and film discussions are worth 2 participation points; presentations or performances of creative work are worth 2 points; and presentations at undergraduate research conferences (such as the Georgia Collegiate Honors Council) are worth 3 points.
Students earn a gold, silver, or bronze graduation medallion for averaging 7-10, 4-6, or 1-3 points per academic year, respectively, with appropriate adjustments made for students graduating early or studying abroad. The total number of points earned will be divided by the total number of academic years, with half a year figured as 0.5.
Eta Sigma Alpha events are posted on the Honors College's GC Connect page.
Executive Board, 2021-22

President: Jacob Carter
Vice President: Bella Angell
Secretary: Ellen Yeudall
Treasurer: Mattie Berry
Parliamentarian/Director of Membership: Kae Gilliam
Director of Social Engagement: Rosalie Bodkin
Director of Community Service: Caroline Hegwood
Director of Campus Involvement: Daniela Hernandez
Director of New Membership: Caroline Beck
Director of Academic Affairs: Max Harley
Director of Public Relations: Caroline Johnson
Director of Intramural Activities: Priya Polanco
Past Presidents

2020-21, Rosalyn Bosarge
2019-20, Julian Lopez Hanson
2018-19, Julian Lopez Hanson
2017-18, Dorianna Dobson
2016-17, Dorianna Dobson
2015-16, Dorianna Dobson
2014-15, Elizabeth Lohrmann
2013-14, Alissa Marchat
2012-13, Sally Gilbreth
2011-12, Olivia Ollinger
2010-11, Brandon Williams
2009-10, Caroline Rentz
2008-09, Justin Reeves
2007-08, Lauren Lundin
2006-07, Lauren Lundin
2005-06, Harold Mock
2004-05, Casey Matthews
2003-04, Harold Mock
2003-03, Amber Knepper
2002-02, Dilanka Seimon
2001-02, Jennifer Colleran
2000-01, Bob Daneke
1999-00, Rochelle Norton
1998-99, Kelly Wallace
1997-98, Amanda Hudgens