At Georgia College, we don't just study the liberal arts; we put the liberal arts into action. Through a rigorous and scaffolded framework, leadership development and community engagement are built into everything we do, whether in the classroom or beyond.

---
Think Independently. Lead Creatively.
Learn what it means: Meet Kendyl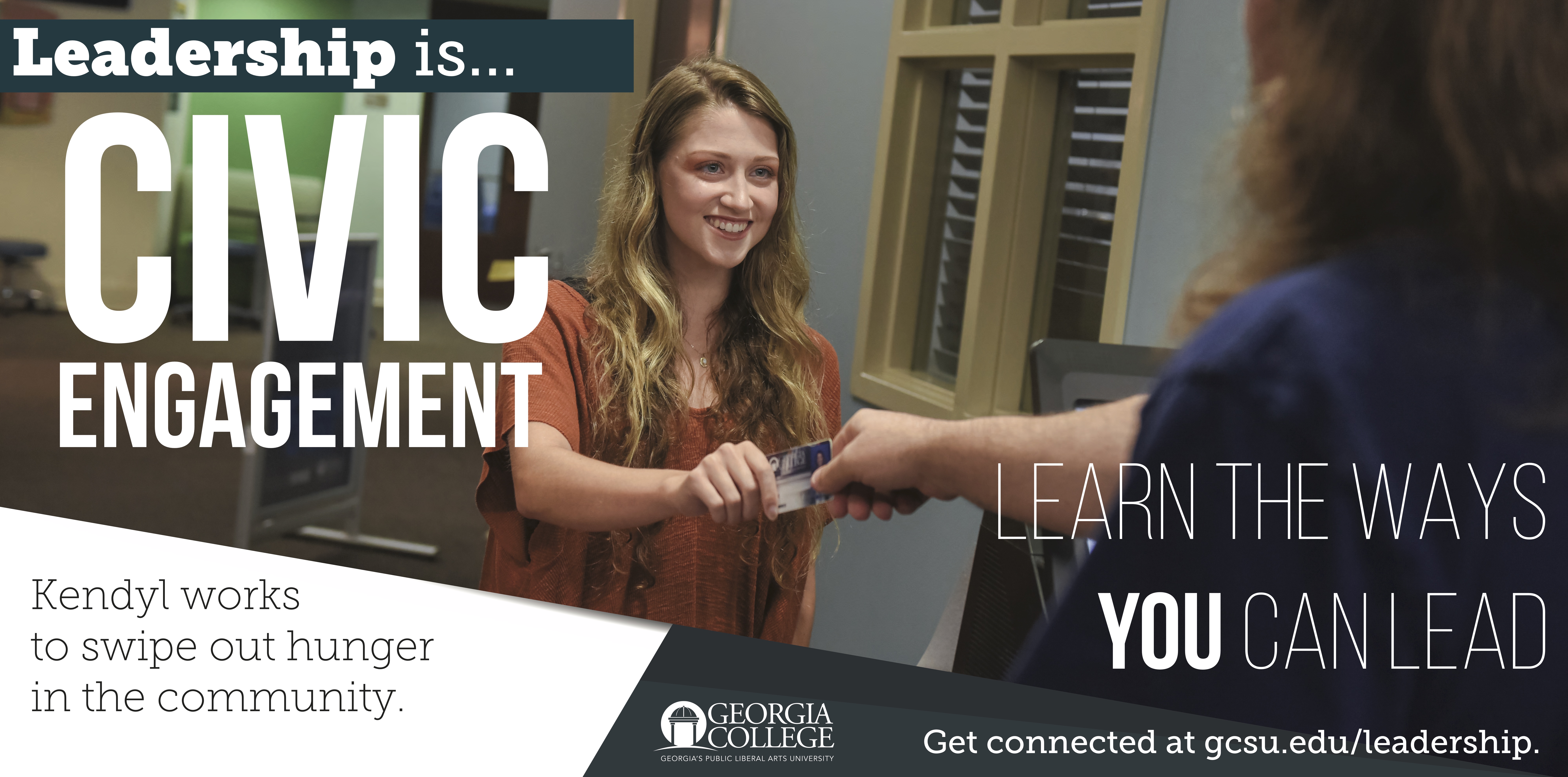 Meet Kendyl: A Leader in Civic Engagement. Food insecurity. According to Feeding America, in 2016 there were over 41 million people experiencing food insecurity in America – meaning they were struggling with hunger and did not know where their next meal may come from. Recognizing that need, Kendyl Lewis founded
Swipe Out Hunger
in an effort to close the food insecurity gap in the area. Through food drives, fundraisers, and by redirecting unused student meal swipes, Kendyl and her organization work to supplement students in need.
There are many student organizations that you can participate in to make a difference in the community. Or maybe, like Kendyl, you could start your own. Contact the Office of Leadership Programs to find out more about the resources Georgia College has to offer you.
---
Get Connected: Leadership at Georgia College
---
Why Does Leadership Matter?
1. Leadership skills last a lifetime.
Leadership skills enable you to succeed during college and in your career. Learning how to establish trust, build relationships, form a team, communicate ideas, empower others, innovate, and make decisions that will enable you to lead others competently.
2. The impact is real.
Effective leadership makes a meaningful difference in the quality of work you do and it changes the lives of those you work with.
3. The need is great.
Leadership is needed in all sectors of society. Leadership does not depend on your major; we need teachers, nurses, entrepreneurs, scientists, public servants, non-profit directors, and many other professionals capable of effectively working with others to create positive change.
4. The opportunity is here.
It is not the case that you either have these skills or you don't; leadership can be learned. You simply need the desire to learn, a passion for your work, and the willingness to put in effort.