The Office of Inclusive Excellence (OIE) provides institutional leadership on all matters of diversity and inclusion, working under the Office of the President. Our work promotes an inclusive campus that does not discriminate on the basis of race, genetic information, color, sex, sexual orientation, religion, national origin, age, disability, veteran status or any other irrelevant non-bona fide qualification in the administration of educational and employment programs, or any other activity administered by the university.
Georgia College is committed to the fundamental principle of diversity and inclusion, equal opportunity and equal treatment for all and strives to create a campus environment, which understands, fosters, and embraces the values of diversity and inclusion.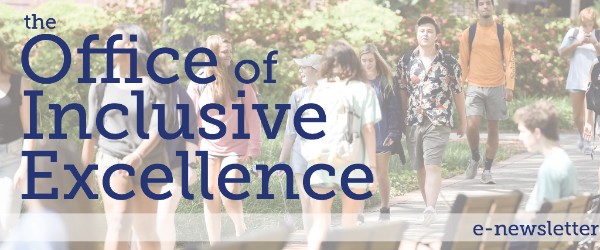 To view our monthly newsletter, click here.
To subscribe, submit your request along with your email address to oie@gcsu.edu.
CAMPUS RESOURCES
Student Resources
Faculty and Staff Support
Contact Us
Office of Inclusive Excellence
108 Parks Hall
Campus Box 004
Milledgeville, Georgia 31061
Phone: 478-445-4233
Fax: 478-445-1287
Follow us on social media: