Let the Journey Begin
Out of an abundance of caution for the safety of our staff and our visitors, please note the following stipulations:
Your visit has a strict three guest limit -- this limit means the prospective student and no more than two accompanying family members. We actually encourage only one family member to accompany the prospective student, if possible.
Guests must wear masks/face coverings, especially while inside Mayfair Hall / the Office of Admissions.
Guests will sanitize their hands upon entry to the GC Office of Admissions.
A residence hall view room, our dining hall, and the Wellness & Recreation Center will not be included in the campus tour.
---
Where to Meet Instructions
We welcome your visits to the Office of Admissions during regular business hours (8 a.m. - 5 p.m. Monday - Friday). If you need assistance the day of your tour, please feel free to call the Office of Admissions at 478-445-2294. If you are visiting on a Saturday, the Welcome Center will open at 9:30 a.m. and can be reached at 478-445-2294 if you need assistance. Tours begin at the Georgia College Welcome Center, located in Mayfair Hall, 404 W. Hancock Street. There will be a sign outside of the Mayfair Hall that says "Campus Tour Check In" (see photo below). Meet at the front desk to check in and be seated for a brief information session. Please arrive about 30 minutes prior to your tour time to find a parking spot and get checked in.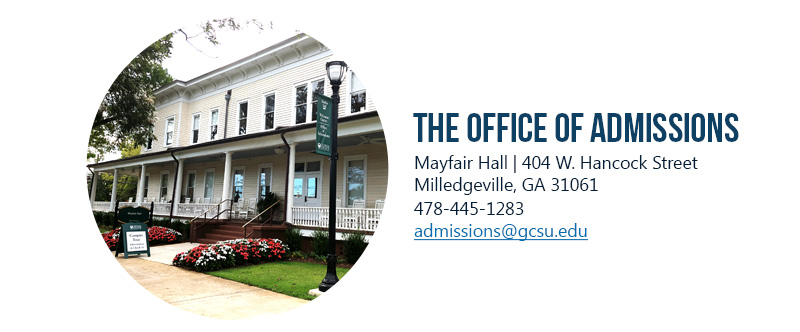 ---
Where to Park Instructions
Visitor parking spaces are located directly behind Mayfair Hall - 404 W. Hancock Street- LOT 8. Please download and print your visitor parking pass and place on the dashboard of your vehicle.
Download your parking here:
Driving Directions | Print a Visitor Parking Pass
Download a campus map: JPG or PDF

If the Mayfair Hall visitor spaces are full, you may park at the following overflow location: LOT 1 - Centennial Center, 251 South Clarke Street, Milledgeville, GA 31061. Your visitor's parking pass ONLY permits you to park in these two designated lots. Please call 478-445-2774 if you have any questions about parking.

Please DO NOT park in these special permit areas as YOU WILL BE TICKETED by Georgia College:
Reserved Parking Spaces requiring special permits
Loading zones
Accessibility Parking Spaces (blue markings) without a permit displayed
Fire lanes (red curbs) and No parking zones (yellow curbs)
If you choose to park in on-street parking, please be aware of any restrictions posted by the City of Milledgeville, such as "resident only" parking. City parking along the street generally has a two-hour limit, which is typically sufficient for a campus tour, but note that Georgia College is not responsible for citations issued as a result of parking violations.
Any available street parking on Clark and Hancock Street - click here for map
Please DO NOT park in these special permit areas as YOU WILL BE TICKETED and we will not be responsible for tickets.
-Hancock Street (Monday through Friday only)
-Wilkinson Street (Monday through Friday only)
-Residential Housing
-Downtown (Monday through Friday only)
-Reserved Parking Spaces
-Handicapped Parking Spaces
---
Driving Directions:
From I-20: Take exit 114 Madison. Take Hwy 441, Drive 45 minutes south to Milledgeville. Turn left on Hancock Street and entrance to Lot 8 will be on the right .

From Macon: Take Route 49 into Milledgeville, where it turns into Hancock Street. Entrance to Lot 8 is on the right.

From East: Follow Route 16 West into Sparta, joining Route 22 West in Sparta. Follow 22 West until it turns into Hancock Street in Milledgeville. Entrance to Lot 8 is on the left.