---
Interfraternity Council (IFC)
Georgia College has a number of member organizations that belong to North American Interfraternity Conference (NIC). The member organizations of the Interfraternity Council (IFC) work to promote the highest ideals of scholarship, leadership, service and brotherhood.
Students interested in membership to one of the Interfraternity Council member organizations, must register for recruitment, taking place both spring and fall semesters. Each potential new member will have an opportunity to visit each fraternity and a mutual selection process will assist students with finding the fraternity that alignes up with their values, principles, and ideals.
Member Organizations:
Spring 2019 Recruitment: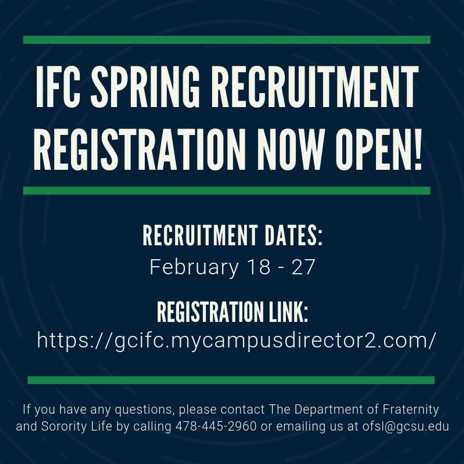 To register for IFC Spring recruitment please click here.
Fall Recruitment 2018 Dates:
Registration will open on May 15, 2018. Students will need to upload a photo, resume, and high school/college involvement to complete the registration process.
May 15 | online registration opens
August 16 | IFC parent orientation
September 4 I IFC online registration closes
September 7 | potential new member orientation
September 8 | meet and greet with house tours
September 9 | philanthropy event
September 10 | call back event
September 11 - 13 | preference dinners
September 14 | bid day
​
To be eligible you must be a full time enrolled student at Georgia College and have an established college cumulative GPA of 2.50 or greater. There is a $50 registration fee for all students interested in fraternity recruitment.