---
College Panhellenic Council (CPC)
Georgia College has eight National Panhellenic Conference sororities on campus that all participate in formal recruitment during the fall semester. CPC sororities are social, Greek-letter societies that provide their members with opportunities such as leadership development, community engagement and academic support. Students interested in joining one of these organizations must register with the council during the summer months and are required to come to campus a week before classes begin. During this time, each potential new member will have the opportunity to visit each sorority and a mutual selection process will begin to help each find their best fit in a sorority.
The organizations that make up the Panhellenic Council are:
Recruitment
​​
Formal
Recruitment Registration:
Registration for Panhellenic recruitment 2019 will open on May 13th and close on July 14th at 11:55 pm.
The rate for recruitment is $350 for students living in the residence halls and $210 for students living off campus.
The registration fee includes seven nights in the residence halls (for on campus students), breakfast and lunch for five days in the MAX, three t-shirts, recruitment technology, and program supplies. To register, please visit gcsupan.mycampusdirector2.com.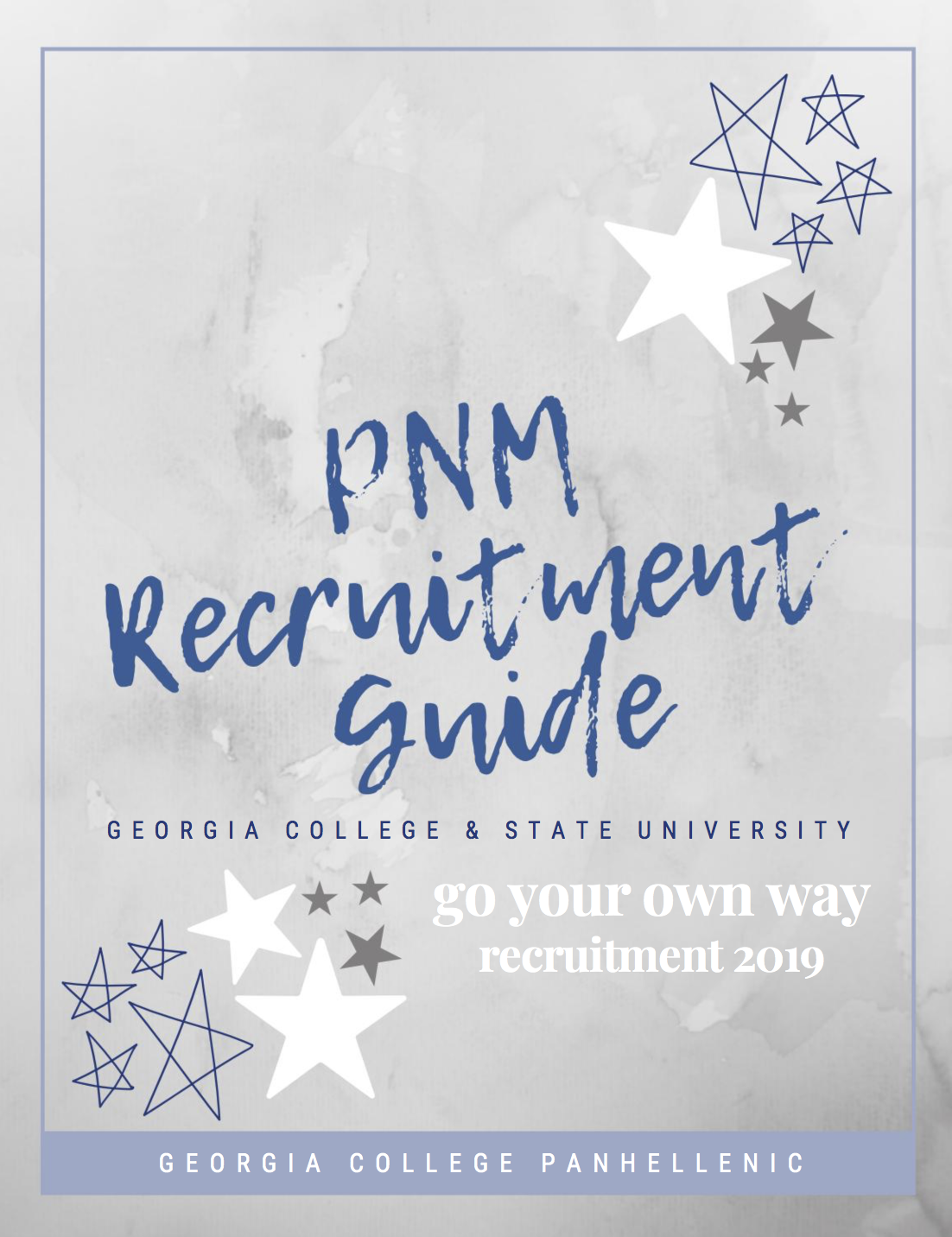 Formal Recruitment 2019 Important Dates:
August 8: Move-In
August 9: Meet and Greet Day (1)
August 10: Meet and Greet Day (2)
August 11: Philanthropy Day
August 12: Sisterhood/Leadership Day
August 13: Preference Day
August 14: Bid Day
Sorority membership is a big commitment but has the potential to impact your life for years to come. If you are interested in joining a sorority at Georgia College, there are a few things you should know.
Time - Like the best things in life, the more you put into your sorority experience, the more you will gain from it. Sorority life is a great place to learn time management as you will have the opportunity to participate in leadership roles, serve on committees, volunteer and, of course, make new friends. During your time as a new member, you will attend weekly new member education sessions. Some of the sorority chapters will also invite you to attend their weekly chapter meeting. Our sororities are also going to support your academic endeavors by offering study sessions and major-mentor groups. Georgia College and our Panhellenic Council require our Panhellenic sorority women to participate in a unique membership experience that houses second year sorority women in apartment style residences at The Village apartments. Women will be living alongside their sorority sisters, as they participate in a women's leadership development program.
Cost - Just like many things that make each sorority unique, the cost of membership is different for every group. Each organization sets their own budget that is voted on by the chapter members. Some chapters' budgets include all of the year's activities, while some chapters' budgets do not include all activities; instead, members pay only for the events and activities they attend. To give potential new members an idea of the cost of membership, we have provided a range of the costs of common fees charged by sororities at Georgia College for the first year of membership.
$1,000-1,750
The most expensive time in Fraternity and Sorority Life is during the first semester of membership. The fees paid during your first year of membership include fees such as:
Inter/National Fees Sisterhood Events
Date/Social Events Philanthropy Events
Initiation Fee*
Badge Fee*
Parlor/Housing Corporation Fee Technology Fee
T-shirts
One time fees required during the new member period have been denoted with an (*).
Sorority Living Learning Community
http://www.gcsu.edu/fsl/sorority-living-learning