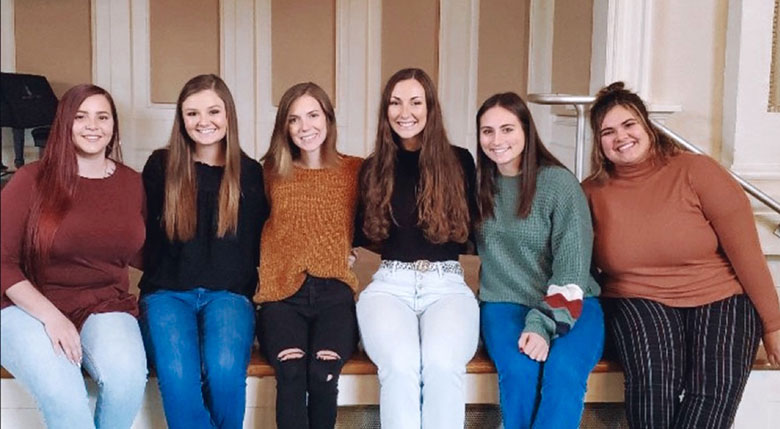 ---
College Panhellenic Council
The Georgia College Panhellenic Council is the governing body that oversees eight dynamic chapters. As a council our goal is to promote cooperation, collaboration, unity, and pride. This goal allows our council to demonstrate our leadership, through community service, and educational awareness programs. Our council prides themselves on supporting all the women in our community.
---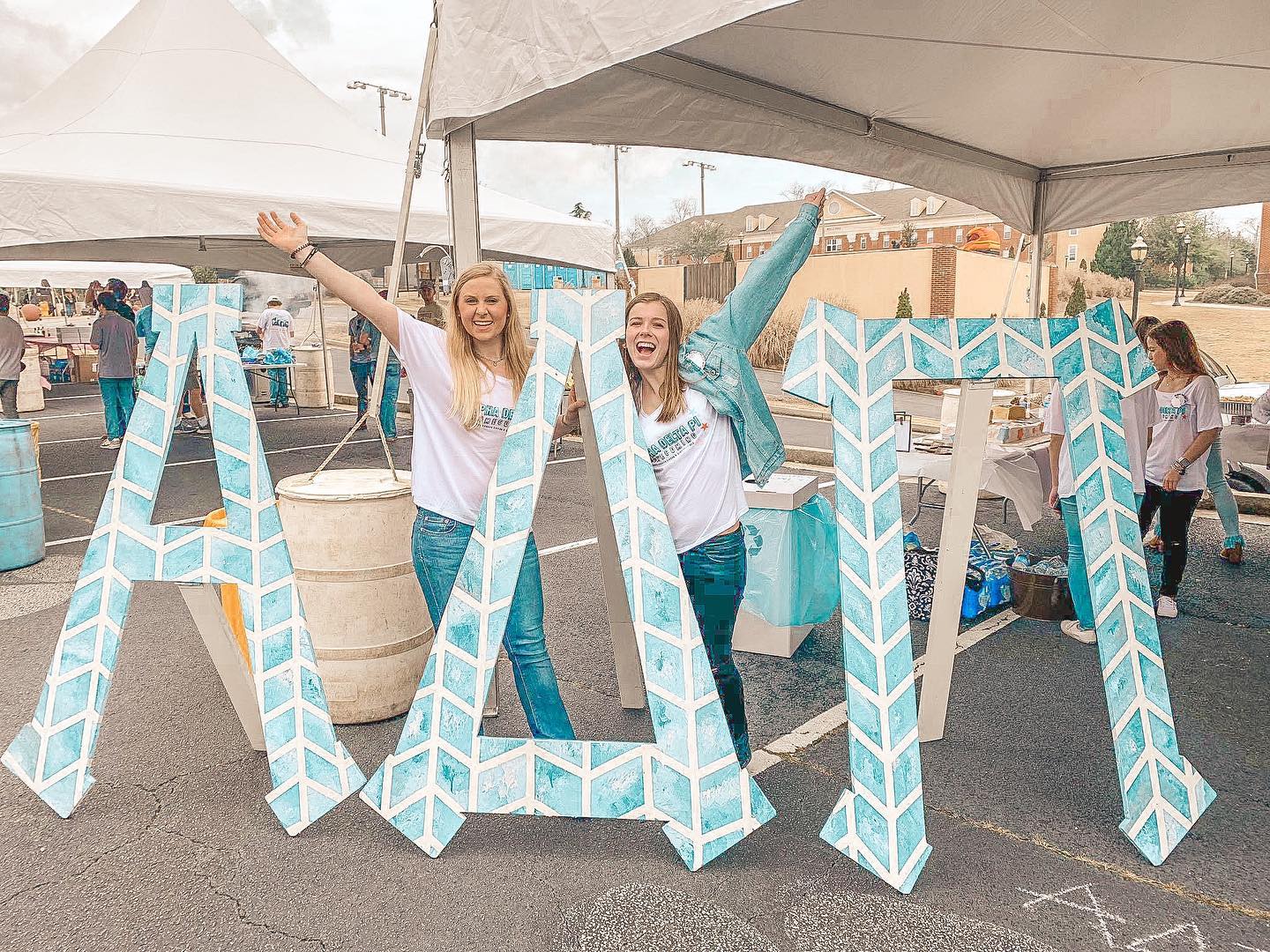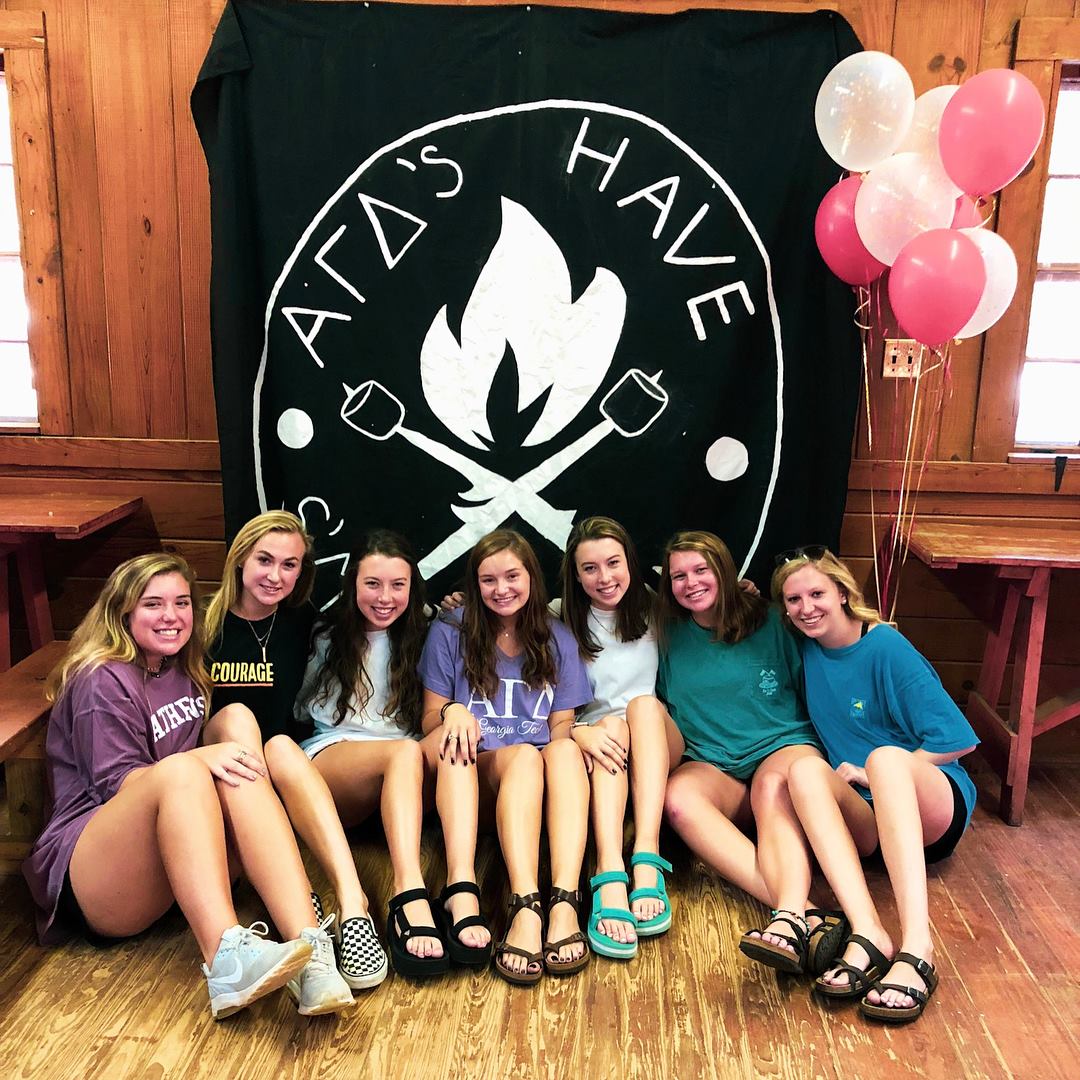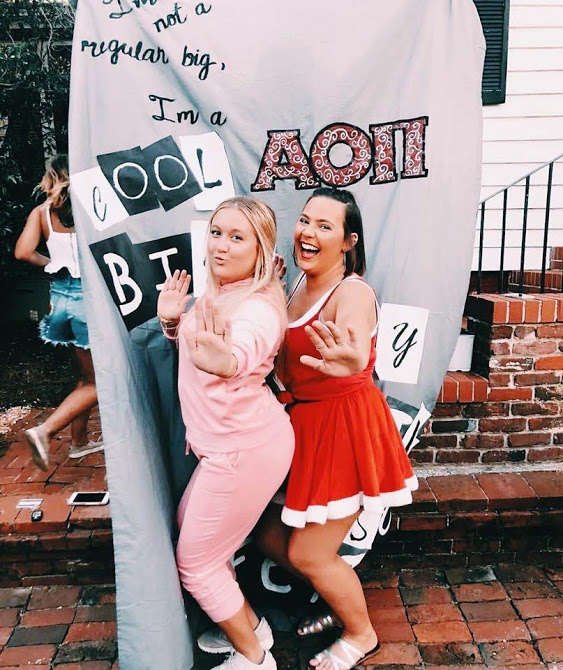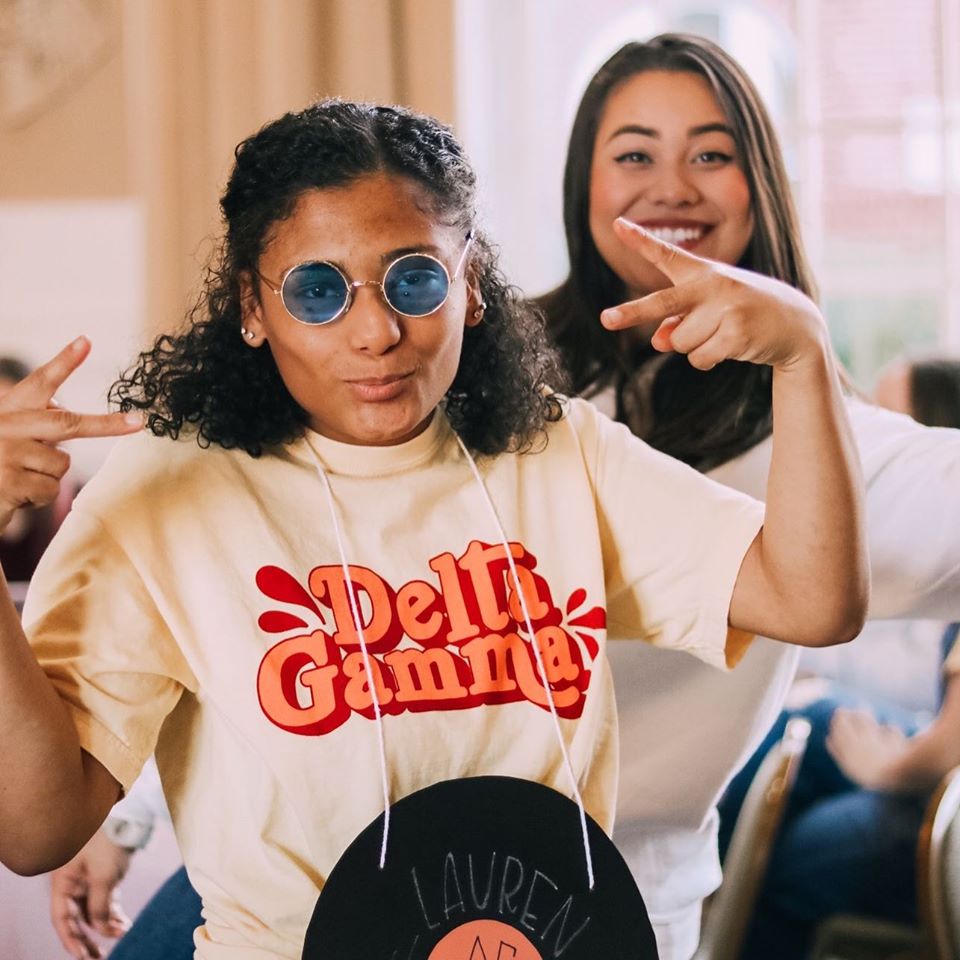 ---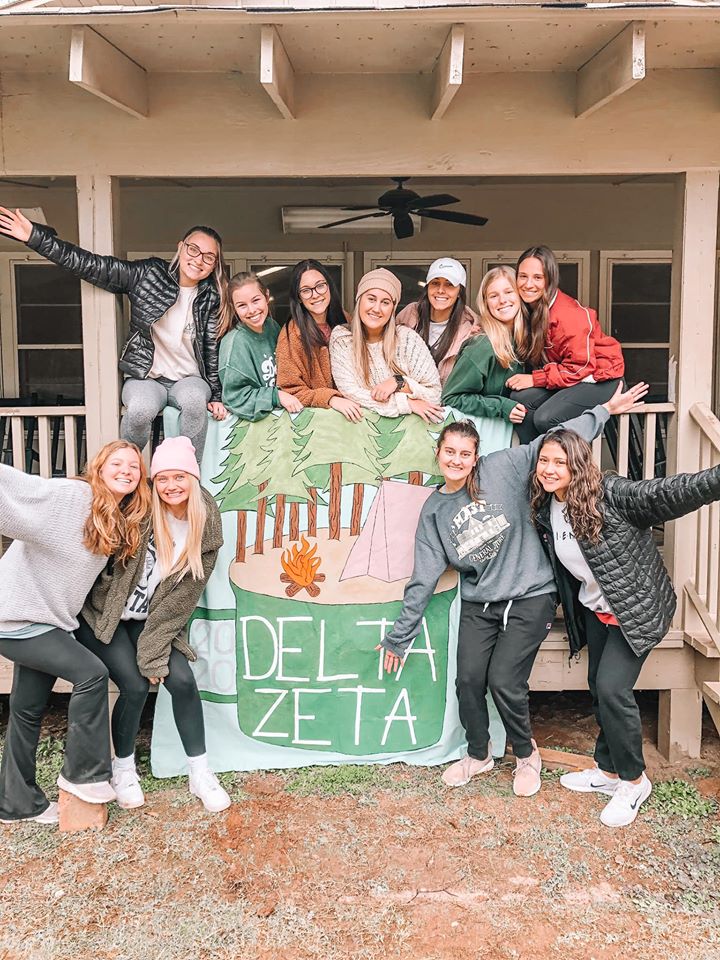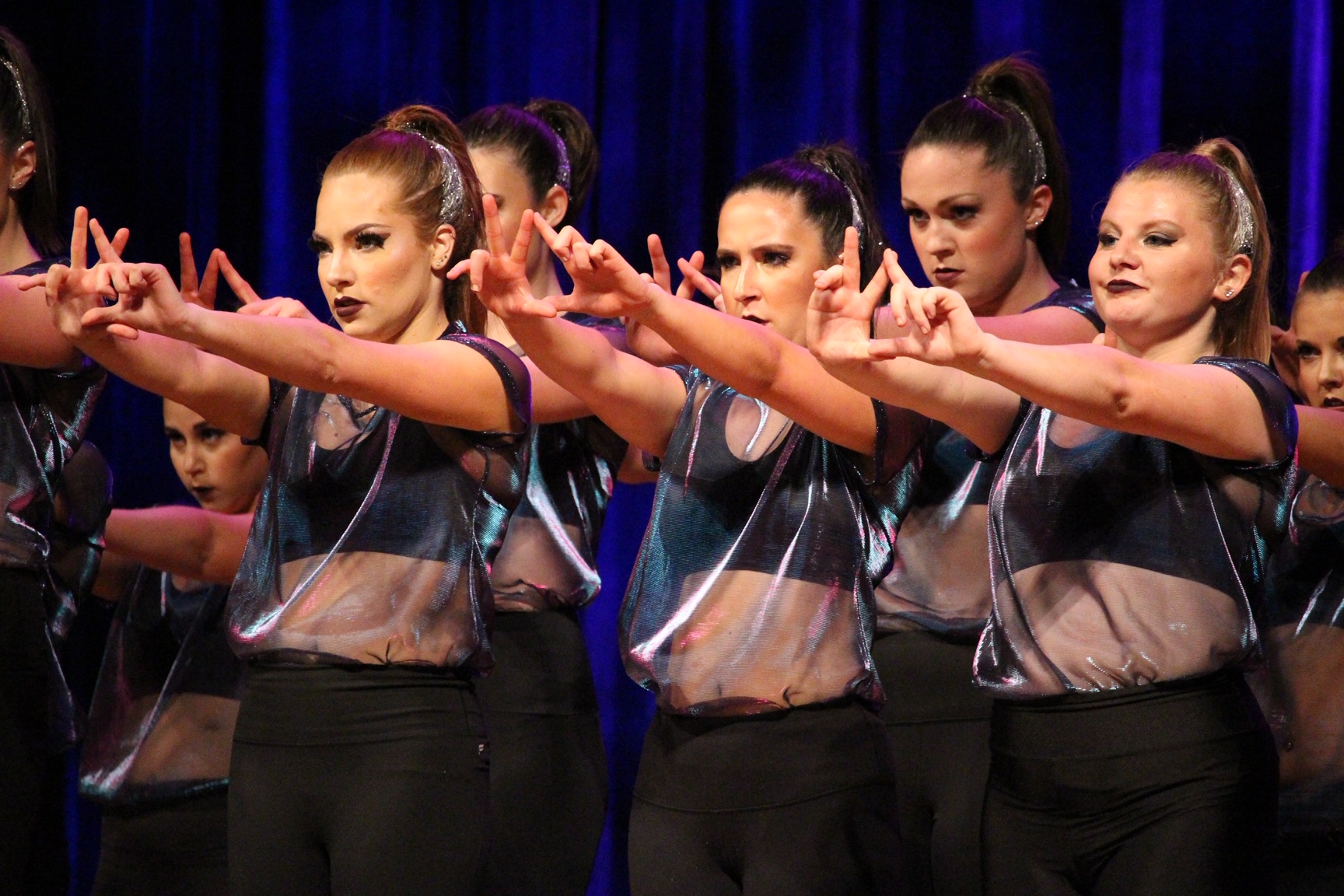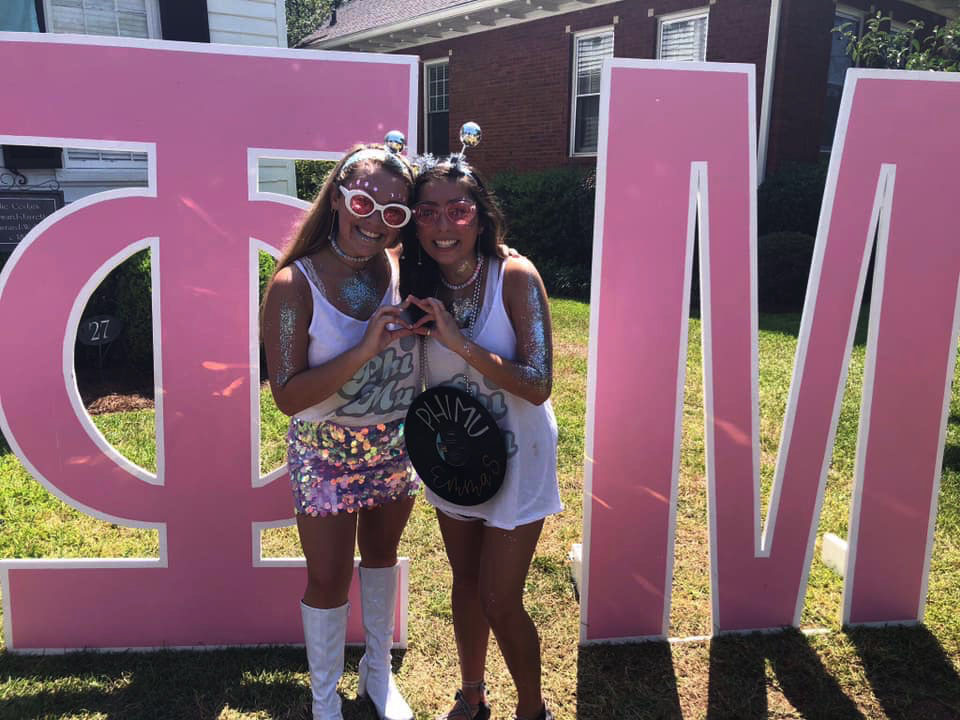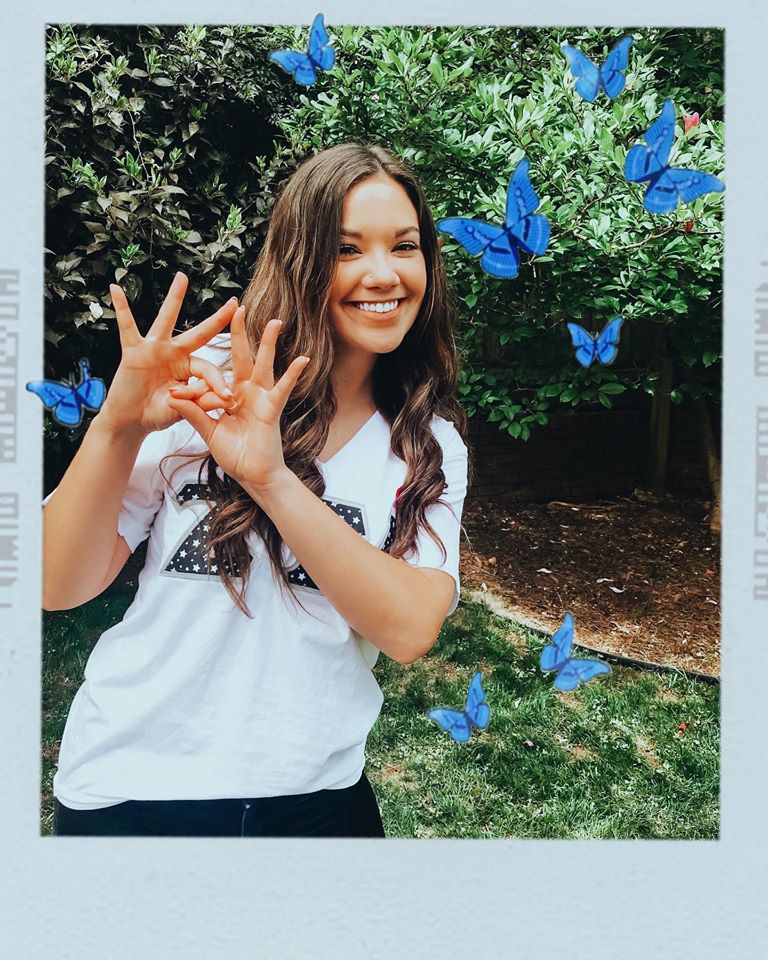 ---
RECRUITMENT
---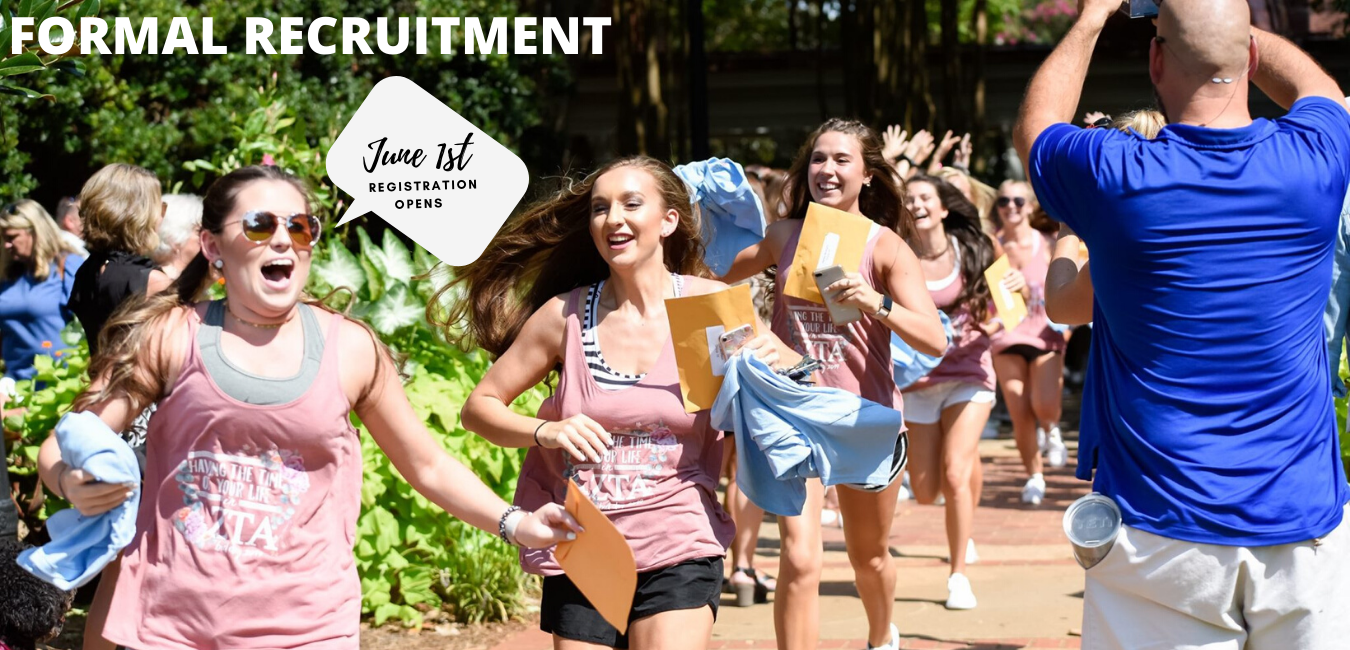 ---
​​
REGISTRATION OPENS on June 1st and close on July 12th at 11:55 pm.
The registration fee for 2020 will be $300 if you are living on campus, and $200 if you are living off campus. The registration fee will include the early move in rate for the residence halls (for on campus students), breakfast and lunch for five days in the MAX, three t-shirts, recruitment technology, and program supplies.
To register, please visit gcsupan.mycampusdirector2.com.
---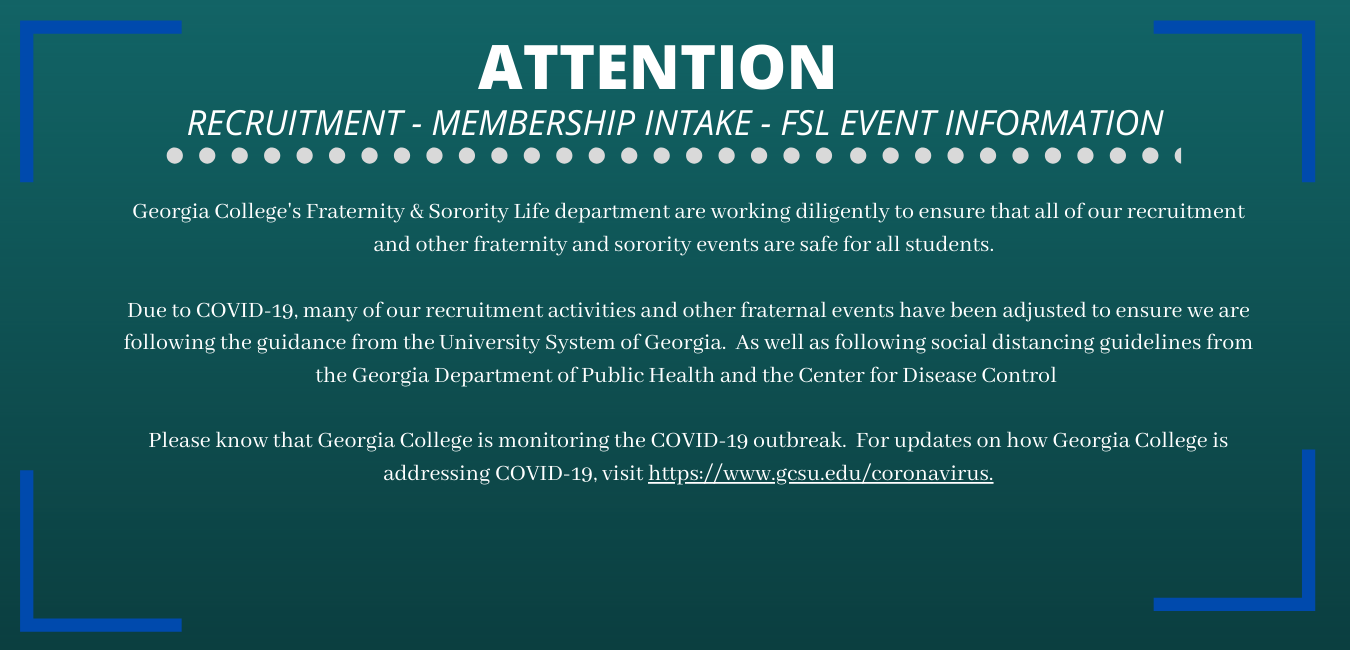 ---
WELCOME to Georgia College! On behalf of the Panhellenic community, we are so excited to have you!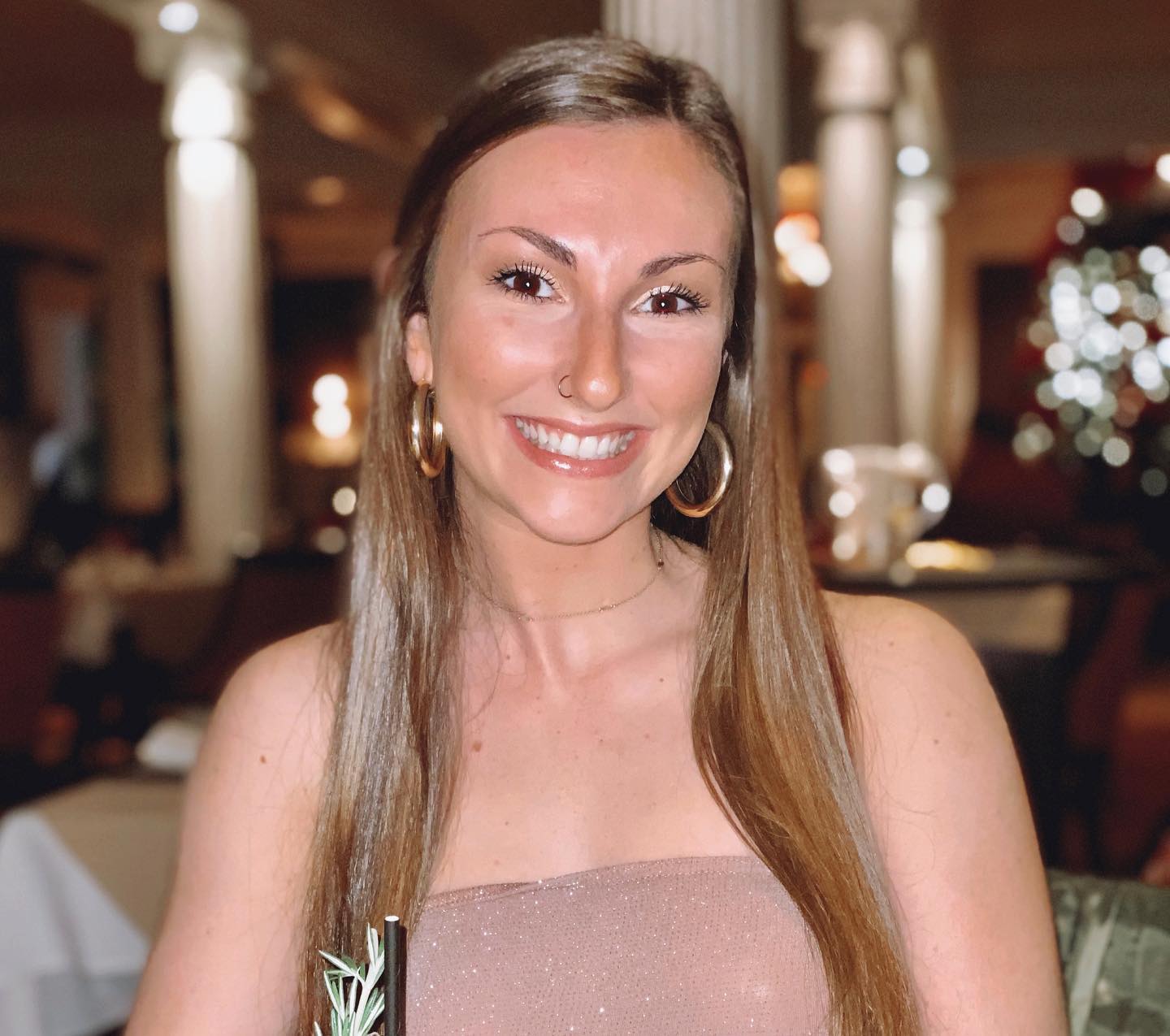 As I enter my senior year here at Georgia College, I have been given the opportunity to reflect on what has made my time here so special. My involvement in Greek life and membership in the Panhellenic community has gifted me with opportunities I never planned. I have had the ability to not only create incredible friendships with strong women, but I have learned from them how to be a leader in my own way.
Our Panhellenic community is rooted in empowering those around us, serving others through our philanthropic ventures, and developing confidence. Each of the eight organizations on this campus possess unique qualities. You are guaranteed to find a close-knit sisterhood, with a strong dedication to service in all of them. The Panhellenic bond shared by members of each organization provides a refreshing assurance of our ability to count on each other for support, while also propelling each other to aim for success.
I am so grateful for the opportunity to serve as the 2019-2020 Panhellenic President. With all that this year has thrown at us, my position and responsibilities have changed, and I have learned how to adapt. Sometimes everything feels very hard and overwhelming, but then I remember how many strong leaders surround me and I am motivated to be strong like them. I hope to continue to instill a sense of empowerment, confidence, and inclusivity in Georgia College's Panhellenic community, and grow our impact on and off campus. No matter where your path leads you, I hope you find your place in our Panhellenic community.
With Pan Love,
Madison
2019-2020 Panhellenic President
June 1st - Recruitment Registration OPENS
July 12th - Recruitment Registration CLOSES

Registration will close at 11:59pm

August 2nd - Potential New Member (PNM) Move-In
August 2nd - Parent Orientation
August 3rd - Virtual Orientation
August 4th-9th - Recruitment
August 10th - Bid Day
August 12th–First Day of Classes
August 2nd - PNM's Move-in to Residence Halls
August 3rd - PNM Virtual Orientation
August 4th - 5th - Virtual Open House Round

PNM's will virtually visit all eight chapters and talk to sorority women of each chapter

August 6th - 7th - Virtual Philanthropy/Sisterhood Round

PNM's will virtually visit with at most 5 chapters

August 8th - 9th – Preference Round

Following CDC guidelines, PNM's will visit with chapter women

August 10th - BID DAY
Sorority membership is a big commitment, it has the potential to positively impact your life for years to come. We hope that you are serious about wanting to be a part of our Panhellenic community. If you are, here are a few things you need to know:
Time Commitment- Like the best things in life, the more you put into your sorority experience, the more you will gain from it. Sorority life is a great place to learn time management as you will have the opportunity to participate in leadership roles, serve on committees, volunteer and, of course, make new friends. During your time as a new member, you will attend weekly new member education sessions. Some of the sorority chapters will also invite you to attend their weekly chapter meeting. Our sororities are also going to support your academic endeavors by offering study sessions and major-mentor groups. Georgia College and our Panhellenic Council require our Panhellenic sorority women to participate in a unique membership experience that houses second year sorority women in apartment style residences at The Village apartments. Women will be living alongside their sorority sisters, as they participate in a women's leadership development program.
Financial Obligation - The cost of membership is different for every group. Each organization sets their own budget that is voted on by chapter members. Some chapters' budgets include all the year's activities, some chapters' budgets do not include all activities; instead, members pay only for the events and activities they attend. A range of the costs of common fees charged by sororities at Georgia College for the first year of membership averages between $1,000 - $1,750.

The 1styear is always the most expensive time. Below is a list of potential fees. Fees denoted with a (*) are considered one-time fees.

Inter/National Fees Sisterhood Events
Date/Social Events Philanthropy Events
Initiation Fee*
Badge Fee*
Parlor/Housing Corporation Fee Technology Fee
T-shirts

Sorority Living-Learning Community – Georgia College offers a unique living experience for Panhellenic sorority women. Women who participate in formal recruitment, accepting a bid from one of our CPC sororities, participate in the Sorority Living-Learning Leadership Community. Students move into the facility the beginning of their sophomore year, and participate in leadership development programs that focus on Women Empowerment.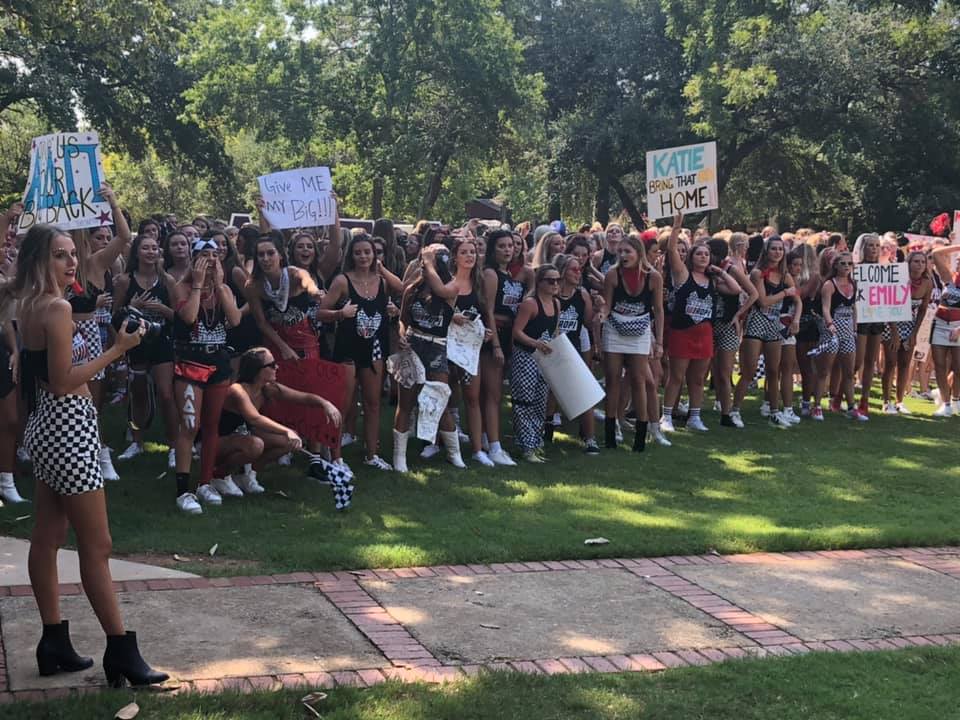 REMINISCE WITH US
CLICK AND WATCH
The best part of recruitment is watching our women find their new sorority home. BID Day Run-out is a long standing tradition at Georgia College. Unfortunately, due to COVID_19, Bid Day will not be celebrated in the same capacity as in the past. However, we promise to make BID Day for our 2020 recruitment class just as memorable as past BID Days. Let's take a look back at all the fun that BID Day brings.... know that we will see our traditional Bid Day again, but unfortunately not for the 2020 Recruitment.
A Recommendation Letter (also referred as a "rec" or "reference") are often submitted to chapters in support of a potential new member (PNM). Please be advised that each sorority has a different policy on the submission of recommendation/reference information.
Recommendations can only be made by sorority alumna, and depending on the organization, a collegiate member of a chapter. Each organization will have a different requirement for the submission of said reference/recommendation letters.
Alpha Delta Pi – Zeta Iota Chapter

Online Rec Submission– Alumnae Column, then Recommend a Potential New Member
Will need a member login to submit

Alpha Gamma Delta – Nu Delta Chapter
Alpha Omicron Pi – Phi Gamma Chapter
Delta Gamma – Eta Chi Chapter

Rec. Form– Will need a member login to submit, Profile, Username dropdown

Delta Zeta – Lambda Pi Chapter
Kappa Delta – Eta Mu Chapter
Phi Mu – Gamma Sigma Chapter

Rec Form– Will need a member login to submit

Zeta Tau Alpha – Kappa Upsilon Chapter
---
NATIONAL CHAPTERS
---
​​