Welcome!
The International Education Center (IEC) of Georgia College (Officially known as Georgia College & State University) promotes international and cross-cultural learning and understanding, inclusion, the importance of diversity, and assists the university in developing graduates who are not only prepared for success in a global economy, but are ready to shoulder their responsibilities as informed citizens of an increasingly diverse and interconnected world.
The IEC is the vibrant home - and center of personalized assistance - to the academically-gifted students from around the globe who increasingly make Georgia College their institution of choice, and who enrich our campus and regional community – not just through their presence, studies, and classroom contributions, but also through their enthusiasm for cultural collaboration and through their volunteerism in service to their new home community.
The Center also equally facilitates and coordinates international academic study, research, and internship opportunities for all Georgia College students, as well as partnerships and exchanges with institutions abroad. Presently, nearly 300 Georgia College students - representing over thirty different majors - study abroad for academic credit each year in nearly two dozen separate nations worldwide. Students may study abroad on short-term programs - often with faculty in their majors - or through semester or even academic year-long programs at major universities throughout the world. To explore the many options available for students to pursue studies abroad, including financial support options, click here.
The IEC additionally provides specialized assistance to the university's dedicated – and student-centered - faculty members to conduct international research - and/or create and lead faculty-led study abroad programs – as well as providing valuable support to Georgia College's international faculty and to international visiting scholars and international scholars and artists-in-residence. As a decidedly community-oriented unit dedicated to global engagement, the IEC also organizes a strong array of cultural and informational programming, provides support for community initiatives such as the Connections community friendship and mentorship program, and advises the very popular International Club comprised of both domestic and international students. The International Club is one of Georgia College's largest - and most active - student organizations. For more information about the International Club, click the link on the menu to the right.
International Admissions
Apply for international admission to Georgia College, by consulting "International Admissions" on the menu to the right.
Georgia College welcomes - and encourages - applications from students with disabilities and from diverse and/or challenged backgrounds. All are welcomed at Georgia College.

Georgia College's Dedication to the Health and Well-Being of Students Studying Abroad
Students and families may rest assured that safety and other related considerations are essential components of each and every education abroad program offered by Georgia College. Georgia College adheres to the highest professional standards of safety and risk management in education abroad as established by the leading organizations in the field. Georgia College is a member, for example, of the Forum for Education Abroad, the organization that has established the most widely-accepted standards of good practices related to studies abroad. The International Education Center adheres to, and implements, the Forum's important Standard 8 on safety abroad and risk assessment. In addition, the International Education Center monitors world events through a variety of government-based resources, including the U.S. Department of State, the Overseas Security and Advisory Council (OSAC), and the Center for Disease Control (CDC), as well as foreign-based resources, including (but not limited to): the British Foreign Service and Commonwealth Office and the Canadian Government's Foreign Travel Advice websites. Georgia College also works closely with its own foreign university partners, contacts, and study abroad affiliates for detailed "on-the-ground" understanding and assessments of local and regional events or concerns. All Georgia College-organized programs require students, faculty, and staff to enroll in the Smart Traveler Enrollment Program (STEP), a free service of the U.S. Department of State that facilitates the easy registration of travelers' plans with their destination's nearest U.S. Embassy or Consulate. In this way, those offices are aware of participants' presence abroad and - in the event of need - may reach out to them directly. Additionally, all study abroad students, faculty, and staff are covered by comprehensive medical and evacuation insurance plans specifically tailored for the unique needs and circumstances of study abroad participants. All of this critical information (and more) is delivered in pre-departure group orientations and/or in one-on-one advising sessions. For more information on these matters - or to pose specific questions related to studies abroad - you are welcome to e-mail the International Education Center's study abroad specialists at studyabroadinfo@gcsu.edu or to call the office at (478) 445-4789.
The IEC Professional Staff
The International Education Center is led by the center's director, the Assistant Vice President for International Education, who serves as the university's senior international officer. The director is supported by a full-time staff of four professionals with specializations in the fields of Recruitment and Immigration, International Student Services, and Education Abroad, all of whom carry responsibilities related to student and faculty support, plus programmatic activities and initiatives. The office is further assisted by an administrative assistant and several student interns and workers interested in service, diversity, and international affairs. The work of the center is enhanced by the input of several committees with participation by faculty and staff, as well as by those who serve on the University System of Georgia's system council and committees, including councils representing activities in Africa, the Americas, Asia, Europe and the Middle East. The office and its staff maintain active memberships in the most important national and international professional organizations related to international education, including NAFSA, the Forum on Education Abroad, EAIE, and others.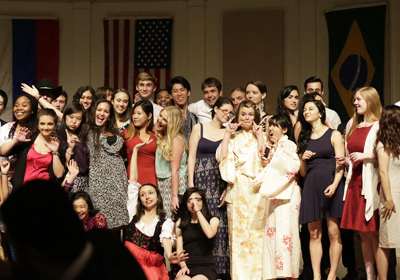 Newsletter
Stay up-to-date with all of the happenings of the International Education Center by reading our newsletter here.
(The newsletter is temporarily not being updated during the transition to a new format that will offer expanded coverage.)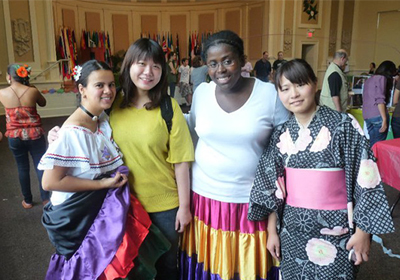 International Club
To obtain more information about the International Club click here or contact the International Education Center.
Contact Us
International Education Center
intladm@gcsu.edu
Phone: (1) 478-445-4789
Fax: (1) 478-445-2623
Georgia College
Bone House
141 S. Clarke St.
Campus Box 049
Milledgeville, GA 31061 USA