The Climbing Wall at the Wellness and Recreation Center is the result of the collaboration of many partners and programs including the Georgia College Student Government Association, the College of Health Sciences (including Department of Outdoor Education, the Outdoor Center, and Wellness Program faculty and staff), Plant Operations and Facilities Planning, and various contractors. The Wall is one of many impressive features in our state of the art building and could not be possible without these talented and invested people and organizations.
The Climbing Wall is staffed by the WRC and managed through the Outdoor Center at Georgia College. Georgia College's Department of Outdoor Education academic programs, The Outdoor Center at Georgia College, and the WRC Climbing Wall are accredited by The Association for Experiential Education.
Open Fall and Spring Semesters
Sunday - Thursday
6:30 p.m. - 9:00 p.m.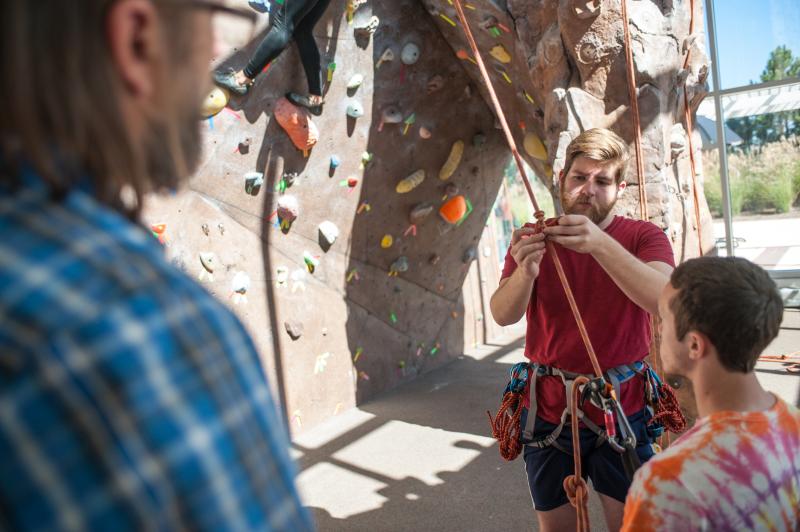 Climbing Wall Policies
The following policies are to be observed during any contract programs or open climb sessions at the Climbing Wall:
Rules of the Wall
All climbers must check in at Member Services before entering the climbing area.
Loose jewelry/glasses must be secured and all objects from pockets must be removed before climbing.
No food, drink, or gum/candy is allowed in the climbing wall area.
Climbers may use personal gear. Only commercially manufactured climbing equipment in good condition is allowed. Manufacturers guidelines for retirement must be followed. Climbing wall staff will inspect all harnesses and determine if they are appropriate for use.
Only climbing shoes are allowed on the climbing wall. No climbing shoes may be worn outside the climbing area.
Only chalk balls/socks are allowed. No loose chalk. Clean up after yourself.
Communicate! Talk to your climber/belayer/spotter!
When bouldering you must stay below the marked maximum height; spotters are recommended.
No one is permitted to belay or tie themselves into a rope until they pass the WRC Climbing Wall Basic Belay Test.
All belayers must stand. Sitting or laying while belaying is not permitted.
Lead climbing and lead belaying are not allowed without first passing the WRC Climbing Wall Lead Test.
Tightening, loosening, or moving holds in any manner is not allowed without authorization of WRC Climbing Wall Staff.
Please report loose holds, bad wear spots on ropes, or any issue you believe to be a safety hazard.
Personal items should be stored in the bench shelving. No personal items should be on the climbing wall surface.
Please be courteous and respectful to other participants. Vulgar or obscene language will not be tolerated.
Getting Started!
The Climbing Wall is open to all currently enrolled, fee paying GC students and paying members of the Wellness and Recreation Center. Prior climbing experience is not required. Our trained staff is ready to assist new climbers, as well as help experienced climbers make the most of their wall workout! Just walk up and let the staff know you want to climb, we'll take it from there! *See "Rules Of The Wall" for additional information and restrictions.
Climbing is a great way to workout! Join one of our climbing challenges or follow a workout routine card. Watch for Climbing Wall Game Nights, New Climbing Challenges, Belay Classes & more!!
We provide the gear you'll need!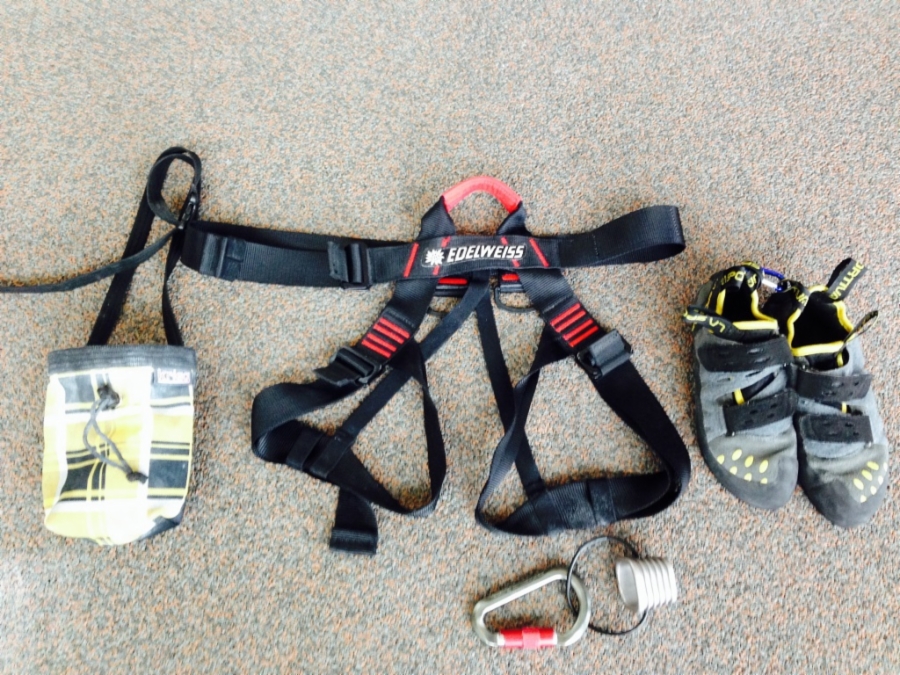 (chalk not included)
Basic Belay Class
Members learn how to manage the rope in order to keep the climber safe and includes proper knots, climbing commands, and harness safety checks. Before climbing independently, members must pass a belay check-off demonstrating competency with the skills needed to ensure a climber's safety. Taking this class and/or successfully passing the test will allow members to climb on their own during open roped climbing hours.