Student employees are an integral component of Wellness and Recreation operations. All are expected to demonstrate a positive and friendly attitude and interact accordingly with patrons. Employees should be enthusiastic about health and wellness; they should be highly motivated and eager to help users when needed. We expect our staff to be team players who understand that each student's effort and job performance contribute to the overall function and degree of excellence within the department. Employees should take pride in their work and value the responsibility of leadership within the Department of Wellness and Recreation.
Job Descriptions are listed at the bottom of the page.
Currently accepting online applications for the fall 2019 semester for the following positions:
Fitness Assistant

Group Fitness Instructor

Member Services Representative

Personal Training

RecSports Officials

RecSports Scorekeepers
---
To be considered, applicants must meet the following requirements:
Enrolled GC student for fall semester 2019

Available for in-person interview between now and July 14, 2019

Able to complete and return all hiring documents to Human Resources by July 24, 2019, including ORIGINAL I-9 identification documents (see below - NOTE, copies are not accepted) :

Photo identification AND birth certificate or social security card OR

Unexpired passport

Direct Deposit is mandatory for employment. Therefore, make sure you have a checking or savings account at a bank prior to seeking employment. If hired you will be required to submit a voided check or an official document from your bank with your routing and account numbers to the GC Payroll Department.
---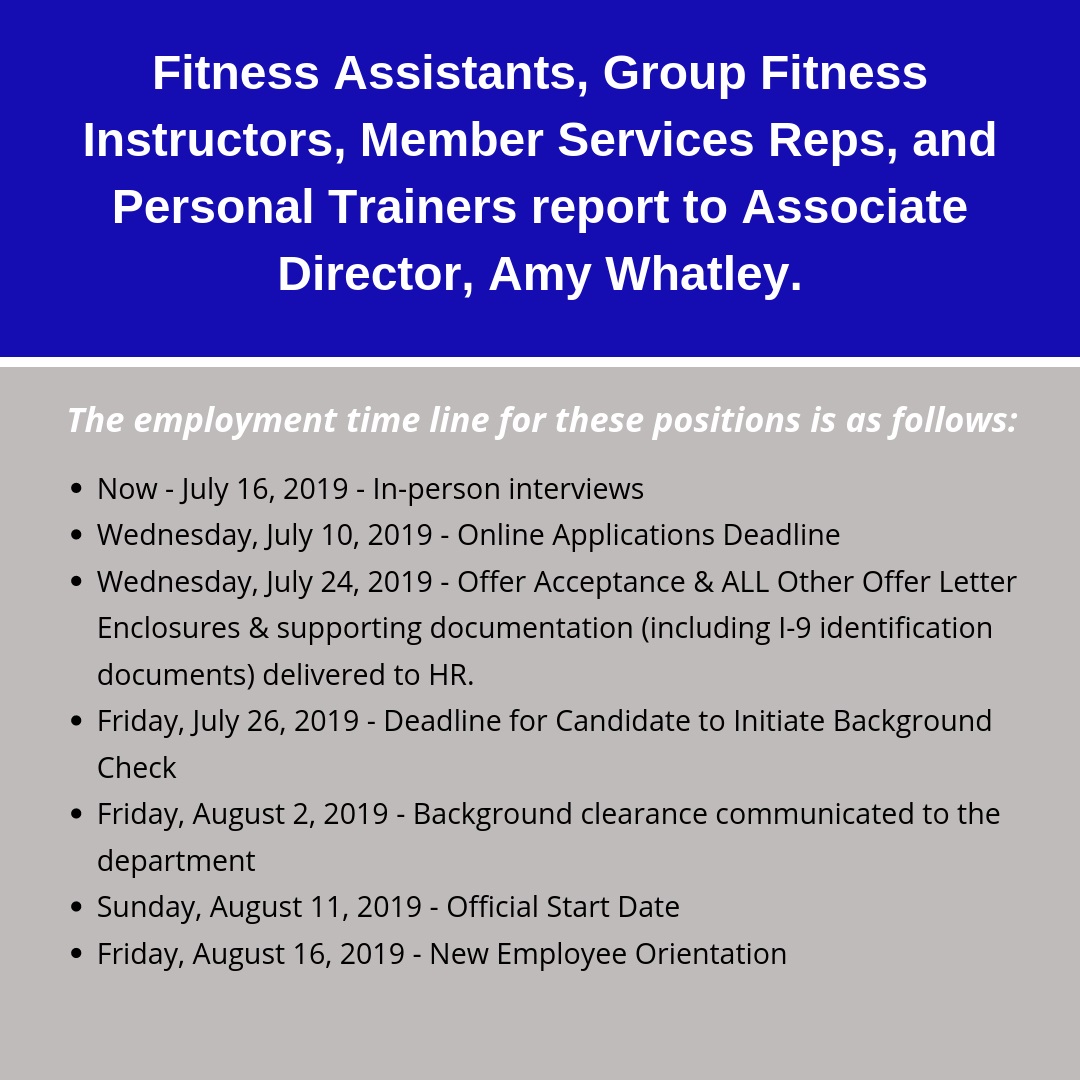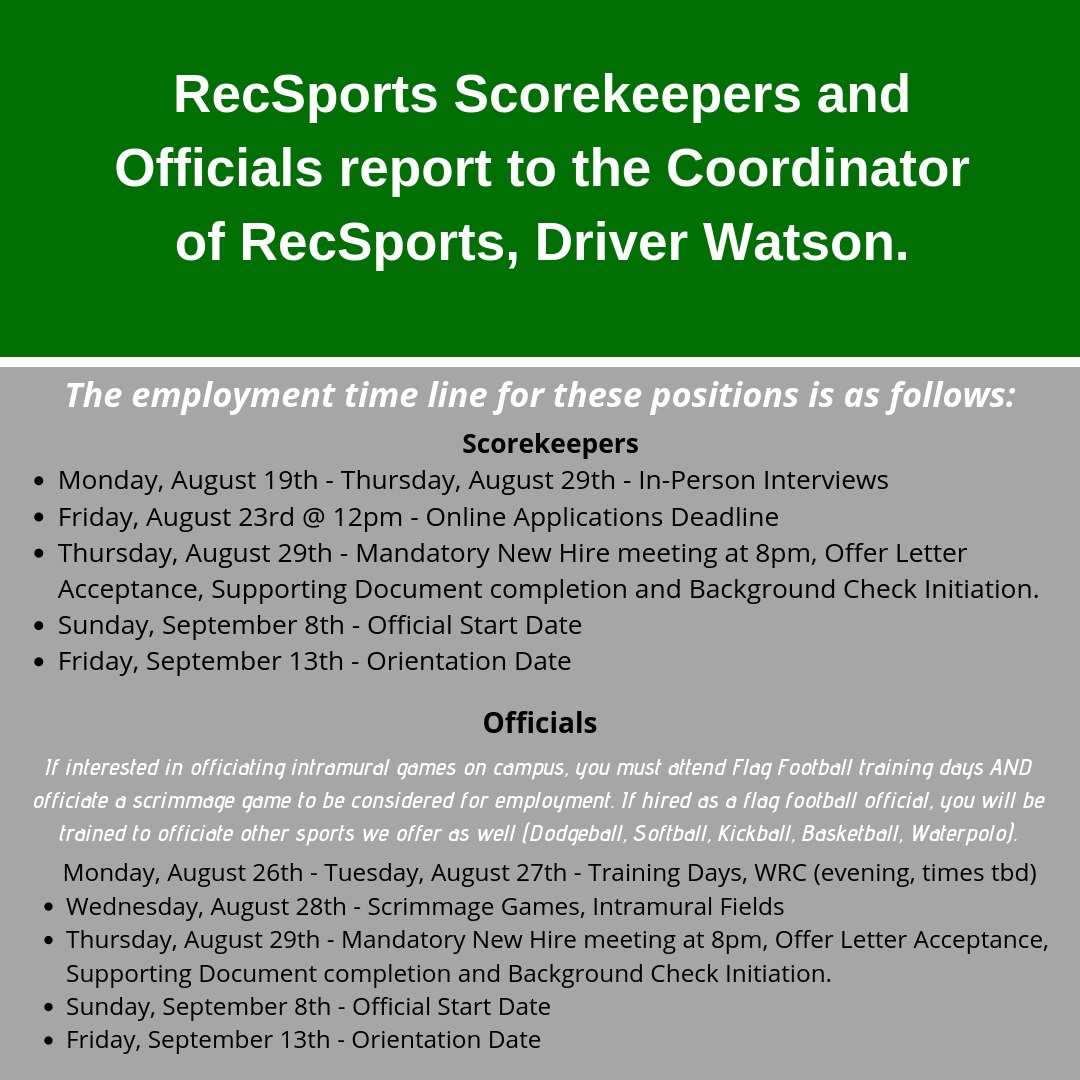 ---
Job Descriptions
The highest level student position within this department. This position is hired internally. Student Supervisor's are responsible for overseeing and executing programming operations for the WRC, as well as developing other student staff members. Supervisors are thoroughly trained in all areas of Wellness & Recreation. They are expected to have advanced problem solving skills, communication skills, risk management skills, and customer service. They are expected to serve as active brand ambassadors for Wellness & Recreation. Supervisors are first responders to emergency situations inside the building and outside at the intramural fields for all programs and are responsible for detailed documentation when conflicts/emergency situations occur.
Hourly rate: $8.25
Closely monitor all activities on the fitness floor and provide assistance to users as needed. Responsible for insuring the safety and exercise efficacy of all fitness areas through education on weight room etiquette, proper strength and resistance training techniques, correct use of fitness equipment, maintaining cleanliness and maintenance of all fitness equipment and areas, and enforcement of all Wellness and Recreation policies and procedures. Reports to the Associate Director and works collaboratively with Member Service Reps, Operations Supervisors, GA's, and all professional staff to provide a safe training environment and quality facility for participants.
Hourly Rate: $7.25 | fitness_assistant_job_description.pdf
Lead group fitness classes for the University community. Class formats include: Boot Camp, Cardio Kickboxing, Zumba®, Spinning®, Pilates, and Yoga. Assist with maintenance of equipment. Enforce facility and program policies. Qualifications: ability to conduct safe and effective classes, knowledge of strength training and cardiovascular exercise, good communication skills, national fitness certification (ACE, ACSM, AFAA or equivalent), adult CPR/AED. Audition required.
Hourly rate: $12.00 | group_x_job_description.pdf | group_x_2_certification_requirements.pdf
Serve as front-line resource for inquiries and be the face of Wellness and Recreation. Provide excellent customer service to promote a positive first impression. Enforce Wellness and Recreation policies and procedures. Serve as liaison between participants/members/guests and Wellness and Recreation staff. Qualifications: excellent communication, administration, professionalism and confidence. Shifts will vary and include weekday mornings, afternoons, evenings and weekends
Hourly rate: $7.25 | member_services_1_job_description.pdf
Develop personalized, safe and effective exercise programs for patrons of various fitness levels. Conduct and assess health and fitness screenings. Provide safe and effective instruction in cardiovascular and weight training equipment. Conduct equipment orientations. Develop, document, and implement one-on-one, partner, or group workout programs that match the needs and goals of clients. Instruct clients on basic exercise physiology and inform them as to proper lifting and exercise techniques. Provide all the necessary information, techniques, and proper procedures for working out and helping patrons stay active and healthy. Enforce facility and program policies. Qualifications: experience in developing comprehensive, customized exercise programs, knowledge of anatomy and physiology, knowledge of strength & aerobic training, flexibility, exercise selection & training intensity and duration, good communication skills, national fitness certification (NASM, ACSM, ACE, ISSA, AFAA), adult CPR/AED. You will be contacted to schedule an interview if you meet the criteria for employment: a) completed application and b) provide required documentation.
Hourly rate: $15.00 | personal_training_1_job_description.pdf
Officials
To officiate intramural games including Flag Football, Basketball, Softball, Soccer, and many more. Responsible for game management, displaying strong communication skills, and demonstrating high knowledge of the rules. Officials are expected to provide customer service to the participants and enforce game rules in order to provide a safe and enjoyable environment for the participants. Officials are expected to have a moderate level of physical fitness to endure the physical demands of the game while maintaining a high level of focus throughout the entirety of the game. No prior experience is required, but a strong interest in sports is encouraged and attendance at trainings are mandatory.
Scorekeepers
Keeping score and statistics of intramural games including Flag Football, Basketball, Softball, Soccer and many more. Will assist with data recording and entry, facility management, and serve as positive brand ambassadors for the intramural sports program with high levels of customer service and enthusiasm for recreational sports. Scorekeepers are expected to be familiar with program policies and basic rules knowledge to assist with game management. No prior experience is required, but a strong interest in sports is encouraged and attendance at trainings are mandatory.
Hourly rate: $7.25