Mission
We provide a connected set of language arts experiences that can launch a variety of careers in the fields of education, law and business, publishing and media, writing and speaking, information and research, politics and public service. As a result of study in our department, you will enhance your abilities in reading, writing, speaking, and listening--faculties that matter throughout the lives of all engaged citizens.
Employers want and need graduates who can write and communicate well, who can analyze, synthesize, and evaluate information, who have organizational, time management, and teamwork skills, and who appreciate diverse viewpoints. The courses and programs in the Department of English, which is the cornerstone of a liberal arts education, will help you to master these skills and become a lifelong learner.
Our undergraduate majors are designed to include connections to the community and opportunities to explore the world, with curricula flexible enough to allow a semester or a year of study abroad. Flannery O'Connor, who walked where you will walk, often serves as our inspiration, connecting us to the college's rich past and challenging us to focus our talents and time in this place on what truly matters.
Whether you choose employment or graduate work after your undergraduate years, our majors will connect you to success. Our department contains an MFA Program in Creative Writing and an MA in English; we also support the language arts content area for the Master of Arts in Teaching.
Values
Critical Intelligence
All degree programs in the Department of English share a central, essential devotion to the core values of a liberal arts education: to help you cultivate your critical intelligence; develop your expressive skills in writing, speaking, and other forms of meaning-making; and advance your understanding of the ways language, writing, and argument function in historical and contemporary contexts.
Ethical Literacy
Each program's emphasis differs; however, all share a belief in the fundamental value of various forms of literacy and the skillful, ethical use of language and persuasion to the good functioning of society.
Programs
Creative Writing
Writing poetry, fiction, creative nonfiction, and drama is foregrounded when you choose the BA in English, Creative Writing Concentration or the MFA in Creative Writing. More information about the Undergraduate Creative Writing Program is here; and more information about the the MFA Creative Writing Program is here. Download the English Major brochure here.
Literature
The primary purpose of the undergraduate major and graduate study in English is engagement with a wide range of literature and culture. Reading British and American literature, as well as international works, is foregrounded when you choose the BA in English, Literature Concentration or the MA in English. More information about the Undergraduate Literature Program is here, and more information about the the MA English Program is here. Download the English Major brochure here.
Department Spotlight
The Department of English welcomes the Class of 2022 English majors!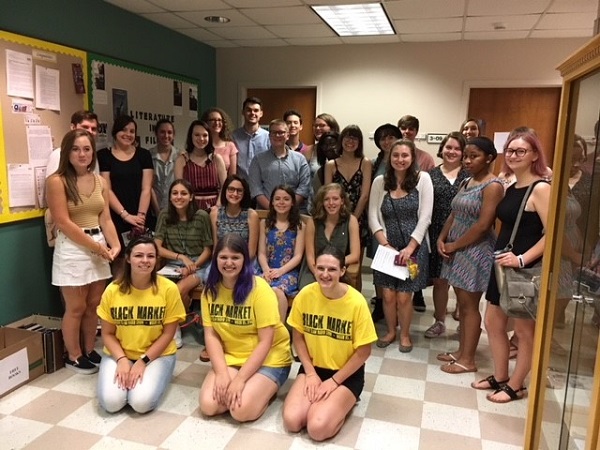 The Department of English and the Ina Dillard Russell Library were awarded a National Endowment for the Arts Big Red grant to co-sponsor events in the fall focused on Silver Sparrow by Tayari Jones. Read the announcement here.
The Department of English collaborated with the College of Education to bring Pulitzer Prize winning poet Dr. Peter Balakian to an event in the department called "Poetry in the Classroom and Beyond." Students had the opportunity to hear Peter Balakian read several of his poems and to interact with him on a range of issues, including the role of lyric poetry in the social world. A newspaper story about his speech for the College of Education about the Armenian Genocide is here, and a Georgia College Connections interview with Dr. Balakian conducted by English major Olivia Julian is here.
Professor of English Mary Magoulick's article, "Telling New Myths: Contemporary Native American Animal Narratives from Michigan," was published in the premier scholarly journal in the field, the Journal of American Folklore in 2017.
The Journal of African Literature Association (JALA) Fall 2019/Winter 2020 issue will focus on the the scholarly work of Professor of English Eustace Palmer, past president of the association.
Assistant Professor of Creative Writing Kerry Neville spent Fall 2018 in Limerick, Ireland as a Fulbright Scholar. Her interview with the University of Limerick Newsletter appears here. Her second short story collection, Remember to Forget Me was published in 2017.
Associate Professor of Creative Writing Peter Selgin was interviewed for Georgia College Connections about his book, Your First Page.
MA student Mikaela LaFave will attend the University of Georgia Ph.D. Program in English on a full fellowship in the fall.
MFA Student Brittany Barron is the southern region student representative of the English Honor Society Sigma Tau Delta.
BA student Emily Moore's paper titled "Milton's Areopagitica and Contemporary Censorship" was published in the Georgia Undergraduate Research association journal.
More faculty and student achievements can be read here.
Department of English
Arts & Sciences Room 3-03 | Campus Box 44
Milledgeville, GA 31061
Phone: (478) 445-4581
Fax: (478) 445-5961