DEPARTMENTAL NEWS AND EVENTS ​
ACADEMIC YEAR 2020-2021
---
ACADEMIC YEAR 2019-2020
CONGRATULATIONS TO ALL OUR 2019-2020 GRADUATING WLC MAJORS AND MINORS ON A JOB WELL DONE!!
Below is the link to an Atlanta Journal Constitution article featuring our own Amara Tennessee. As a point of information brought out in the article, "The Fulbright U.S. Student Program receives about 12,000 applications a year. In the U.S., about 1,900 grants are awarded annually in all fields of study in over 140 countries." That's about a 15.8% acceptance rate.
We are So proud of her, and to the faculty for supporting and guiding her on this pathway to success!
https://www.ajc.com/news/national/georgia-college-grads-named-fulbright-finalists/nj3S3kfhRwyhhoAT0shRsK/
CONGRATULATIONS AMARA!!!
---
We have some exciting news for our department!!
Our Language Lab Coordinator, Audrey Redmond has given birth to a very healthy baby boy!
Ms. Virginia Teran has received her doctoral degree and will now be addressed as Dr. Virginia Teran!
Dr. Brantley Nicholson has been promoted to Associate Professor!
Dr. Peggy Elliott's book chapter in, "Adapting The Eighteenth Century" is published.
Dr. Aurora Castillo-Scott and Dr. Daniel Holcombe have been awarded research grants.
Let's give them all a big CONGRATULATIONS!!
---
Join me in congratulating Dr. Brantley Nicholson on his book, "The Aesthetic Border: Colombia in the Face of Globalization," being accepted for publication by Bucknell University Press. It should come out in either 2021 or 2022. Great Job and keep them coming!!
---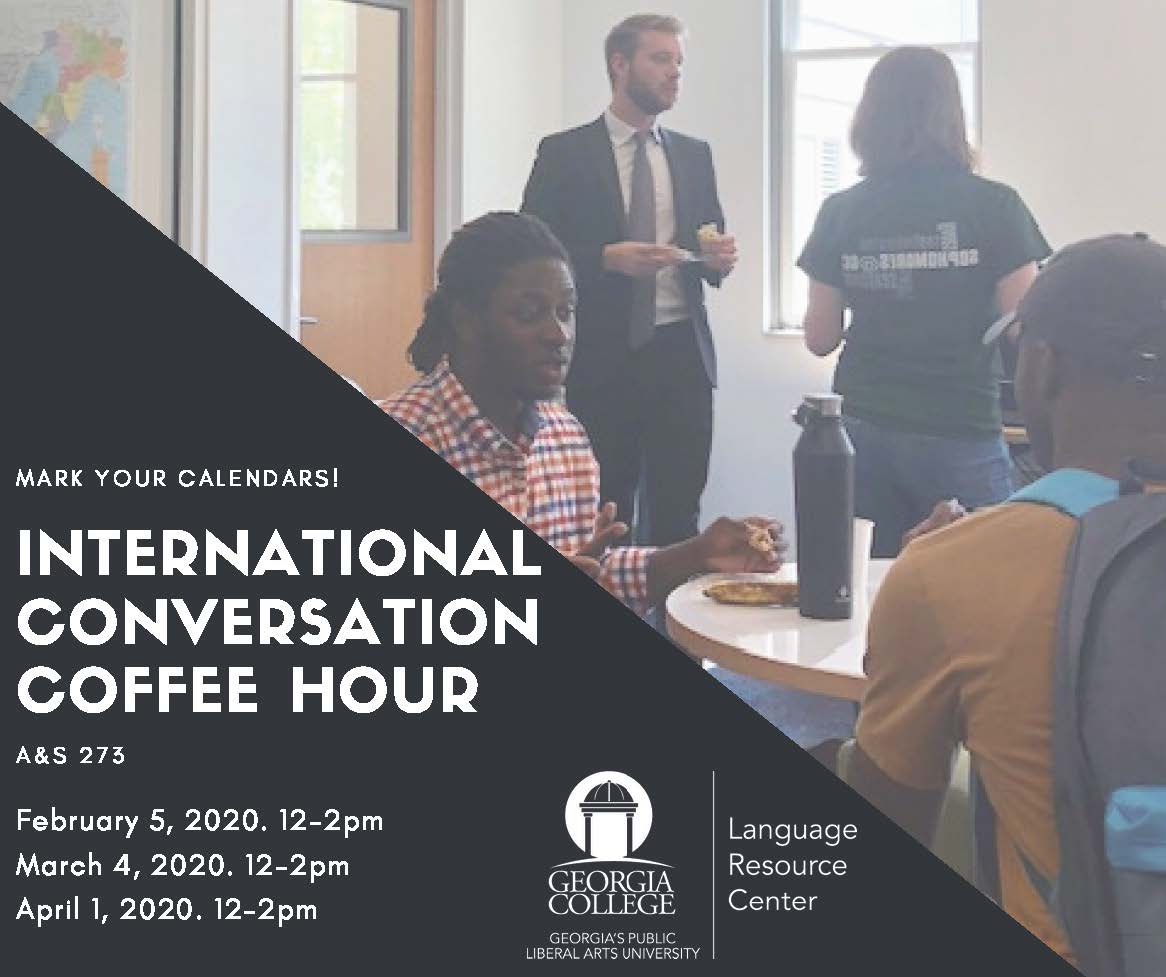 ---
International Conversation Coffee Hour
Be sure to mark your calendars for this semester's coffee
hour to be held in A&S 273
the first Wednesday of every month.
Refreshments and conversation
are on the menu for this event.
Hope to see you there!!
---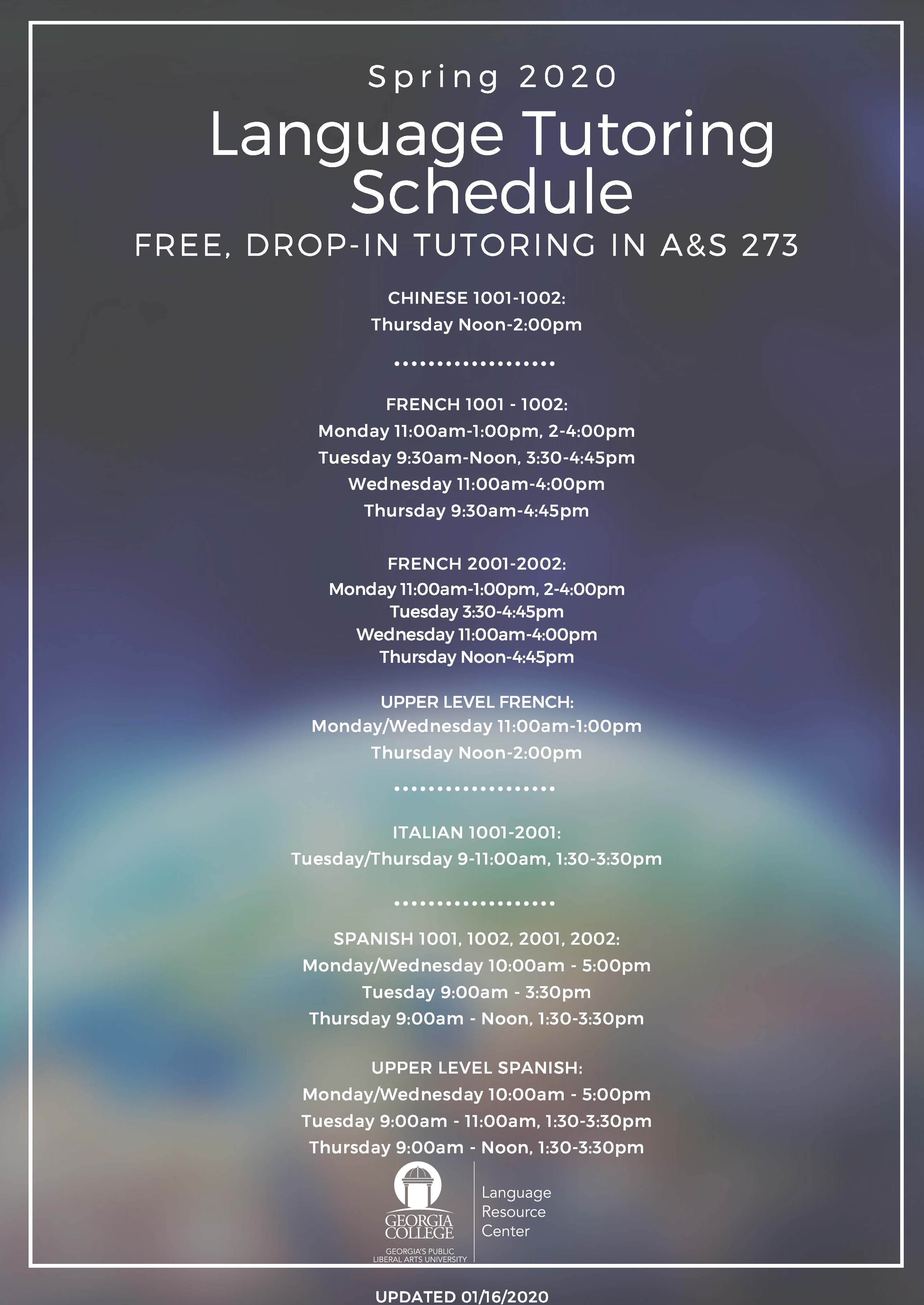 ---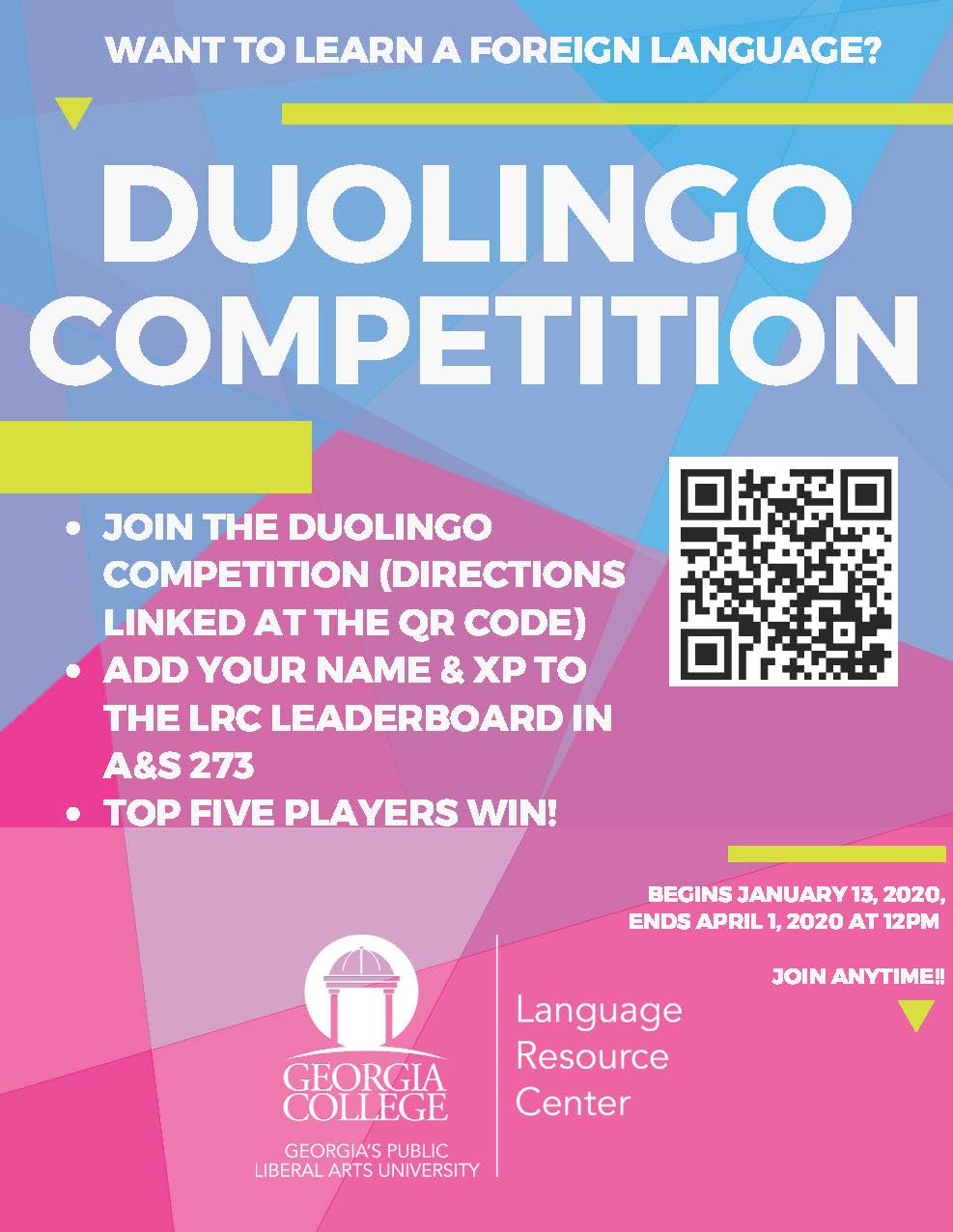 Want to add some excitement to your life? Come join the Duolingo Competition.
You learn the basic's of the language of your choice
and at the same time you compete against others
who are doing the same thing.
You gain points for each stage of the learning process.
It's fun, it's educational and it's rewarding in two different ways.
You learn a new language and if you have the most points, you win a prize!!
---
We held our Fall 2019 semester Graduating Majors and Rising Star event on Thursday, November 21, 2019. The department would like to congratulate Riley Dunn, graduating major, on a job well done and the best of happiness in all future endeavors. Last night the department of World Languages and Cultures recognized 118 Rising Stars several of which have been previously recognized for their second language skills. Amara Tennessee spoke to the audience on her experiences with her study abroad to Honduras. Martin Wilson, World Languages and Cultures Alumni, spoke on how his acquisition of a second language has driven his career in a great direction. He also spoke on how his study abroad to Chile helped his language skills and opened his eyes to an exciting new life style. We were also honored by members of The French Club and Dr. Oukada's French class with a short skit from the play Cinderella. Refreshments and fun were served throughout the evening. Below is Amara Tennessee and Martin Wilson as well as our "Rising Stars"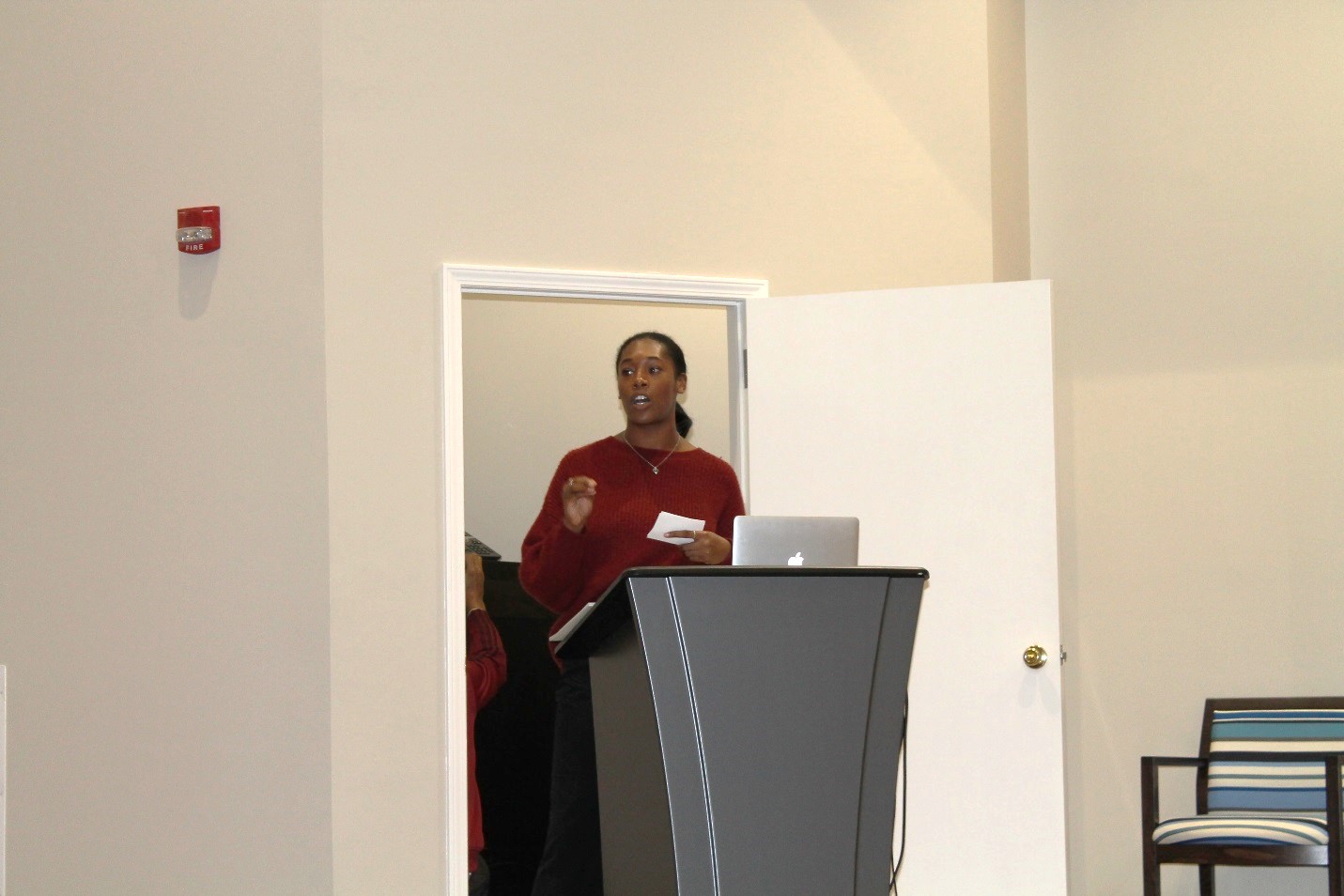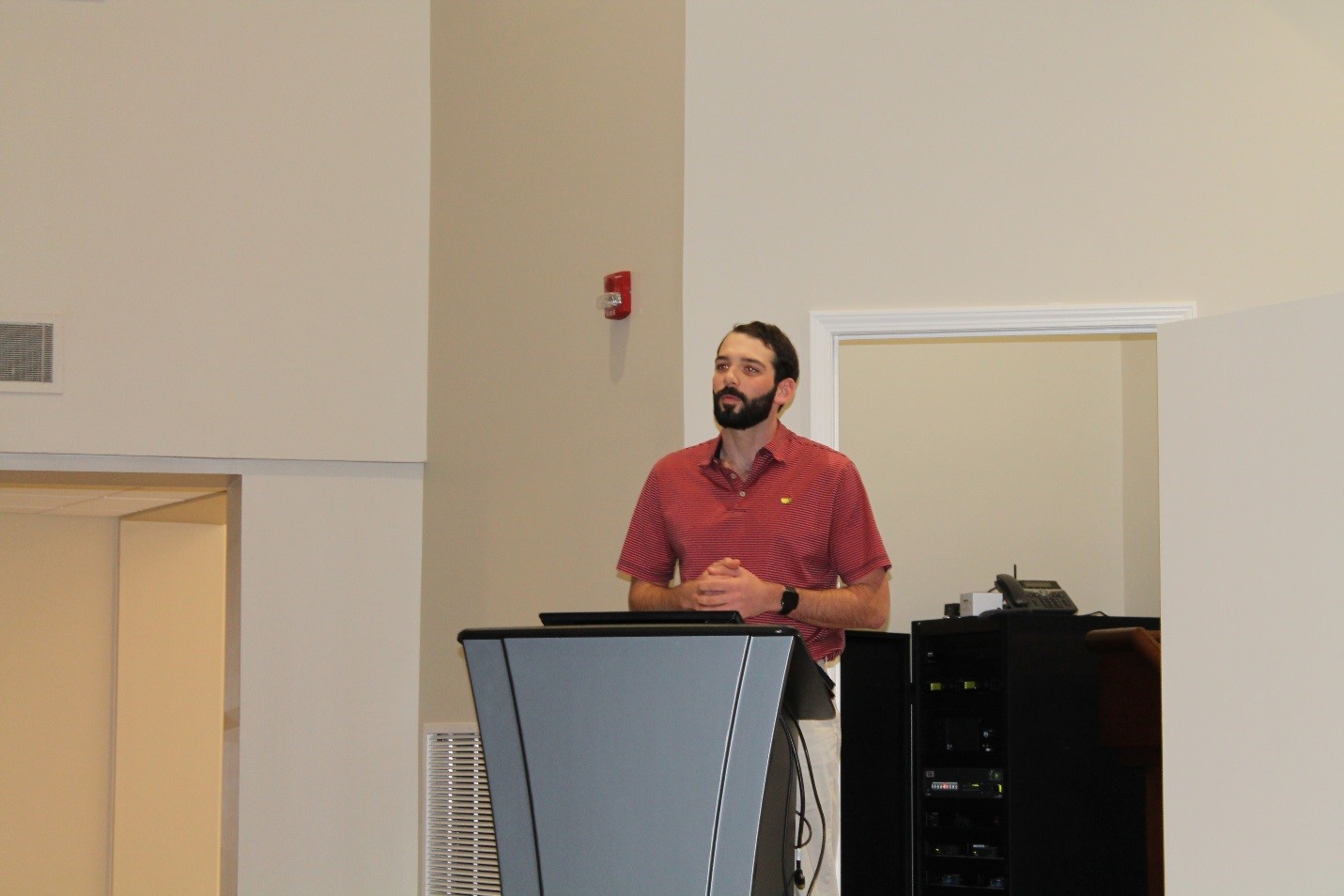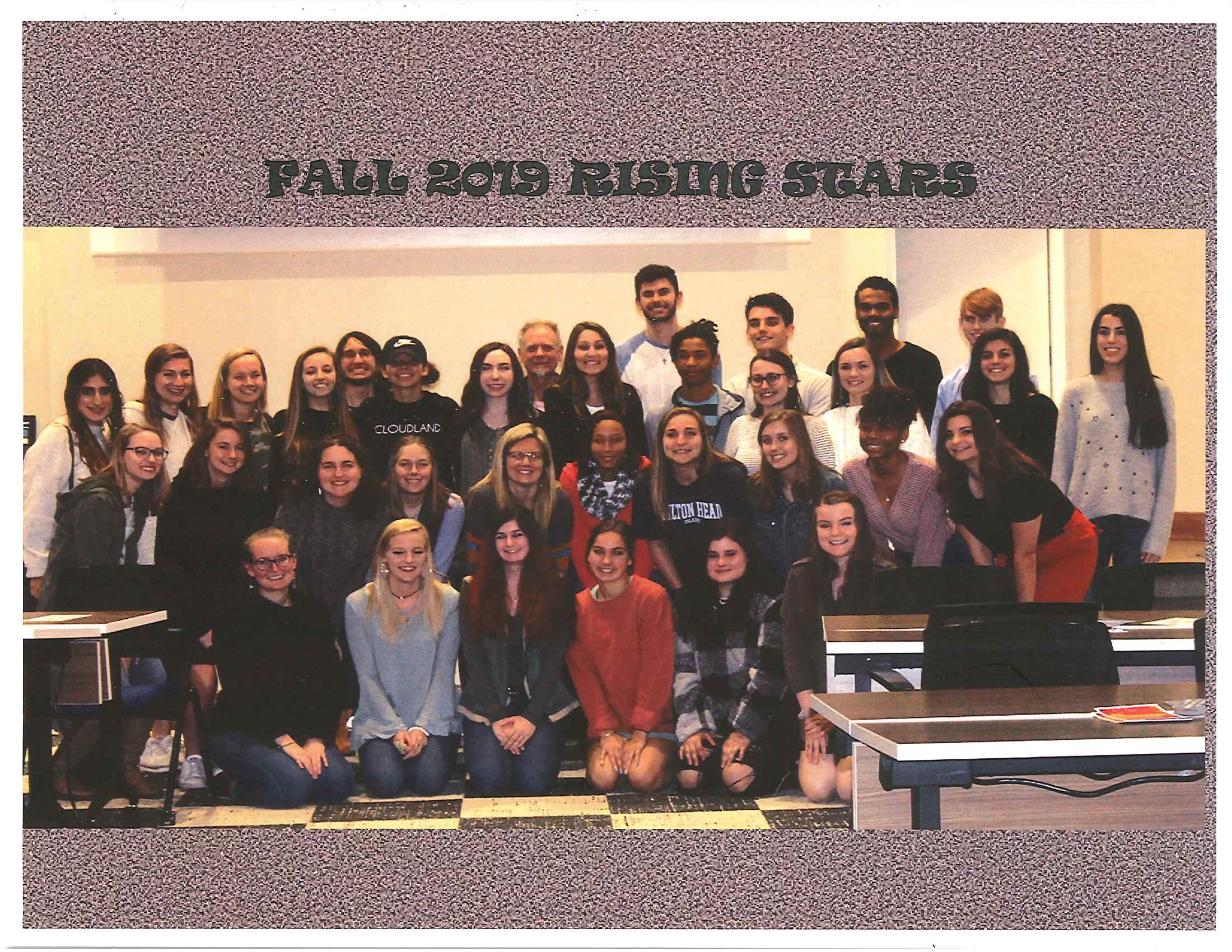 ---
INTERNATIONAL FILM WEEK
WLC is excited to sponsor International Film Week starting Monday, October 21st thru Friday, October 25th. The showings will be at 6:00 pm Monday thru Thursday and 3:00 pm on Friday. All shows will be in Peabody Hall. For your viewing pleasure the films are:

Monday - "Shadow"
Tuesday - "Shun Li and the Poet"
Wednesday - "Un Traductor"
Thursday - "Victoria"
Friday - "Tazzeka"
They have all received "thumbs-up" reviews. All the films have English subtitles so don't worry you'll be able to understand and enjoy the movie. It's free so come relax and enjoy a great movie!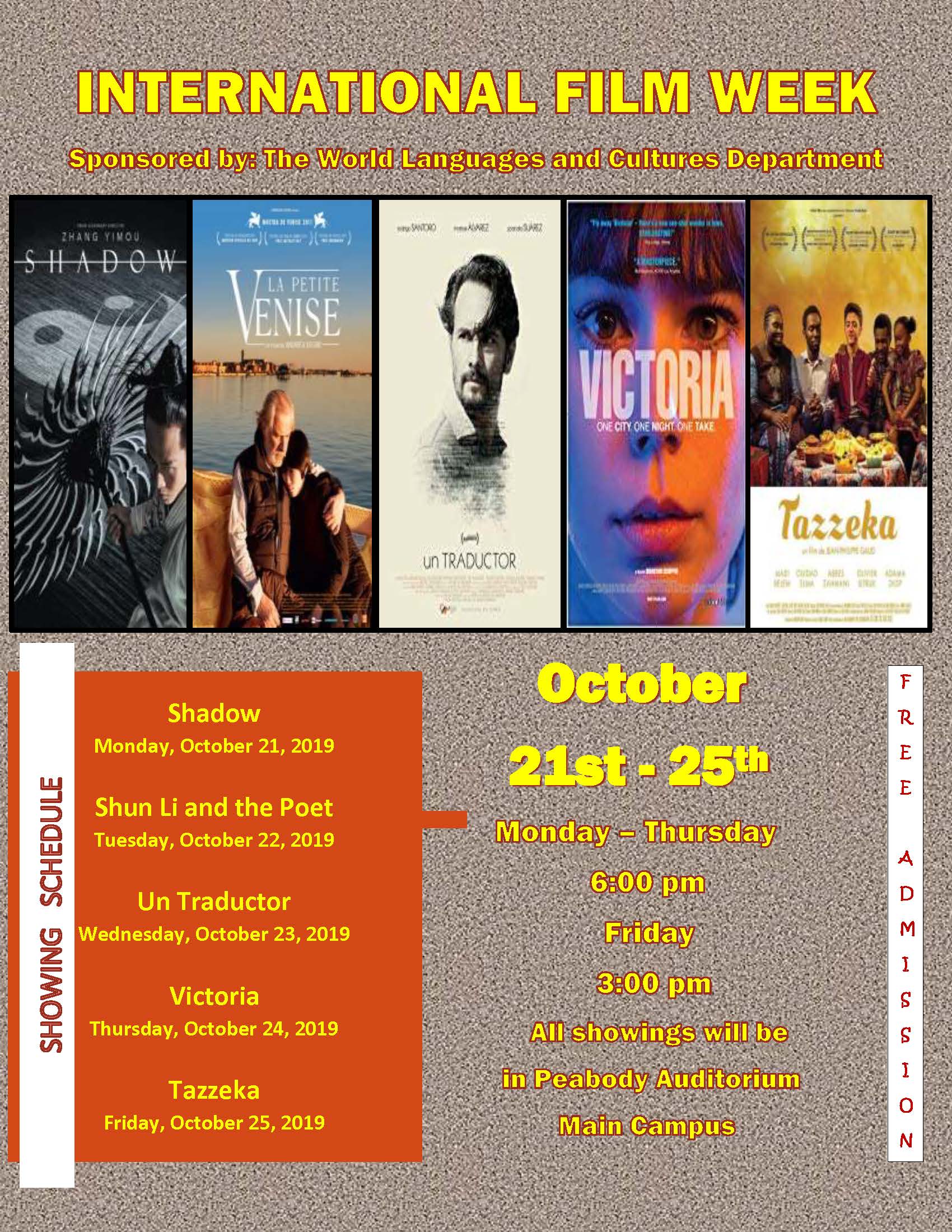 ---
Flamenco Night!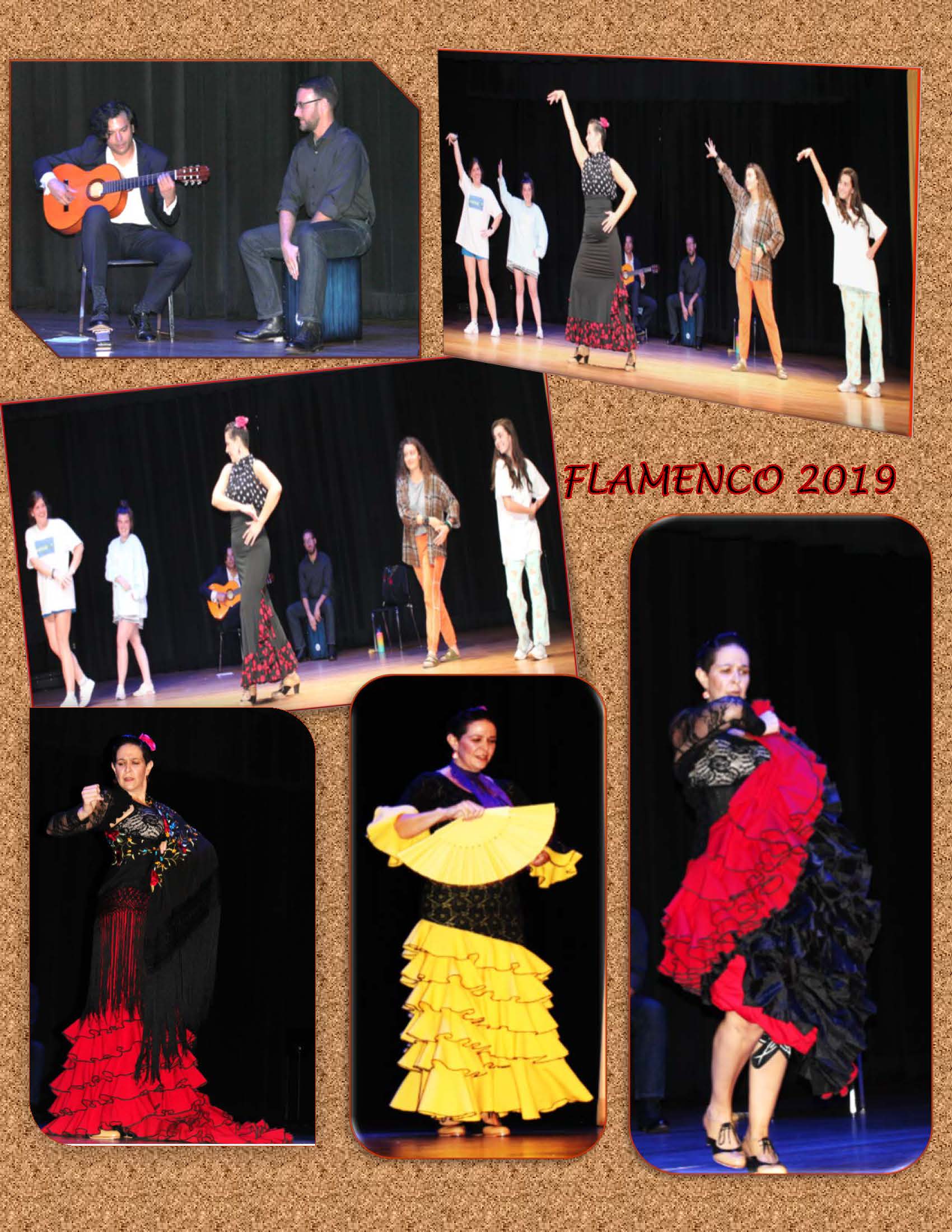 ---
Mark your calendars for this semester's International Conversation Coffee Hour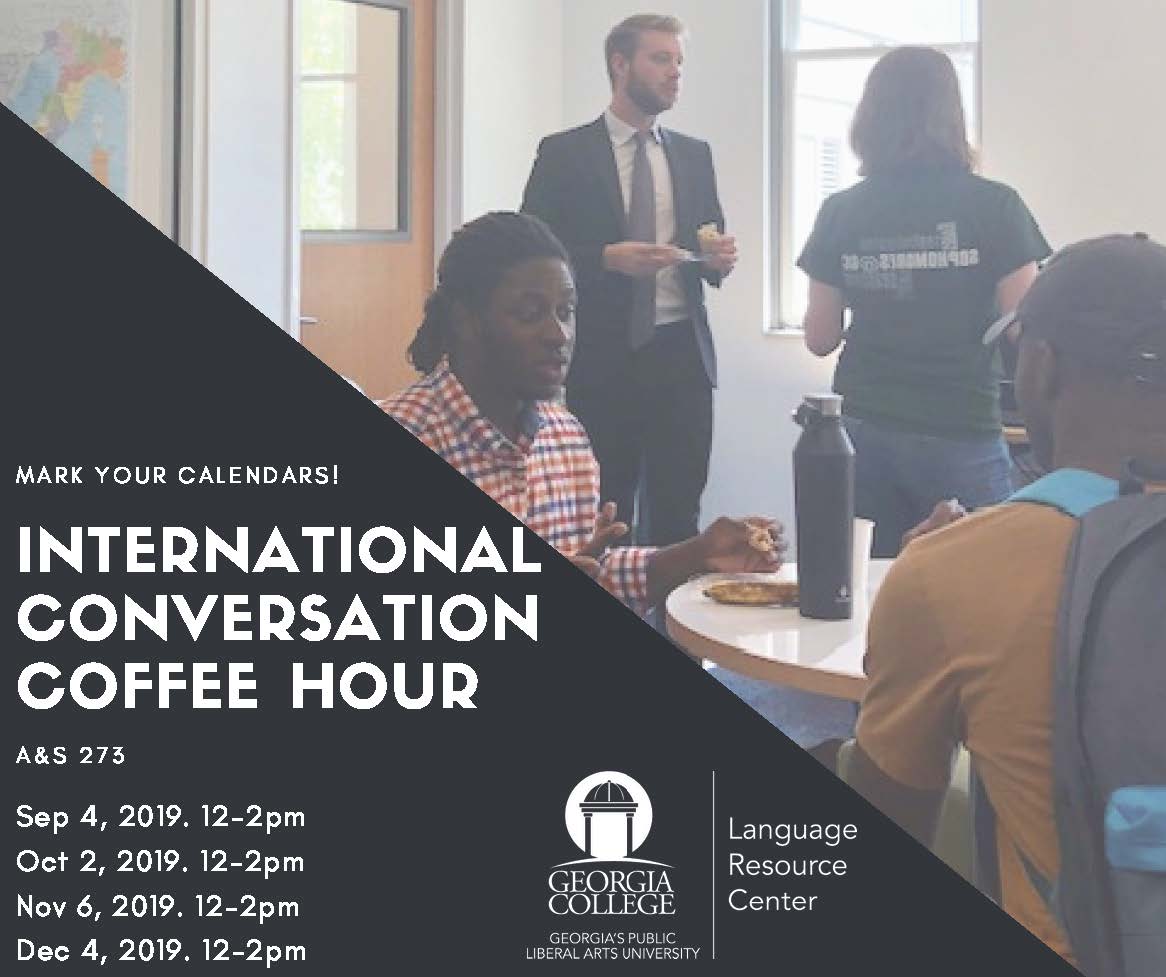 ---
CONGRATULATIONS TO ALL OUR 2019 GRADUATING SPANISH AND FRENCH MAJORS / MINORS ON A JOB WELL DONE!!
---
ACADEMIC YEAR 2018-2019
"Rising Star" Event
We held our 4th "Rising Star" recognition event yesterday, May 2nd. 83 students from our lower level language classes were nominated for their positive attitude and the passion they have shown in learning a second language. Out of the 83 students nominated this semester, we had 19 students that have been previously nominated as a "WLC Rising Star". Congratulations to all the nominees!!
---
WLC Senior Capstone Day
​
Yesterday was a busy day for the department. Several of our graduating Majors participated in student panel presentations to complete their capstone requirements. They all did a fantastic job! This event was followed by a faculty roundtable presentation covering various topics. They too did a fantastic job!. Our special Thanks to Dr. Sarah Luna with Tuft University for her presentation on "Love and Violence on the Mexico-US Border".
---
---

Dr. Hedwig Fraunhofer
Edinburgh University Press confirms the publication of Dr. Fraunhofer's book, Biopolitics, Materiality and Meaning in Modern European Drama,. The book is scheduled for publication in late 2020.
Dr. William Daniel Holcombe
Holcombe W.D. (2018). Mexico City:Queer Slumming. In: Tambling J. (Ed.) The Palgrave Encyclopedia of Urban Literary Studies. Cham, Switzerland: Palgrave Macmillan.
Dr. Aurora Castillo-Scott
Castillo-Scott, Aurora. (2019). "Teaching social issues through cinema and teletandem." Revista do GEL. 15. 257-278. 10..21165/gel.v1513.2409. https://www.researchgate.net/publication/331340130_teaching_social_issue....
Dr. Peggy Elliott
Elliott, P. (2018). Le Mariage, I'heritage, et la richesse: la survie socio-economique dans le monde des Lumieres de Marie Leprince de Beaumont. Proceedings of the Third Conference on the Writings of Marie Leprince de Beaumont. Universite de Lorraine :Metz, France, (Fall 2018). https://hal.archives-ouvertes.fr/hal-01865924v1.
Elliott, Peggy Schaller. "The Honor of Her Sex: Marie Le Prince de Beaumont Responds to Coyer and Crebillon." New Perspectives on the Eighteenth Centery 16 (Spring 2019).
Elliott, Peggy Schaller. Rev. of Madame de Stael, a femme qui osait penser, by Jean Goldzink and Gerard Gengembre, editors. Nineteenth-Centory French Studies 47.3-4 (Spring-Summer 2019). http://www.ncfs-journal.org/?q=node/1610.
---
---
FLAMENCO NIGHT!
We held our 1st annual Flamenco Dance and Music show on March 13, 2019. It was a spectacular show featuring Tabitha Humphrey, dance, and Dr. Aaron Castroverde, guitar, with special guest Samantha Mascuch, dance. After the show Mrs. Humphrey held a Flamenco dance workshop for anyone wanting to learn a few basic Flamenco dance steps. It was fun for all. Click on the slide show below for previews of the fun!
---
---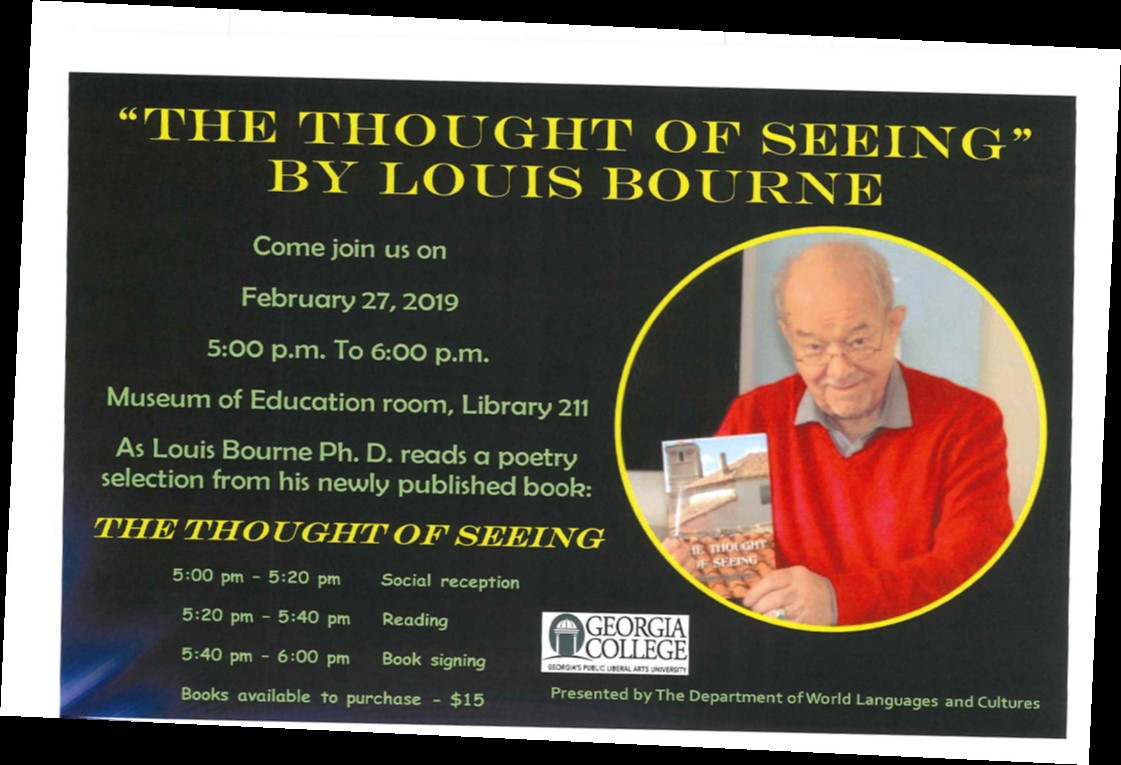 ---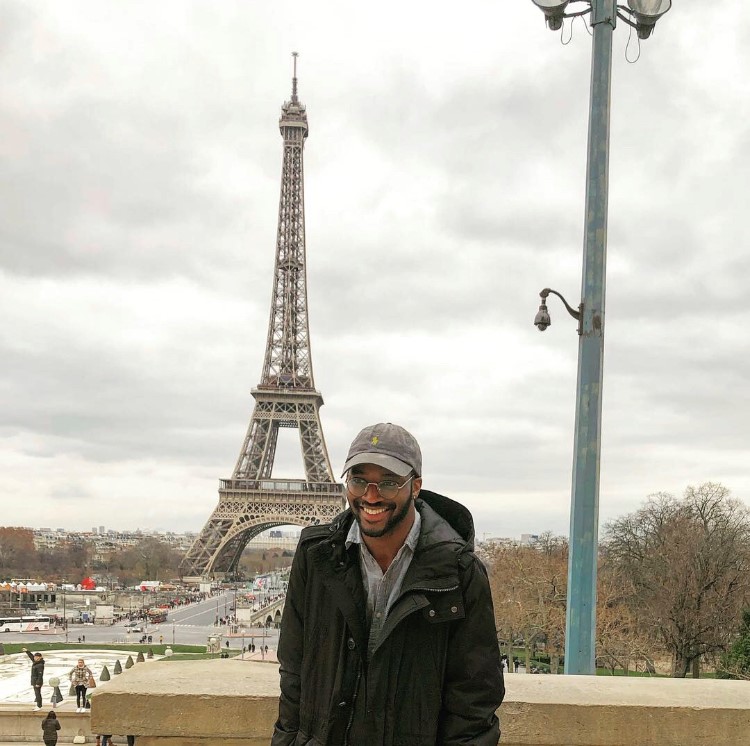 What did you do over winter break? Matthew Sampson, WLC French Major, decided to take a trip to Paris France. Matt decided in order to enhance his language skills and learn first-hand some of the French culture, that he needed to take a trip to France. With the help of Dr. Peggy Elliott, Matthew was able to experience and absorb French cuisine, history, culture and the language. He thoroughly enjoyed his trip and hopes to return soon or possibly visit another country that speaks French in order to learn and experience yet another culture.
---
Join us in our Language Resource Center, A&S 273, for International Conversation Coffee Hour hosted by The Department of World Languages and Cultures Department.
---
Dr. David dePosada has been awarded professional leave for a semester in AY 2019-20 to work on his project entitled Silence and the Disconnected Poet: Representations of Deafness and Exile in Joaquim Du Bellay's Roman Sonnets. This is a book project that aligns traditional literary research with more current work on disability studies.
---
Dr. Hedwig Fraunhofer has been awarded professional leave for a semester in AY 2019-20 to complete any remaining work on her monograph, Anzious Flesh: Biopolitics, Materiality and Meaning in Modern European Drama. This work is currently under final readers' review with Edinburgh University Press.
---
Dr. Aaron Castroverde presented a paper at a small (but influential!) conference in Antwerp during December and as a result has been invited to give a talk at UC Berkeley to one of their Asian cultural organizations. He has also been offered several peer-reviewed publication opportunities.
---
2018 Fall Semester Graduating Majors and Rising Star Recognition recap
---
INTERNATIONAL WEEK OCTOBER 22 - 24
International Week at Georgia College is Oct. 22nd - Oct. 26th. The International Center will host a variety of study abroad workshops and other international events!
Monday, Oct. 22 - International Photo Contest, 5 – 6 p.m. in the library atrium. All are welcome as we unveil the winners. GC students submitted over 50 photos from around the world! Refreshments will be served.
Tuesday, Oct. 23 - Passport Fair, 10 a.m. – 2 p.m., at the International Education Center. This event is for anyone who wants to apply for or renew a passport. See the Frontpage ad for details and to register for an appointment. Attendees must register and prepare application items to attend. This is open to faculty, staff, students, and community! Tell your friends!
Tuesday, Oct. 23 – Study Abroad Funding Workshop, 2-3 p.m. in A&S 275. Learn how you can use federal aid, HOPE, ZELL and other scholarship to make your study abroad dream a reality.
Tuesday, Oct. 23 - Gilman Study Abroad Scholarship Workshop, 3-4 p.m. in A&S 275. This study abroad scholarship is just for Pell Grant recipients. Past GC recipients have received as much as $5000! If you receive the Pell Grant, please come!
Wednesday, Oct. 24 - International Day, 11 – 2, on front campus. Meet GC international students and learn about other cultures. Enjoy music, food, and fashions from around the world and be entertained at the International Talent Show. Hosted by the GC International Club with support of other student groups.
Wednesday, Oct. 24 – Study Abroad Info Table, 10 – 2, at the A&S fountain from 10-2 p.m. Students who went abroad last year can answer your study abroad questions.
Wednesday, Oct. 24 – LGBTQ+ Study Abroad Forum, 4 – 5 PM, at the H.U.B. Any student with LGBTQ+ questions about study abroad should come to this informal session.
For more information on any of these events, email studyabroadinfo@gcsu.edu or contact 478-445-4789.
---
Yvan Alagbe: Making the Invisible Visib​le
On Thursday, April 12, 2018 French graphic novelist and visual storyteller Alagbé will give a public lecture at 5 p.m. in the Arts and Sciences auditorium on : Making the Invisible Visible." One of the most innovative and provocative comic artists in the world, Alagbé uses stark, black-and-white brushwork to explore topics of love and race, oppression and escape. His latest graphic novel, "Yellow Negroes and Other Imaginary Creatures," was featured in a recent New York Times article.
---
The latest issue of The Poetry Review published by The Poetry Society of London has arrived. It includes two translations by Louis Bourne, Professor Emeritus of World Languages and Cultures, of poems by Cuban Poet Juan Nicolás Padrón who gave a poetry reading at GCSU on November 18, 2015. Padrón's metaphysical poems deal with the discomfort of being, the strangeness of existing with life's paradoxes.
---
A huge shout-out of Congratulations to Florrie McCard, French Major! We are excited to share with you that Florrie's Oral abstract submission, "En Marche: Aristotelian Analysis of Emmanuel Macron's Tweets" was selected out of 4,000 submissions for presentation at NCUR 2018 at the University of Central Oklahoma. She will present her work to her peers, faculty, and staff from all over the nation.
---
Congratulations to our very own Sofia Papa, a semi-finalist for this year's Fulbright Scholarship! Thanks to all who supported her scholarly endeavors and beyond while she was one of our majors.
---

WLC Tshirt Contest
The World Languages and Cultures Department sponsored a T-Shirt design contest. We would like to congratulate Dalton Skaggs for submitting a fantastic T-Shirt design. Presenting Dalton with a $50 gift card from the GCSU bookstore is Dr. Hedwig Fraunhofer and Mrs. Marlene McMichael.
---
WLC Fall 2017 Graduating Majors and "Rising Stars" Reception
On Thursday, November 30, 2017 we held a reception for our graduating Majors to honor their achievement. We also invited our highest achieving students in lower division classes, to honor their achievements and share future possibilities in language studies with them.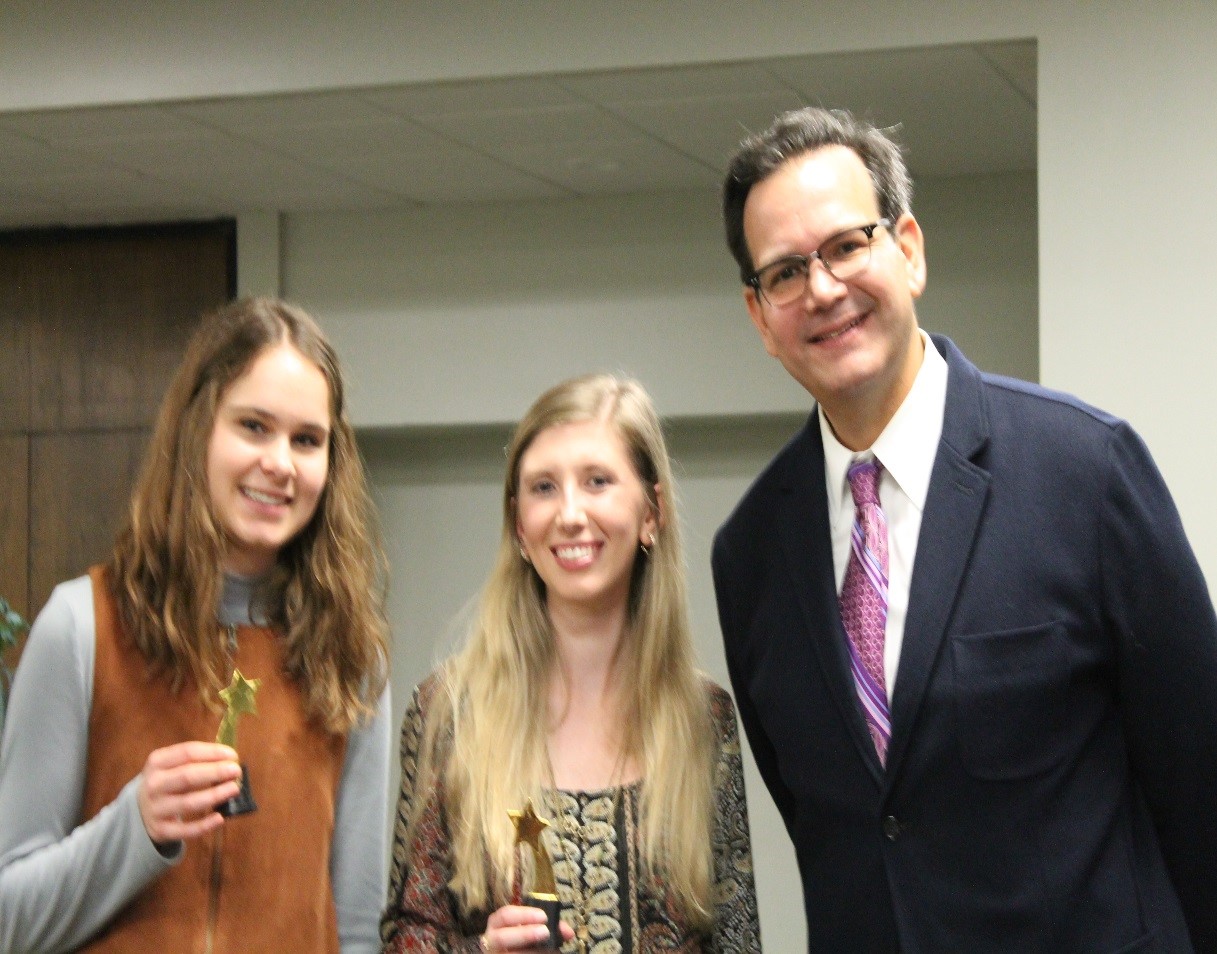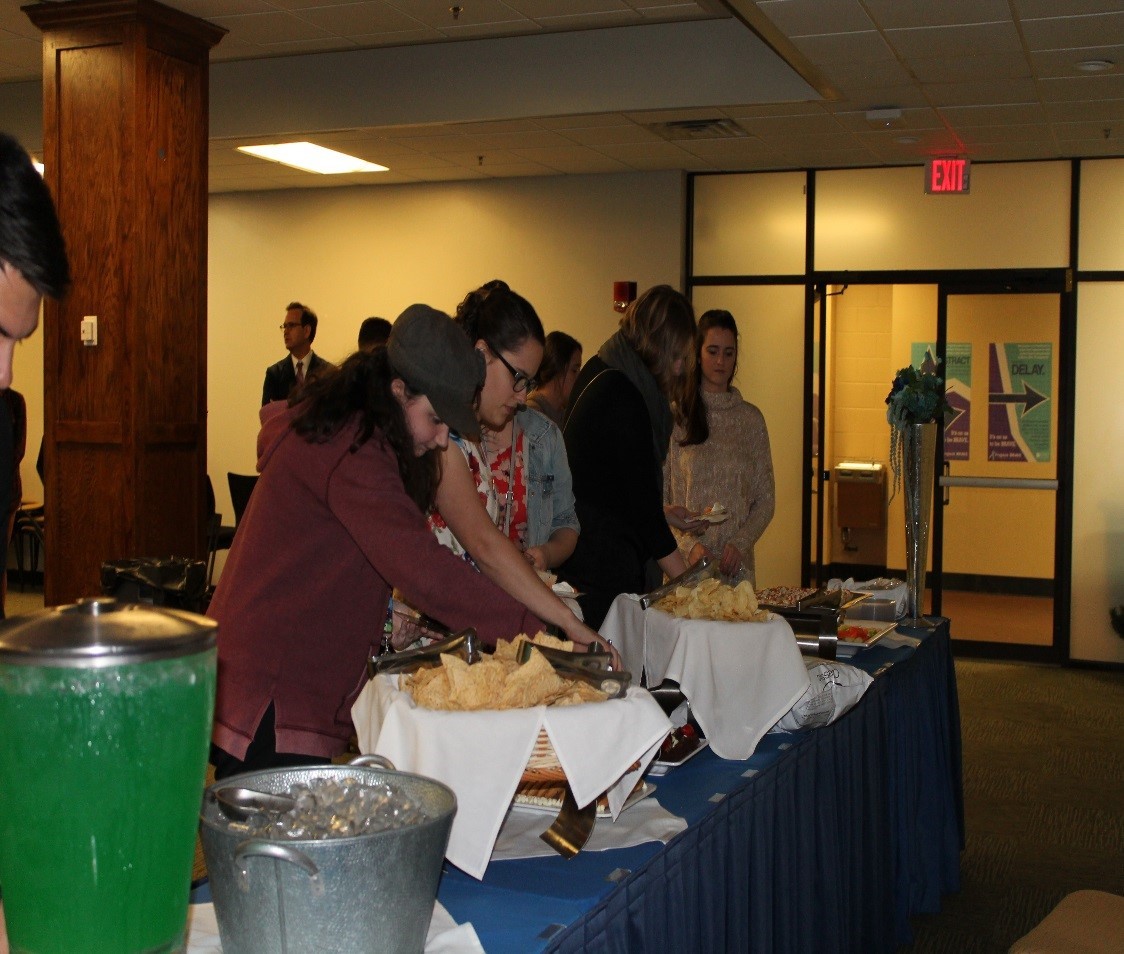 ---
Dr. Brantley Nicholson's article has been published in the Cincinnati Romance Review, Fall 2017 edition: "Que viva la música's Sustained Prescience: Reading Andrés Caicedo's Anti-Bildungsroman Four Decades Later". The article is co-written by Brantley Nicholson and Camilo Hernandez Castellanos.
---
Dr. Nicholson has also published a book review: "Abstractions of Privilege, a review of Arthur Rose's Literary Cynics: Borges, Beckett, Coetzee," in a Contracorriente, Fall 2017.
Congratulations to Dr. Brantley Nicholson for your publications!
---
We are proud to announce that two of our majors presented at the Georgia Undergraduate Regional Conference that was held at Georgia College and State University. Please congratulate them on a job well done!
- "Artaud, Marat/Sade and Materialism" by Caitlyn Williams (Mentor: Hedwig Fraunhofer).
- "How Personalities Influence Political Decisions and How We Respond" by Rebecca Winslow (Mentor: Brantley Nicholson)
---
Department of World Languages and Cultures
317 Beeson | Campus Box 46
Milledgeville, GA 31061
Phone: (478) 445-4415
Fax: (478) 445-0959