IT Advisory Board Mission & Purpose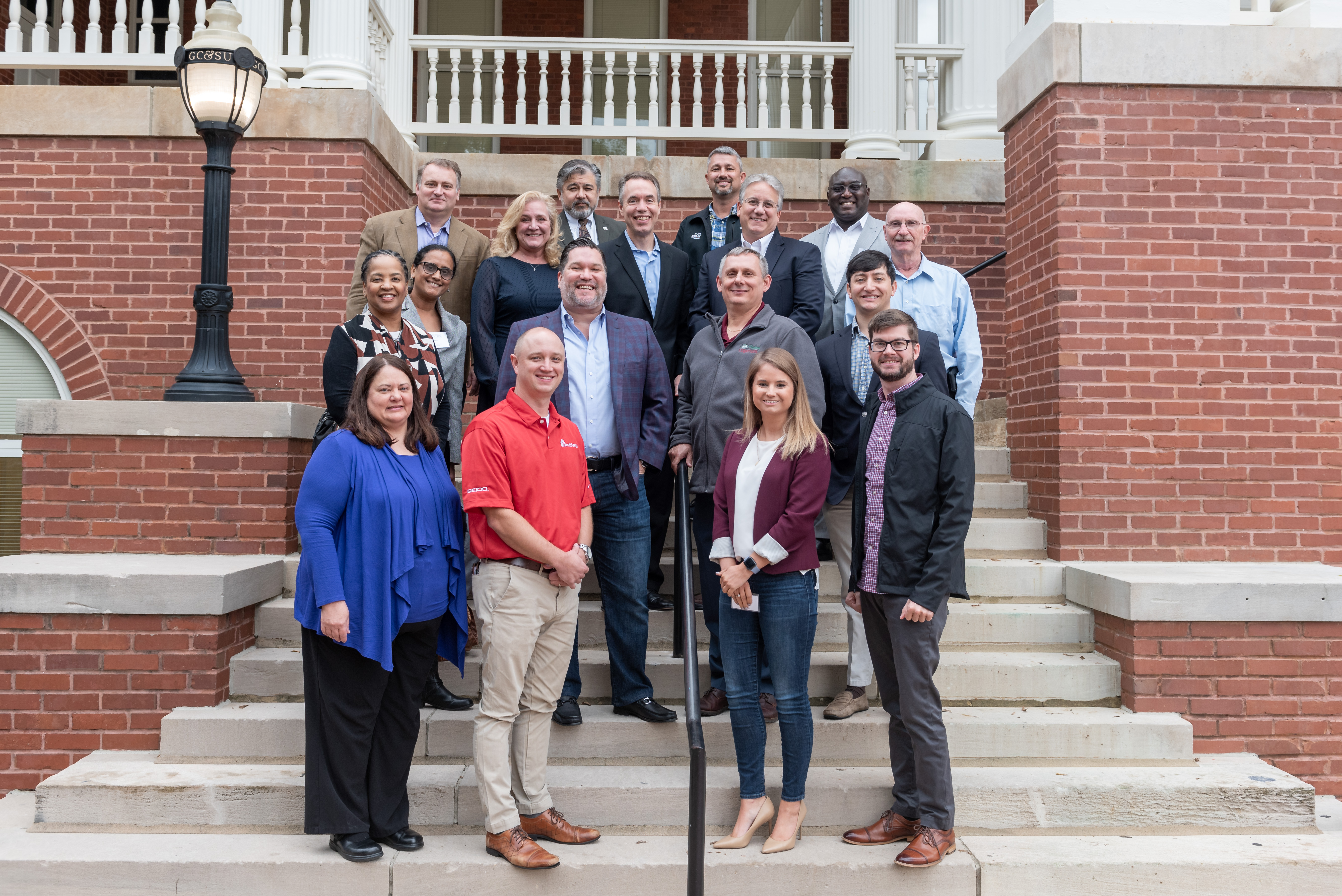 The mission of the IT Advisory Board is to provide advice, guidance and support for the continuing development of high quality programs in management information systems and computer science in the J. Whitney Bunting College of Business at Georgia College.
The Board will assist in promoting the professional image of and good relations for the Department of Information Systems and Computer Science with the larger IT business community. More specifically, the Board shall assist the Department by:
Providing advice and counsel to the Chair and faculty on all pertinent matters that affect the department, internal as well as external, to best relate the department and its programs to the changing needs of the IT business community.
Supplementing the existing career counseling and placement services to increase the availability of job opportunities to undergraduate and graduate MIS/CS majors, including communication between IT business people and students to acquaint students with challenges and opportunities.
Providing the faculty opportunities for meaningful IT business engagements, short-term employment in responsible positions and other relationships and programs with the IT business community, including providing research support for faculty members by assisting in gaining access to or by creating databases and, if appropriate, providing research grants.
Sharing the special insight and expertise of IT business executives through classroom presentation or other meeting situations, executive-in-residence programs, executive-to-student counseling and faculty consultation.
Assisting the Department in acquiring the resources necessary to continue its development as a leader in the education of MIS/CS majors by taking an active role in private fundraising activities.
2019-2020 Members Biographies
Chris Beasley serves as the Chief Information Officer and HIPAA Security Officer at Houston Healthcare where he oversees Information Technology, Information Security, and Biomedical Services. Chris received his BBA in MIS and MBA at Georgia College. He holds several industry certifications in IT leadership, project management, and technology. Chris is a member of several professional organizations including the College of Healthcare Information Management Executives, American College of Healthcare Executives, Healthcare Information and Management Systems Society, and the Project Management Institute. He is also a member of the Robins Regional Chamber and Velocity Healthcare Collaborative boards of directors.
Randall Clark, CISA, CRISC, MMIS, ITAC, AINS, AIS, AIT, API has over 15 years in IT at Georgia Farm Bureau. He has spent 6 years programming on the mainframe in COBOL, JCL, DYL280 and SQL. He then joined the Internal Audit department as the IT Auditor. He performs audits on the IT systems within the company as well as supports the audit staff with data extraction and analytics, system report/data validation, and software support. He holds a B.B.A. in Management Information Systems from GC, MMIS from GC, Certified Information Systems Auditor Certification from ISACA, Certified in Risk and Information Systems Control from ISACA, Information Technology Auditor Certification from MIS, and various Insurance related certifications and designations. He is currently a Senior Cyber Security Analyst at Georgia Farm Bureau.
Tom Glover is CEO of Pineland Cogentes​, a Milledgeville based technology and business consulting firm that provides technology, marketing and business consulting and outsourcing services to small businesses, local governments, schools and non-profits worldwide. Cogentes currently supports customers in 32 countries with a large concentration of customers in Middle Georgia and Metro Atlanta. Prior to founding Cogentes in 2007, Tom worked for Ceridian Corporation in Atlanta, where he was a member of their enterprise architecture management team, providing technology governance and strategy for the $2B human resources and payroll firm. Tom has worked in various technology disciplines over the last 25 years including software development, solutions architecture, systems integration, network design and management, and helpdesk and support. This broad technology experience, combined with nearly 20 years of management and business experience provides a unique perspective that has enabled Tom to build a successful consulting practice helping his customers solve tough business problems. He holds a BS in CS from Southern Polytechnic State University.
Andrew Goldstein is a Software Developer at Scientific Games. He develops desktop and web-based applications using C#, Javascript, MVC4, and SQL. Andrew received his BBA in MIS from Georgia College in 2012 and joined Scientific Games upon graduation.
Mitch Hinson is an IT Manager for GEICO and has been with the company for 16 years. He has served many roles within the IT organization at GEICO that have continued to help him lead teams towards success. Mitch is married to his wife Amy and they have two children: Abby (14) and Huntley (7). He earned his bachelor's degree from Macon State College in Business Management & IT and later went on to complete his MBA at Georgia College in 2008. Currently, He is working on completing his Doctorate of Education degree at Liberty University in Christian Leadership and Ministry. In his spare time, Mitch enjoy spending time with friends and family, supporting his local Church, coaching high school baseball, and playing golf.
Casey Humphries is the Digital Project Manager at GimmieGames, a partner studio of Aristocrat Technologies, which creates entertainment-style slot machines. She is responsible for developing strategic initiatives for the mobile landscape as well as the successful development and execution of mobile products in the digital division. Casey specializes in mobile user experience and product life cycle management; and holds certifications in Usability Analysis, Project Management and Agile Life Cycle Management. She has previously worked as a Product Manager in the telecommunications industry, where she developed complex regulatory compliance solutions, enabling enterprises to comply with global marketing regulations. Casey earned her B.B.A in Management Information Systems from Georgia College & State University.
Sheri Johnson has over 20 years in higher education working with Administrative Systems, including a stint as the Director of Administrative Computing at Georgia Military College. Her current position, systems consultant at Ellucian, has required experience in project management, process analysis & improvement, developing technical specifications and documentation and working hand in hand with upper management and end-users alike during system implementations. She holds a BS in Computer Science from Valdosta State University.
Bernard "Bernie" Lannan is the Chief Technology Officer of the Communications Directorate, 78th Air Base Wing, Warner Robins Air Logistics Complex, Robins Air Force Base, Georgia. He entered active duty military service with the Air Force in October 1976 as a Precision Measurement Equipment Specialist, entered the Air Force Reserves in 1978 to complete his education, reentered the Air Force again in 1981 after receiving his commission through the Air Force Reserve Officer Training Corps at Purdue University, and retired as a Lieutenant Colonel in Air Force Reserves in 2009. In 1986, he entered civil service as an electronics engineer in the Maintenance Directorate, Airborne Electronics and transferred to the Specialized Management Directorate. In 1991 he became the Information Resource Manager for the Federal Aviation Administration's Southern Region, Airway Facilities Division until 2001, when Mr. Lannan took a position as the IT Operations Director for a Atlanta based financial company, and then returned to Robins Air Force Base in 2004 as an active duty reserve officer and subsequently reinstated into civil service in 2005 as the Chief Technology Officer for the Information Technology Directorate.
John Lutes has been the IT industry for over 30 years; currently a Senior IT Manager leading at team that supports Sourcing and Procurement at Georgia-Pacific. His industry background includes the transportation, banking and consulting areas with functional knowledge across Sales, Procurement, Manufacturing, Finance and HR. He's focused on creating business value through technology using economic thinking to define value propositions to his business customers. John has resided in Atlanta since 1991, with two sons who are graduates of Georgia College and a wife of 32 years. His passion outside of work is exploring Civil War battlefields and living history demonstrations of the same period.
Mike Madison is currently a Senior Manager for Customer Success at Aha! The world's #1 product roadmap software companies. Previously, Mike was a Senior Director and Head of Product for FieldEdge. Mike also served as the VP for Product Development, Senior Director of Product Management, and a Senior Product Manager for SAI Global. Mike received his BBA, MBA, and MMIS degrees from Georgia College. In addition to serving on the IT Advisory Board, Mike has also served on the College of Business Advisory board.
Mark Misinco is currently a Senior Software Engineer at Delta Air Lines. TTS is responsible for developing and maintaining applications that are critical to the success of the maintenance operations of Delta Techops. He specializes in user experience and user interface design and will be assisting in brand and marketing strategy implementation. Prior to his position with Delta, Mark served as Director of Digital Communications at Georgia College, overseeing several special projects including the development and implementation of Frontpage as Georgia College's official source of internal communication as well as launching the new public website. Mark also works as a part-time faculty member for the Information Systems and Computer Science department, teaching online Introduction to Computer Science courses. Mark holds both a B.B.A. in MIS and a Masters in MIS from Georgia College.
Juan Nassiff is a technology professional with over 20 years of experience in custom application development and systems consulting. His knowledge of technology spans design, development and delivery of solutions as well as sales engineering, marketing and instruction. Juan's career has covered a multitude of clients in diverse industries including Entertainment, Government, Hospitality, Manufacturing, Medical, Oil and Gas, Pharmaceutical, Real Estate, Retail, and Travel. He has worked at various sized companies including large corporate entities such as The Home Depot, Microsoft and Electronic Data Systems (HP). Juan earned his BBA in Management Information Systems from The University of Texas at Austin. Juan Nassiff is currently a Client Solutions Manager at Magenic.
Amy Robben is a Senior Implementation Consultant at Techport Thirteen, Inc. She is responsible for helping customers implement IT Service Management processes on the ServiceNow platform, from getting new customers set up on the platform, to building out custom solutions. Technologies utilized are primarily javascript, HTML/CSS, and Angular js. She graduated from Georgia College in 2016 with a bachelor's degree in Computer Science and minor in Mathematics. During her time at Georgia College, she worked as a supplemental instructor for the Computer Science I and II courses. In her free time, she enjoys running and completing different art projects involving painting, drawing, and printmaking.
James Robertson is a Technology Strategist and Advisor for Aruba Networks/HPE as part pf the Office of the CTO team. With over 25 years in Technology Architecture, Engineering and Operations, James has always taken a pragmatic approach to building some of the largest and most complicated mission critical environments - from Data Centers to Cloud transformations and Campus networks to agile and high performing global WAN's with a focus always on creating innovative and effective ways to more efficiently utilize technology in a connected and borderless world. Before joining Aruba Networks/HPE, James was the CTO of Warner Media Group (WMG) with responsibility for Technology Planning, R&D, standards and due-diligence/integration of M&A for the company. Beyond that, James also held responsibility for the overall Architecture, Engineering and Security across Campus Enterprise and Data Center Networks as well as production video services for marquee brands such as HBO, Warner Bros., Turner and CNN. James also led the technology plan from base-building and street level fiber planning to end-user collaboration over an almost 10-year period for WMG's new Corporate Headquarters facility in New York at the Hudson Yards complex. Consisting of almost 1.5 million square feet of modern office, broadcast and Studio production, the new facility is the anchor within the largest real estate project ever undertaken in Manhattan. Employees and guests to the 1268 ft high facility will utilize the latest in Wi-Fi connectivity, Video collaboration, way-finding and digital signage to maximize productivity and social interaction in a new, modern and agile working environment.
Aruna Sadasivan is an Application Architect at AssestMark and is currently pursuing her MBA at Georgia College.
Megan Sims is a Project Manager at Bennett Thrasher, one of the largest CPA firms in the US. She is responsible for the implementation and management of the company's practice management suite as well as other service line project management needs. Megan specializes in program management and BI Reporting, holding a Tableau Desktop Specialist certification. Previously, she served as a Database Administrator at Frazier & Deeter and as a JR Database Report Writer for California-based AC Martin Group. Megan earned her B.B.A. in Management Information Systems in 2012.
Gay Smith has more than 23 years of experience in purchasing, construction, marketing, real estate acquisition and development. She's held positions that include: Chief Executive Officer, Contract Manager, Sourcing Agent, Sr. Contract Analyst, Sr. Buyer, Broker, Partner, Project Manager and Consultant. Her special concentration lies in Supply Chain, Utility Industry Operations Management, Financial Services, Contract and Real Property Law, as well as Residential and Commercial Planning. Smith has a strong background in banking and utility industries as she's worked in Financial Services consulting with Accenture and Power Generation, Customer Service, Power Delivery, Investment Recovery and Corporate Supply Chain with both Georgia Power Company and Southern Company Services, Inc. She's been responsible for inventory analysis, reporting, high profile service and maintenance negotiations as well as presentation and training for peers and executives. She has also owned and managed her own business since 2006 and has served many roles including management, residential development, golf course development, construction planning, and new project assistance. She was the on-site Broker for four years at Fox Lake in Blairsville, Georgia and helped open a DeNovo bank in Milledgeville, Georgia.

Sigismund Tetteh is a current resident of Warner Robins, GA. but originally from Tema, Ghana. He has over 19 years in the IT field and 13 years in HealthCare IT. Siggy was the General Manager of Data Access Computer Services and then a Systems Analyst at the Medical Center of Central Georgia, now Navicent Health. Until two years ago, he was the IT Manager for Corporate Systems with staff of 14, supporting over 35 plus applications. He is currently the Director of Rural Health IT at Navicent Health. He has a B.B.A. in Management Information Systems (MIS) from Macon State College and a MBA from Georgia College.
Kenneth Trussell is the VP of Engineering and Technology for Thiele Kaolin Company, a world-leader in the production of kaolin clay, headquartered in Sandersville, GA. He has over 30 years' experience in engineering and information technology. He oversees the Engineering, Construction, Information Services and Automation Systems departments. Prior to joining Thiele in 1988 as a controls engineer, Kenny was a Research Engineer for Georgia Tech Research Institute and then an Assistant Professor at Georgia College in the Business Information Systems department. He currently teaches evening Computer Science courses in assembly language and computer architecture as an adjunct at Georgia College. He holds a BEE and MSEE from Georgia Tech.
Darnell Vickers is a current resident of Dunwoody, GA. He graduated from Georgia College with a B.B.A. in Management Information Systems in 1999. He has been employed with North American Class 1 Railroad Norfolk Southern since 2000 and works as a systems consultant for the Network & Service Management department. He is responsible for the development of new systems and the management of existing systems that aid in Norfolk Southern's traffic management. He also manages several of Norfolk Southern's online e-commerce applications, and is an active participant in North American railroad industry initiatives that include shared systems development with other members of the American Association of Railroads (AAR).
Heather Walker is the AVP Business Solutions & EIM at Navicent Health and alum for MIS and MMIS programs. Serving in various roles, she has been employed in Healthcare IT for the past 17 years. Heather's IT career began with Oconee Regional Medical Center as a Systems Operator and progressed to PC Technician, Technical Analyst, Technical Supervisor, Technical Manager, and IT Director. She is currently employed as the IT Director for Navicent Health Baldwin in Milledgeville, GA. Heather also served as an adjunct Business Office Technology instructor at Central Georgia Technical College from 2002 - 2004. In 2008, she was selected by her peers to receive ORMC's Stellar Service Award. In 2015, Heather was appointed to serve as Oconee Regional Health Systems' HIPAA Security Officer and received a Lean Six Sigma Certification in Healthcare. Graduating Summa Cum Laude and chosen by the American Association of University Women as the top female graduate, she received an A.S. in Business Administration from Georgia Military College in 1999. In 2001, graduating Summa Cum Laude, Heather received a BBA in Computer Based Information Systems from Georgia College & State University where she also served as Vice President for the Association of Information Technology Professionals (AITP). Heather was selected as outstanding major in Information Systems from Georgia College in 2001. Heather is a member of Phi Kappa Phi, Beta Gama Sigma, and Upsilon Pi Epsilon honor societies.
Natalie Wilkerson works as the Director of Clinical Applications at Piedmont Healthcare in Atlanta. Prior to joining Piedmont Heathcare in 2013, she worked for over 15 years in IT at Henry Medical Center. Natalie received a BBA with a major in Business Information Systems from Georgia College.
Rhonda Wood is the Branch Chief for U.S. Office of Personnel Management in Macon. Rhonda has been actively involved with the J. Whitney Bunting College of Business for years. She has served as the chair of both the College of Business Advisory Board and Georgia College Alumni Association. She holds a B.B.A. in MIS and a Masters in MIS from Georgia College.
Jessica Youngblood is the HR & Recruiting Manager at Sogeti USA, the Technology and Engineering Services Division of Capgemini America, Inc. She received her BBA from Georgia Southern University in 2013.
Department of Information Systems and Computer Science
301 Atkinson Hall | Campus Box 12
Milledgeville, GA 31061
Phone: (478) 445-5721
Fax: (478) 445-5249