Where Is Counseling Services Located?
In an effort to reduce the spread of COVID-19 Counseling Services is meeting with students by telephone or video conference only. Please call or email to make an appointment.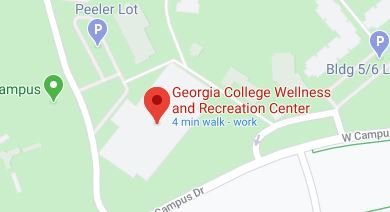 Counseling Services is in the Wellness and Recreation Center at West Campus in Suite 210, on the second floor.
Where Do I Enter the Building?
Use the Main Entrance to the Wellness and Recreation Center (facing West Campus Drive), then take the elevator or stairs to the second floor. Note that the West Entrance (closest to the baseball fields) is reserved as an entrance to Health Services only in an effort to reduce contact between healthy students and sick students to help reduce the spread of COVID 19. Please call 478 445 5331 before entering the Counseling Services lobby.
Will I Need My Bobcat Card?
Yes, your Bobcat card is required to enter the WRC.
How Do I Get To West Campus?
Shuttle service is available to transport students from Main Campus to West Campus.
Student's who drive will find a small number of parking spaces by the west entrance, and additional parking by the softball fields and in the rear of the building. Parking at the west entrance requires a temporary parking pass that you can obtain in Counseling Services or Health Services.